Success is a milestone achieved after continuous struggles, hard work, pains, motivation, failures, repeated efforts etc. It is a journey of failures and successes in life. It can never be static or one spot destination.
Read here best essays, speeches, and paragraph on Success, its value and importance in life of students with future goals, planning, vision, strategy. The essays quotes, examples, life stories on success with HD wallpapers etc should definitely be your best read.
The Success | Definition, Essence & Importance | Best Speeches for Children & Students
Success is the milestone achieved after struggles and perseverance. It is a vision, a goal and a commitment for furthering your aspirations and goals in the way of a set direction. The success demands hard work and patience. It is not granted over night. The following composition of Speeches on Success & Failures mention the meaning, role and importance of success in our life.
Success Definition in Simple Words
Success is the measure, a milestone or a goal that one gets after continued efforts for that end. Success, in that way, can be destination or an ultimate point of accomplishment set by anyone. When that set point is crossed, a goal is said to be accomplished and the success, thereby, is achieved.
Speech on Success and its Importance for Students



Respected teachers, my dear class fellows and all students of campus Good Morning. Today I will talk about the success and its importance in the life of a student.
As we all know that every student at school aim and aspire to be successful in life. Success is the dream of every student. All we have certain aims and objectives of life to achieve in order to be successful in life.
Success is not achieved in a day or in a night.  It is rather a long steady process of hard work and commitment. Success kisses the feet of those who are diligent and hard worker.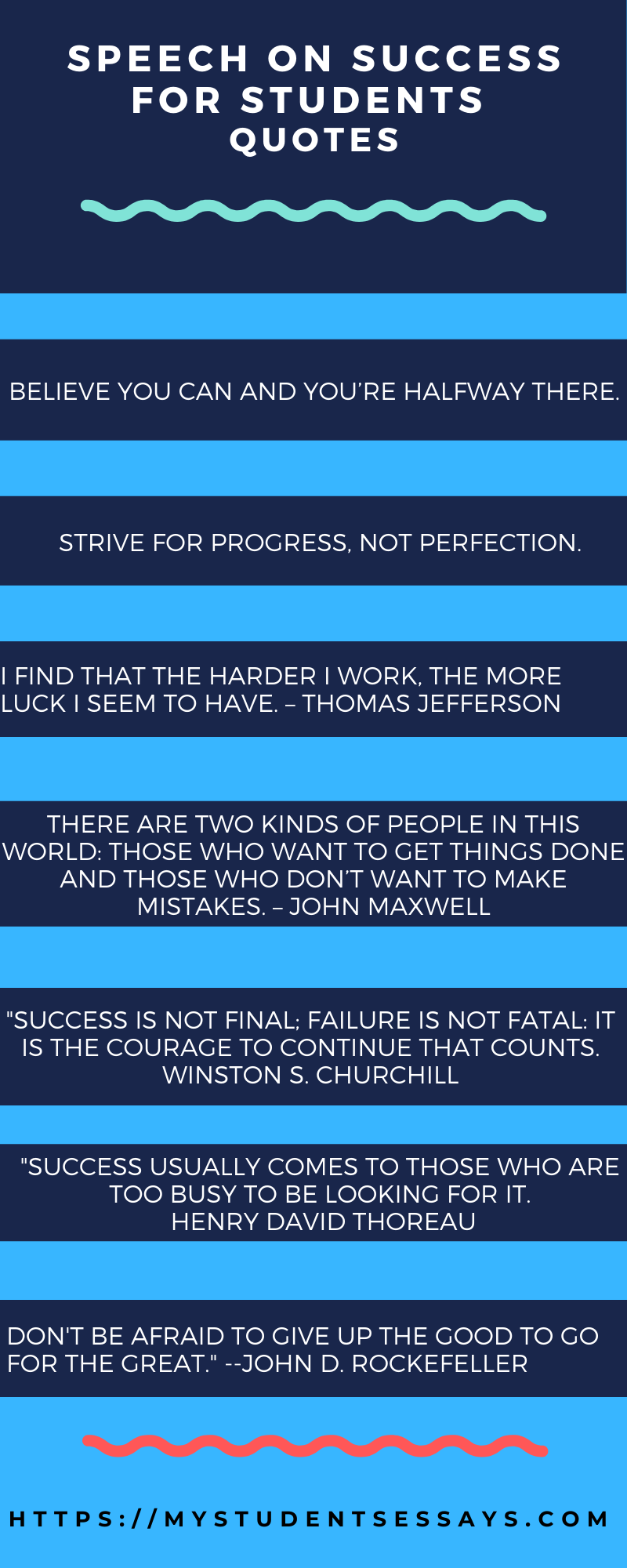 Let me tell you that success is hidden in failures. One who dare to fail greatly arise and go ahead greatly. Our mistakes and failures teach us a lesson that how one can achieve greatness and success in life. As someone has said that failure is a temporary delay, not a defeat. Success takes time to appear so never lose heart at temporary delay of failures.
Life is an adventure. Therefore, take risks in life because one who posses audacity of facing fears and risks becomes successful in life. Life is not smooth always. It is a curved path of turbulence and trauma on the way leading to success
Success plays an important role in the life of a person. We must know that success is not final, or a full stop nor failure is fatal or dead end, it is rather the courage to continue that counts. Our achievements and failures are not counted. What is counted in life, it is our determination and courage to stick around to our goals. The secret to permanent success is the dedication and determination.
The lack of dedication and commitment makes man comply with the forces of the world and the circumstances that one encounters in life. A student needs to be like a steady rock. A student starts the journey of success from the process of learning.
Knowledge and information that a student collects becomes the permanent partner in the journey to success. The life of a student is full of ups and downs.  There is no ease and hardness. My dear fellows don't forget that there are obstacles and hindrances on the way to success. It's your choice that will decide your success. Never choose easy and comfortable path.  The harder the circumstances, the more successful you are.
All great legends are the product of hard times. They faced hard time in life. History bears witness of thousands of great souls who suffered to an unimaginable extent during their lives.  Those are the very souls who led the world, in the end. Those who not only changed their life but brought a revolutionary change in the world though they faced difficulties, hardships and pains.
In the end I will tell you that being a student we must be patient enough to face hard times. Just keep struggling and working hard. Your hard work will never go in vain. The efforts that we make are counted.  Never hurry to attain success because one can not attain success in a day.
Make a habit to work regularly and punctually. Never give up and never lose your heart. Follow your passion patiently. One day the success will definitely knock at your doors.
Short Speech On Success is Journey not Destination
The most respectable teachers and my dear fellows good morning. I am very thankful to my class teacher who gave me an opportunity to talk about success as a journey not a destination.
I will start my speech with these words that life is not a race, nor it is a competition to win. Life is always in the state of Flux and change. There is nothing permanent in life. Everything undergoes change. I have seen many people who try to succeed by defeating others.
I personally believe that one must not beat or cheat any one to succeed in life. Your success shall become an example to be followed. Always be social, courteous and polite to others. I have seen thousands of people who achieved success but couldn't help maintain the charm of success. The success is not a final full stop.
Life do not ends at getting success. Those who believe that success is final are entirely mistaken. Success is not a dead end. The sweetness of success evaporates when one enjoys the success right away.
A man who strives hard day and night, works every waking moment to be successful when he achieves success he truly enjoys it. Compared to that man who finds the success instantly, by any means possible, loses it instantly.
As there is a natural fact that respect is earned in years. It comes after hard troubles and great sacrifices. A single act of unkindness or misfortune, may cost you loose the hard earned respect of years in a wink of eye. Thereby, the success is a continuous journey not a final destination or the desired end of the struggles and efforts that one paid to become successful.
Therefore, never only aim to attain success. Learn how to maintain and guard your success. Because the success can be earned easily with hard work, diligence and firm determination but it is more difficult to safeguard the earned success. It is very easy to attain success but very difficult to stay grounded and lead a life of satisfaction and happiness.
The satisfaction and happiness in life is with people. We are a social animal. We can't live alone. We need to share our feelings, emotions and passions. The real happiness lies in relations that we are gifted with.
The parents who sacrifice their desires and wishes to make us successful are the real owner of our success. The success that we achieve we owe to our parents who dedicate their whole life in making our future bright. One who loses the essence of humanity after success is not called a successful person. The successful is he who remains grounded and fully satisfied in life.
The success without satisfaction and happiness is fatal. It kills one internally. Man can not help sustain the wounds of unsatisfactory life. When there is no happiness in life, the success stings.
In the end I will only say that success is a continual process,  to benefit and comfort others and to help others when you are successful. Share your success with others. Help the needy and poor. Lead life in such a way that when you die, people give example of your success. Make your success an example to the generations to come