Good Morning Dear Students!
This morning I am standing here in front of you all as your teacher and also to deliver a speech on road safety. You no longer need to act like small kids walking on a road without knowing the safety rules. The saying goes that it's better to be safe than sorry. Yet, we tend to forget all this and become carless at times so much so that we endanger our lives.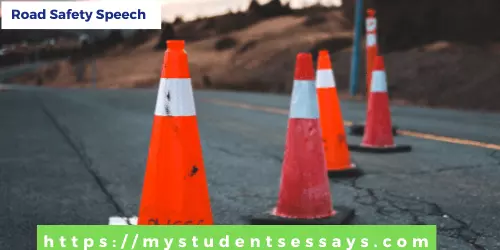 Have we not heard the news about how many people get involved in road accidents or road rage? However, some individuals die instantly while others suffer lifelong injuries. Death rates from vehicle accidents have increased in recent years even as the government is enacting safety measures on our roads.
Many of you would not be aware that the highest number of road fatalities occurs in Abu Dhabi. An average of 38 deaths are caused by fatal injuries in the traffic every month, with most of them involving children between the ages of 0 and 14.
Because of this, everyone, especially pedestrians, must remain vigilant while on the road and adhere to the safety rules. Fatal accidents occur when pedestrians walk carelessly, not paying attention to traffic signals, or cross the street at inappropriate places. I ask you to remain alert and never to be in a hurry while on the road. In addition to people disrupting the traffic flow for no good reason, the fact that it can also prove dangerous to one's life, so please avoid it at all costs. Whenever walking down the road, always use a zebra crossing. Keep your eyes and ears open. Listen to the sound of horns being blown around you.
If you are going to travel by public transport, then you should wait patiently for it to stop and then board it. You should also wait for it to stop before stepping out, and ensure that there are no other vehicles blocking your path. Never ignore stop signs, because this leads to dangerous road accidents. Take precautions by wearing reflective clothing and carrying reflective tape so that drivers can see you from a distance.
Make sure your bicycle is roadworthy and illuminated, with brakes working, and that it is in a sound condition so that you may ride it on the road. Second, try not to take a bicycle on a busy road and use public transport instead.
Despite this, there is no guarantee that through these preventative measures we will be able to avoid fatal traffic accidents, but we can certainly avoid them by remaining vigil and following the road safety rules. Remember that there is no reset button in life, so be careful.
I hope you will recall my words and spread the word about the importance of following road safety rules.
Thank You!