Read the following well written essay on traffic rules for students. The essay explains the importance of traffic rules, meaning and real value for children and students.
The Traffic Rules Essay | Essay on Traffic Rules for Children & Students
Introduction
It is essential to have traffic laws and regulations to regulate traffic and to protect all road users, giving them safety and ease of commuting.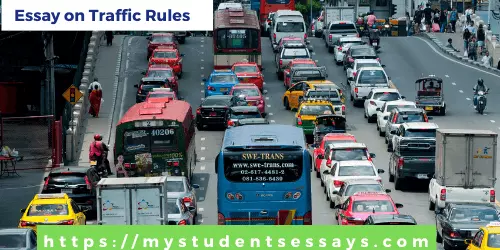 What Makes Indian Roads Unsafe
We have India's highways and city roads loaded up with more and more traffic than they were designed to handle. Indian roads are overcrowded with multiple vehicles and commuters. However, this is only the tip of the iceberg; the main issue is the variety of vehicles that share the same route, all of which must reach their destination in a timely manner.
The same road is shared by slow moving traffic such as rickshaws, carts, buses, trucks, bikes, motorcycles, pedestrians and often times even animals. On crowded and busy roads, people on motorcycles, bicycles, and pedestrians are also the most vulnerable since they are difficult to spot.
Not to mention the roadside stalls and eateries, which have encroached on footpaths and roads, creating a dangerous condition for pedestrians. A collision will be the most likely outcome in this scenario unless traffic rules are followed promptly.
How Traffic Rules Improve Safety
There are traffic rules and regulations in place which aim to protect all commuters. There are some rules specific to the type of user, and some that are used by all.
Rule such as "keep left" is meant to give way to vehicles coming from the opposite direction. It is a safety measure for pedestrians that a driver slow down when approaching a zebra crossing.
Conclusion
Helmets are recommended to be worn while riding bikes and bicycles to protect the rider. Likewise, seat belts for drivers to help keep them safe, driving at a reasonable speed, keeping a clean car, etc.  It is important to give way to pedestrians and obey traffic signals and signs, all of which ensure the safety of road users.