Trees are the precious asset to life. They play an important role in our life. Read here Best selected essays on Save Trees, importance, value, meaning and message with quotes and examples for students. These essays are simple, short and long, easy to understand and are written for students of class 1,2,3,4,5,6,7,8,9,10th students. Find here the best long and short essays including with words limit of 100,150,200,300,500 words and more for all class students
Essay on Save Trees; Meaning & Importance for our Life
The Green Trees are the asset of this mother earth. Trees are a blessing. They are an important asset for our world.Saving trees is as save life, save our country and our mother earth. Unfortunately, with the rapid progress in Industry and technology the green trees are vanishing.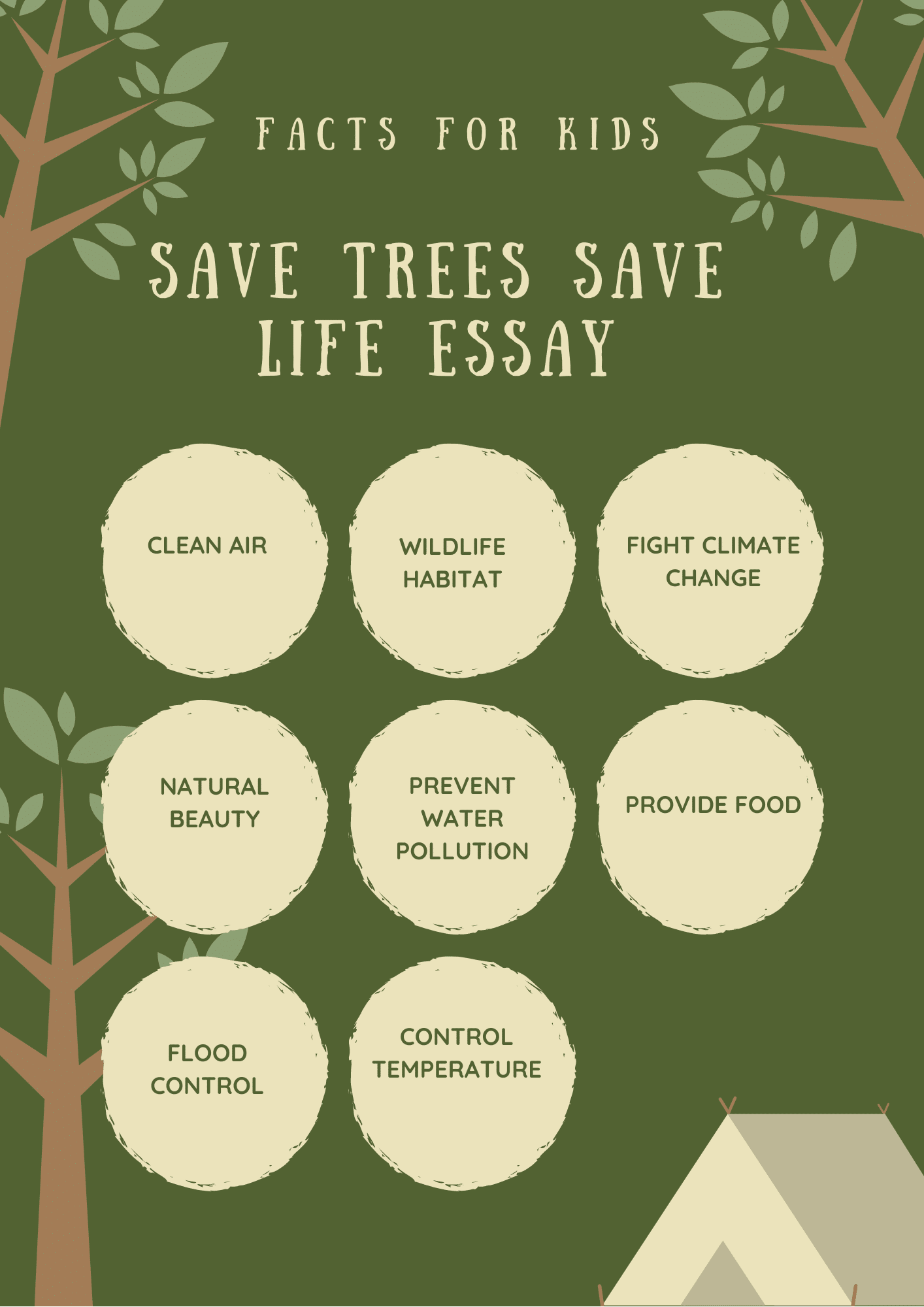 Trees are our life because they provide us fresh and oxygenated air and consume carbon dioxide which is harmful gas. Trees purify and beautify our environment. Trees provide protection, shadow food, shelter and food. Trees are the home of wildlife.
Trees control air pollution. To save life and environment we should save trees and plant new trees because trees nourish life on earth in many ways. Trees not only maintain the ecological balance but also supply medicines that prevent us form diseases. Trees give us timber to make furniture.
Apart from it there are several other benefits of trees so it is very important to save trees. They are the most precious gift of nature. We humans are destroying and cutting down trees to make roads and to establish industries. In the name of progress we humans are mercilessly cutting down our lives.
Deforestation can lead to disasters that we are unable to bear. Instead of planting new trees we are cutting down trees to develop and to make development. We should launch a tree saving awareness campaign in our surroundings to aware people about their importance.
We should encourage people to participate heavily in such types of events. We should not engage in trees cutting rather oppose it strongly. Specially in the polluted areas we should plant new trees so that we get pure air.
Nowadays our mother earth is subject to air, water and soil pollution. This is the result of deforestation and cutting down of trees because trees play a vital role in preserving the earth's hydro-logical cycle. Trees also maintain the water table level. Trees are our food source and all herbivores depend on trees for food. It means trees are very important to our lives. We must make every effort to save trees and grow more trees to
Save our life and the lives animals. If we will save trees we will save all life forms on earth. Trees in no way are less than God to us because provide us oxygen to breathe and help control the environmental temperature. Trees are the source of airborne oxygen and carbon dioxide utilization. We can not live without oxygen.
Cutting down of trees has increased earth's temperature and has caused climate change that adversely affects our life and the life of all living organisms. We must save trees to Save our planet.In order to save trees we must avoid the waste of paper and try to recycle the paper. Paper is made from trees, if we will save paper we will save trees.
The world is facing a threat due to global warming and pollution. Therefore, it is essential responsibility upon us to go green in order to save earth, air, nature, our environment, life on mother earth and save humanity from total extinction.
We need to adopt some serious measures to protect trees, stop cutting trees, planting more trees and run go green campaigns. Save Trees so that trees may save you.
Conclusion
Trees contribute a lot to our environment and to our life. Trees provide oxygen which is the most essential ingredient of life, they improve quality of air, can help in climate amelioration, help to conserve water, preserve soil and support wildlife. Apart from it trees have a wide variety of practical and commercial uses.
Tress are both beautiful and majestic.Trees are our treasure. There fore we must save trees for the sake of our own life and for the life of our planet. Cutting trees is equal to our own life. It is impossible to imagine life without trees.
Ten Points/Ways How We Can Save Trees?
1. Always buy and use recycled products to save trees.
2. In order to save trees we have to minimize the use of paper or recycle it. Switching to digital technology is also a way to save paper or trees.
3. If we cut a single tree necessarily or we are unable to save a tree,we must Plant two trees in exchange.
4. No tree must be cut down for any commercial activity.
5. We should start different programs to spread general awareness among people to save trees.
6. We must stand United to stop the deforestation. All who cut trees they must be punished.
7. Saving trees  only will not suffice. We must promote reforestation.
8. Individually we all must start to plant new trees in our surroundings.
9. Deforestation has caused climate change, global warming and pollution. In order to control these issues we have to plant trees as much as possible.
10. All unnecessary constructions that require cutting down of trees and those who cut they should be heavily fined.
Save Trees Save Earth Essay
Speech on Save Trees
Paragraph on Save Trees