The Spring season is season of joy, love and festivity. This is the most favourite and lovely season seasons of all. We have covered the following essay on Spring season, what happens in spring, why I like etc, in a descriptive, easy to understand essay and Paragraph on Spring season for children and students.
1. Essay on Spring Season | Why I Like Spring Season Essay For Children & Students
Spring is the best and my favourite season. I have much love, regard and affinity for spring season.
Introduction
There are four seasons and each of them plays an important role in maintaining the balance of nature.Every season brings its own charm and vibe. Among all these seasons, everyone has a particular season which they anxiously wait for and enjoy it to the fullest.
My Favorite Season Spring Essay
I like every season because of the vibes and happiness they bring but my favorite season is spring. It is the season of positive energy, beauty and freshness. It marks the end of winters and precedes summer season. In India, the duration of this season is from February to April.
2. Short Essay on Spring Season For Children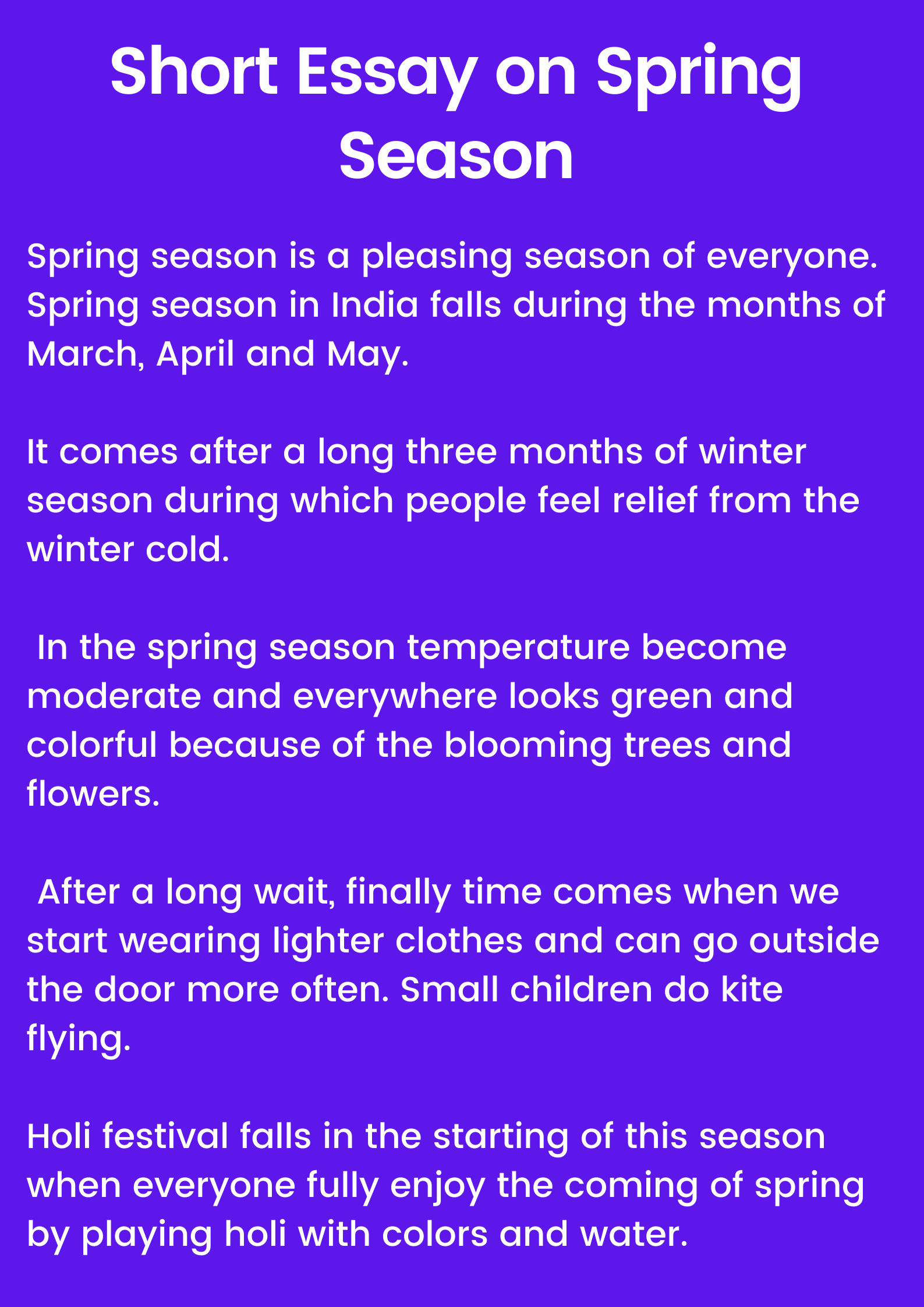 Why I Like Spring Season?
My favorite season is spring because of so many reasons. First of all, it is the most pleasant season and secondly, my birthday also comes in this season so it is another exciting thing for me about this season.
Related Post: Essay on Why I Like Summer Season For Students
I neither like the coldness of winter season nor the warmness of summer season, therefore, this season is the perfect season for me. When this season arrives, the days get longer.
Temperature gets a little bit warmer in the day but colder at nights. The weather is neither too warm nor too cold and this allows me to play with my friends whenever I want and enjoy this season to its fullest.I also get to visit and explore new places with my friends and enjoy the beauty of nature.
Spring season brings back the enthusiasm and happiness and everyone feels so excited for this season after facing intense cold breezes for months.Everything gets a new life on Earth and looks so refreshing.
The hemisphere gets warm due to which new flowers also start to bloom everywhere. The flowers get their color and freshness,the trees get new leaves and nature looks so beautiful.
The morning in this season is also very pleasant.There is nothing better than taking a walk in the morning when the atmosphere is soothing and calming.
I made a garden in front of my house. When spring season arrives, my garden gets filled with beautiful flowers. It feels so amazing when I look at those flowers and butterflies that are hovering on them.
I love the color and fragrance of these flowers. The sky is clear and full of birds that are chirping.My favorite bird is cuckoo which gives chirping throughout the day.
It is very amazing and pleasing to see this sight. I spend majority of my free time in my garden.Seeing all this beauty refreshes me and I forget about all my worries.
Another reason of liking this season is that all special events and functions are celebrated during this season. This season marks the beginning of many colorful festivals like Vasant panchmi, Holi, Navratri etc.
Fashion sense during this season is also on point. I also buy so many pretty colored dresses in this season for every occasion.During this season, I am in better spirits and more energetic because it provides a calm and peaceful nature. In short, I feel like I am rejuvenated.
Conclusion
Spring season brings joy and happiness for everyone. It fills everyone with positive and fresh energy. Every object of nature looks beautiful in this season. Every season has its own pros and cons but I find spring to be the only season that has no flaw.
Related Post:  Short & Long Essay on Rainy Season For Students
No wonder, it is known as the queen of all seasons. Because of all these reasons, this is my favorite season and I anxiously wait for it every year. I just wish that this season would be of longer time period.
3. 10 Lines & More Sentences on Spring Season For Children
Read following selected 10 lines & more sentences on spring season for children & students.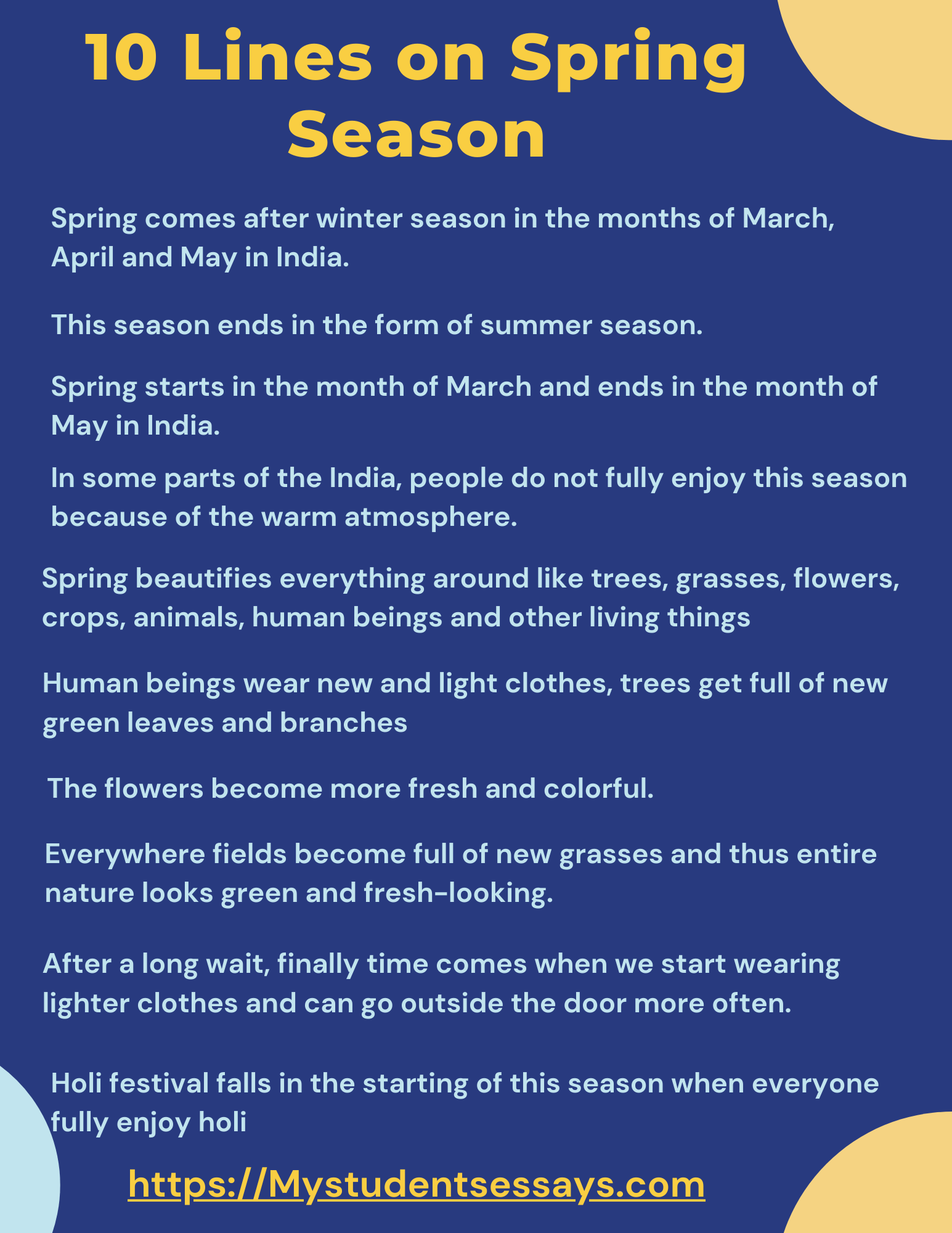 PS. The short & Long written essay on topic spring season is related to; Essay on spring sesason in English for class UKG, class 1, class 2, class 3, class 4, class 5, class 6, class 7, class 8, class 9 & 10th class students. The essay is written in Englis in 100,150,200,300 & 500 plus words essay for students.