Paragraph on Life in a Big City:  Life in a big city is marked by glamour, Jammed roads, busy streets , noise pollution and much more. The people here are always in a hurry, running after time. They have no time for themselves or for anything else. This is life in big city and it has its pros and cons.
Arriving in a big city is overwhelming at first. There are so many people and so much to do. You can feel like you're a small fish in a big pond. But once you get settled, you'll find there's a lot to love about city life.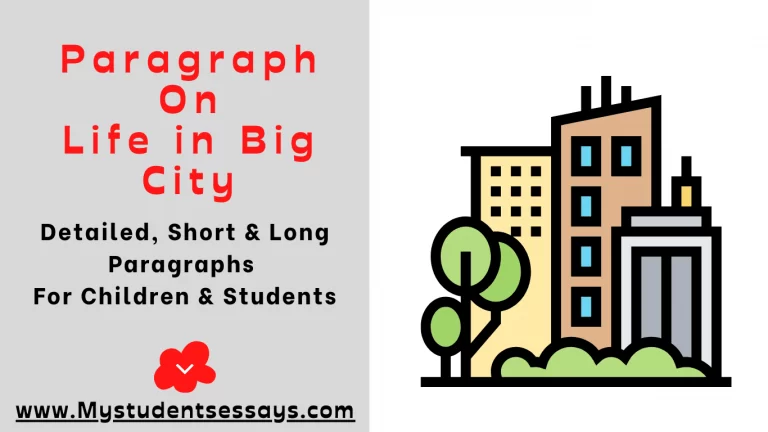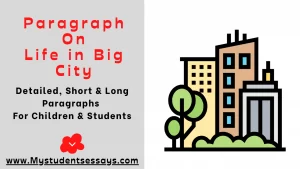 There are always new things to do in a city. There are countless restaurants, shops, and attractions to explore. You can try something new every day if you want to. There's always something going on, so you'll never be bored.
If you're a night owl, you'll love city life. There are plenty of bars and clubs to keep you entertained all night long. And if you like to watch people, you'll have ample opportunity to do so.
One downside of city living is the cost of living. It's more expensive to live in a city than it is to live in a rural area. But the trade-off is that you get to experience all the excitement and convenience that a city has to offer.
>>>> Read Also: " Essay on Street Beggars"
Living in a big city has a major impact on your life. It can be both positive and negative. On the positive side, you have access to more job opportunities, better schools, and more entertainment options. On the negative side, you have to deal with higher costs of living, more traffic, and more pollution.
Street crimes, anonymity, and a fast pace of life are also common complaints about city living. But overall, the positives outweigh the negatives for most people.
>>>> Read Also: " Paragraph On Child Labor & Its Impacts"
Conclusion
It's amply clear that life in a big city is not as simple as it seems. It has its own advantages and disadvantages. But if you can manage your time and money well, life in a big city can be very exciting and enjoyable.