Writing an Essay or Paragraph about your Family is a wonderful part of writing for School exam or any event. The following Essays & Paragraphs on topic My Family has been written for students & Children of UKg Class 1,2,3,4,5,6,7,8,9 & 10th. These essays are simple, easy to read and understand and are greatly helpful for students.
My Family | Essays, Paragraph, 10 Lines & More Sentences

The Family is the basic house unit and the reason of our survival on this planet earth. The essay about family includes our love, emotions, attachments and the feelings about our family. Further, read the following essays & Paragraphs clearly to have the true feelings why you love your family.
1. 10 Lines and More Sentences on My Family
A group of people living together in a relationship by birth or blood is called family
I live in a combined family where my parents, grand parents and my one uncle live together
We are seven family members including my one sister, two brothers, my parents, an uncle, and my grand mother
My father is businessman and my mother is a housewife.
My grand father is a retired govt employee and my uncle is Police officer.
We all study in a nearby school that is one of the best schools of my city
All of my family are very respectful, kind, helping and loving to others.
My grand mother entertains us with lovely sweet stories.
We all love to have a picnic day once in each month.
We all enjoy very much on picnic day with each other.
My uncle also take us with himself to make us visit nearby villages and towns.
All my family members gather in the lawn of our house after dinner every night to share stories and have talks with each other.
My family has given me a good lesson of unity, love and cooperation with each other.
We all brothers and our sister take help from my mother and my uncle in school homework
My father is good at mathematics and he helps us a lot, sometimes.
My mother is good at English and literature, she also helps us in our homework
We celebrate all Festivals like Holi, Diwali, Rakhi etc with great love and cooperation.
On these festivals we also visit our cousins' house to enjoy more.
We also celebrate every birthday of one another with great love and respect.
We all pray for the security and well being of each others.
My family is an ideal family. I pray God to gift everyone a family like us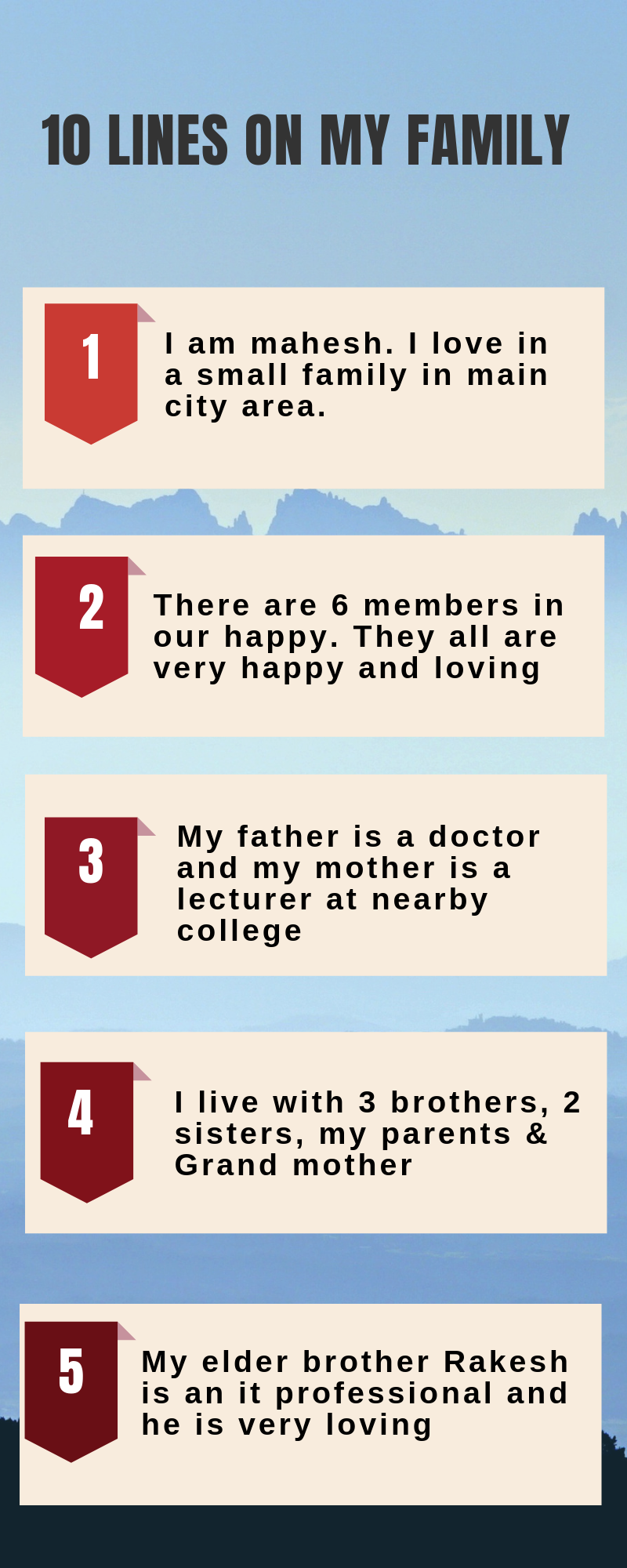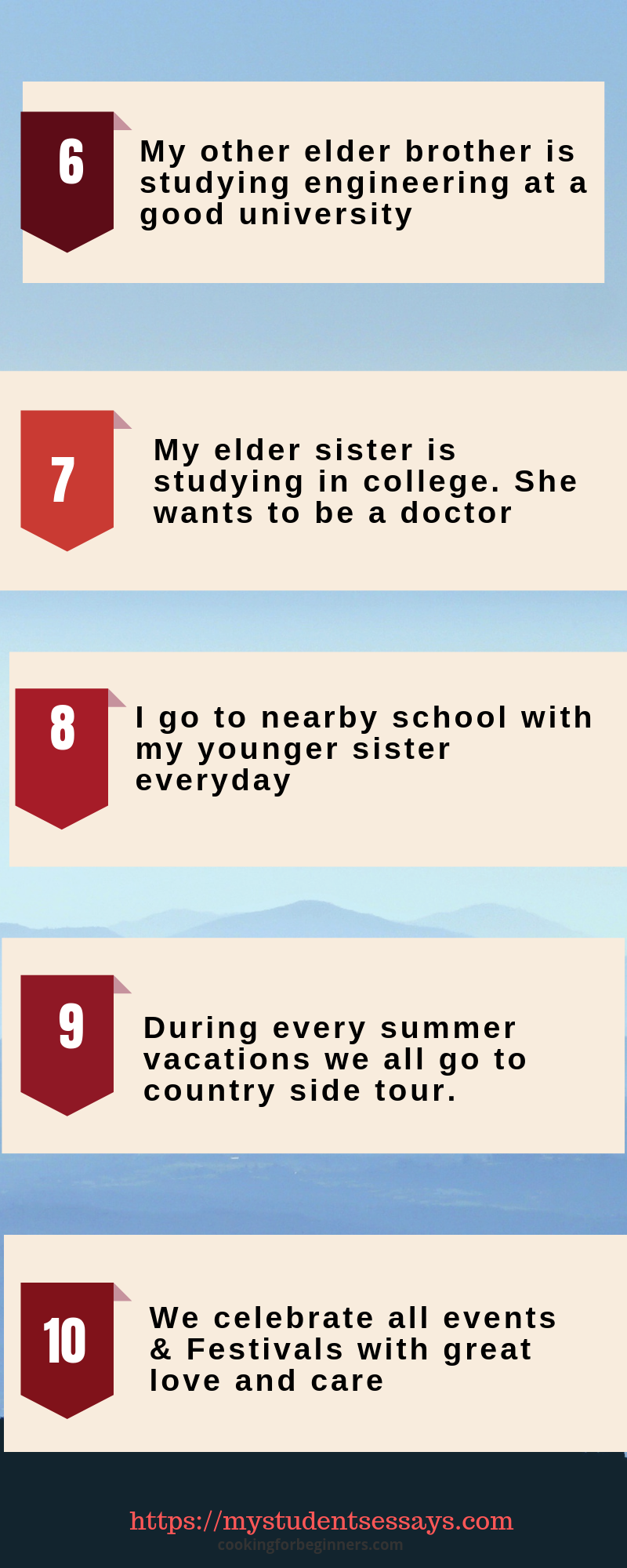 2. More 10 Sentences about My family in English
I live with a wonderful family whose members greatly love each other.
We have a small family with my father, my mother, two brothers and one sister.
All my family are well disciplined and respect each other.
My father is quite supportive and always encourages us
My mother is a respectable lady of my family. She is very smart and wise.
My father is an Engineer whereas my mother is Lecturer at nearby college.
During the vacations every year we all family members go on a trip.
My younger brother is quite good at Mathematics and he has won three medals in Annual Math competitions in our city.
My elder sister has been position holder in her class for three consecutive years.
We all are very serious and disciplined for our future career and therefore work hard.
My elder brother wants to be an IT professional and my younger sister wants to be a doctor
I always pray for the security and well being of my lovey family.
I pray God to give everyone a good and loving family like my family.
>>>>>>>>>  My Mother, Essays, Speeches & Paragraphs for Students   >>>>>>>>>>>
3. Short Essay on My Family for Kids, Class 1 Students
I am Mahesh. I love with a small and lovely family. We live in Calcutta. There are five members in our family. My father is a doctor and my mother is a housewife. Apart from that, my elder brother is and IT professional and my younger sister is studying in sixth grade.
I study in class 8th. I go to nearby school with my sister everyday. We all love and respect each other. We all celebrate every birthday with great love and pride. Everyone gets a new gift on each birthday. My mother helps us in our school work. She has taught us the self discipline, confidence and cooperation in work.
We both also take part in extra curricular activities at school as well. My sister is a good singer and she can dance very well. In addition to that, she has won many prizes in Tabloids and speech contests that are held in our school every years.
I also take part in annual sports events in our school. We have our great career planning. My sister wants to be doctor whereas, I want to be a flying pilot. Our parents and elder brother also encourage us in our life goals. During every vacation, we all family members go on a trip.
We all enjoy very much during the visit of different areas of our country. We also celebrate all festivals like Holi, Diwali, Raksha bandhan etc with great love and respect.
During these festivals we visit the houses of our relatives in nearby towns. It gives us a lot of joy and love. I always pray for the well being and long life of my family. And I pray God to give everyone a good and loving family.
>>>>>>>>>>>>  My Best Friend Essays & Speeches for Students  <<<<<<<<<<<<
4. My family Essay for 3rd, 4th, & 5th Class Students
I am Nirmal. I come from a wonderful and lovely family of Hyderabad. We live in a joint family system. Therefore, my family is of medium sized family with 8 members.
My grand parents also live us. My family include my grand mother and father, my parents, my two sisters and two brothers including me. This all makes my family a happy, loving and lively family. My elder brother has studies in city college whereas, my elder sister has recently completed her college education.
Therefore, she is preparing for university admission. It is her passion to be a doctor. Therefore, she is preparing for it. My younger sister is studying under 5th class in the same school where I am studying in class 8th. We both go to school together.
Coming to my parent's profession, my father is a doctor whereas, my mother is a housewife. My father is the most respected and renowned man of his career. He is widely respected in his field. That's why he is always busy in his job. He values profession more than anything. Therefore, in order to satisfy himself he conduct free of cost treatment of patients every weekend.
My mother, apart from being a good housewife, is a good writer as well. She has keen interest in art, politics, history and international affairs. Her research papers and articles are published in the renowned newspapers and magazines. Therefore, she has a separate identity.
My family believes in core values of respect, love, justice and equality. My father inspires and encourages us to be a good man for our community. That's to say we are lucky to have best ever parents who know very well about the life. From my grand parents, my grand mother always entertains us with her sweet and creative stories.
She never let us to be bored. We enjoy a lot in her company. My grand father, on the other hand, is well respected in our community. He is the head of our tribe. He is a great social worker and runs a social welfare organization for the good of people. We have had enough to learn and get inspired from him.
Despite being very busy with their professional lives, my family gives us a good time. Every year during our vacations, we go on a country side tour. We explore a lot of new areas and meet with new people every year. This gives us a great learning opportunity as well.
We enjoy celebrating all important festivals, family functions and birthday parties. We live our life fully and with complete happiness. I am quite happy and thankful to God for giving me a happy, loving and kind family. I pray God to give a gift of lovely family to everyone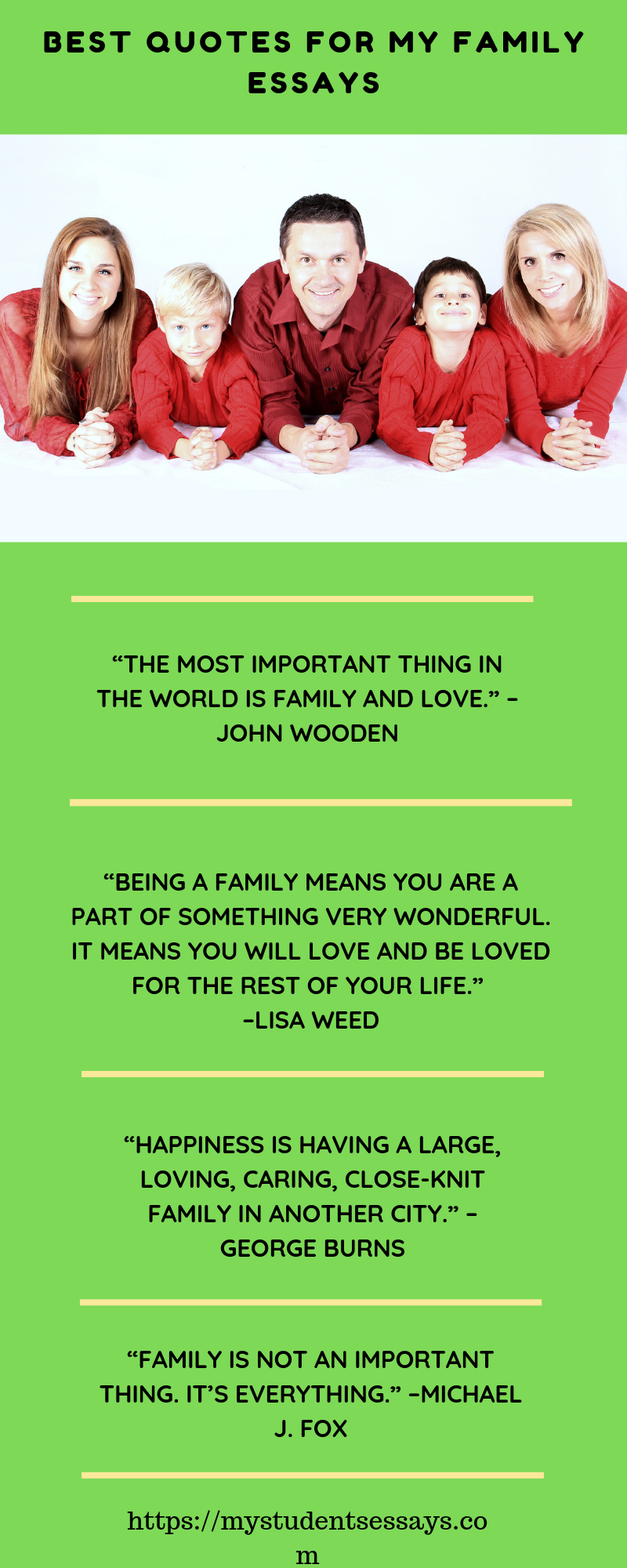 5. Essay on My Family for  6th, 7th & 8th Class Students
I am Kajal. I live with a wonderful, sweet and small family. We live in a separate and small house near civil lines, Delhi. There are six members in our family. We are two sisters and one elder brother. Apart from that, other family members include my mother, my father and our sweet loving grand mother.
My father is Government officer and my mother is a lecturer in nearby college. Despite of their busy schedule and strict job my parents give full time to all of us. My mother is very responsible and loving lady. She takes care of all responsibilities. She has taught us the value of time and self discipline in life. My father is a strict and honest Govt officer.
Many people visit our house everyday to meet my mother. My mother serves all of those guests very generously. We all also love to serve our guest very much. My elder sister's name is Pooja and elder brother is Rakesh. Rakesh is very funny and he is loved by all of us. He has a very kind and creative nature. He is also a position holder boy in his class.
He is also loved by all of our relatives because he is genius, disciplined and obedient boy. Apart from studies, Rakesh has great interest in art and literature. He loves reading books on literature, history and the biographies of successful people.My elder sister has keen interests in drawing and designing.
She has won many prizes at various school competitions in art and design. Both my brother and my sister love me very much. They help me in my studies a lot. My family takes great of us. When we are bored, my grand father entertains us telling many stories. Rakesh is a great fan of adventurous and ghost stories.
He always insist my grand mother to tell him historical adventurous stories. During every vacation, my father take all family members to a trip. We all enjoy very much during that trip. We all celebrate all festivals like holi Diwali, Rakhi and our birthdays etc, with great love and enthusiasm. It gives us a lot of pleasure and happiness.
I love my family very much because all of my family love and respect each other in every step of life. My father is our hero. He inspires us and always encourages us to do something good and something great in our lives. To him, human service is the best service.
Both our mother and father has always taught us the lesson of respect, love, toleration, peace and forgiveness. My father is also a good writer. He has a written a few books as well. He has great command on history and philosophy. Therefore, he always guides and inspires us with his fine words. My mother has also a good command on literature and art. She is also a respectable lady in our family.
My family is an ideal and loving family. There are a lot of reasons to love and to wish a good family. I always pray God to give everyone a good family like my family.
>>> Related: Essay on Importance of Family For Students <<<<<<
6.  Essay on My Family For High School & College Level Students | In Points, Quotes
Everyone has someone important in their life. Everyone needs someone he can always count on. A family is a group of people who stay together under same roof and who are bound by blood or relation. A family is the one who stands beside you in toughest situations. I also have such loving and caring family.
A family is the first school of a child. He gets to learn everything from his family that includes the way he speaks with others, walks in society or deal with situations. If the bond between a family is strong then the family is going to be very strong.In my life, I have a family which is truly a blessing for me.
My Family Introduction
My family holds a very special place in my life. My family consists of seven members including my parents, two brothers, two sisters and me.
My father is an efficient doctor and my mother is a house wife. All of my brothers and sisters go to same school. My mother takes care of our studies because my father is mostly busy in hospital, treating patients. At weekends, my father spends full time with us.
He is really wise and involved in many adventurous activities. His advice and decisions are always the best. He has taught us all about the things which will help us to become successful in life.
My family is the best family in the whole world. No matter how hard any situation in our life gets, we are always there for each other.  Since childhood, I have seen and admired the bonding between my family. My parents were always there to support and guide us. They are my role model. They taught us that no hardship can break a family that stays united.
They also taught us to have faith and hope. They taught us ethics too and it is because of their good parenting that our family is the best family.
My elder brother and sister have prepared me for the challenges that I will face in my future. All these things have helped me to shape my life in right manner. We all care for each other. We all go for picnic once in a week to spend some quality time together and on vacations, we go for long trips.
We celebrate all festivals together with love and we also give gifts to each other.Even though we are not very rich but our love for each other is enough to keep us happy and it cannot be replaced by anything else in this world.
We have a very peaceful atmosphere at home. After school time, we usually spend our day on studying and playing. All of us have a strong communication between us. After the day we sit together and discuss about our routine. I believe that it is very important to have conversation with family about big or small things.
It keeps a family connected. We all share the burden of each other.I know that after school, I will make new friends at college but none of them will mean to me as much as my dear family.
Conclusion

Family is a very valuable gift of God and we should never take it for granted.I love my family because they have always been there for me in my good and bad times. My family is a blessing in my life.I cannot imagine a happy life without my family. I pray to God to protect my family from all evil eyes and keep us happy.
Frequently Asked Questions
1. How do you write a family essay?
A family essay is the collection and composition of thoughts, wishes, facts and statements of love, respect and kindness that you possess for your family. Writing a good family essay requires you to be clear, straight forward and authentic in your approach.
2. What is family in simple words?
In simple words, a family is the small unit whereby people are living together in same house with having some defined relationships and role to each other. A family necessarily shares the same thoughts, cultures and ideas.
3. What's the true meaning of family?
The true meaning of a family comprises of the sentiments of sincerity, love, respect, kindness and mutual care.
4. What is family short essay?
A short essay on family, as written above, describes one's sentiments, love and respects for his or her family briefly."
5. What is the importance of family essay?
Family is an important social institution. It has multiple biological, social, economic and further collective benefits including raising and socialization of children, defining a culture, role and status to individual members, promoting mutual interaction between human beings for various roles and responsibilities of life.
6. What my family means to me essay?
My family means everything to me. My family has given me the current identity, roles, responsibilities and many more things in my life.
7. What is a family paragraph?
In order to write a good paragraph on my family, you must keep in mind a certain things including, a brief introduction of your family members, why family matters, what it has given to you, what you should share to your family etc. A good family paragraph is the collection of pure and straightforward words and feeling for the family.