Taj mahal is considered as India's most charming monument and one of the famous seven wonders of the world.
Read here essay on Topic Taj Mahal, descriptive, easy to understand, short & long essay in points on Taj Mahal for children & students. The essay covers, short note, speech, monuments of India, history & description of Taj Mahal
Taj Mahal Essay | History & Importance of Taj Mahal | Short & Long Essay for Children & Students
Taj Mahal is the icon of beauty. It is one of the most admired architectures of India's heritage and most famous tourist destination in the world.
The word Taj mahal means "Crown of the palace" and it is considered as a symbol of eternal love. It was built by Shah Jahan in memory of his beloved wife, Mumtaz mahal who died because of childbirth in 1631.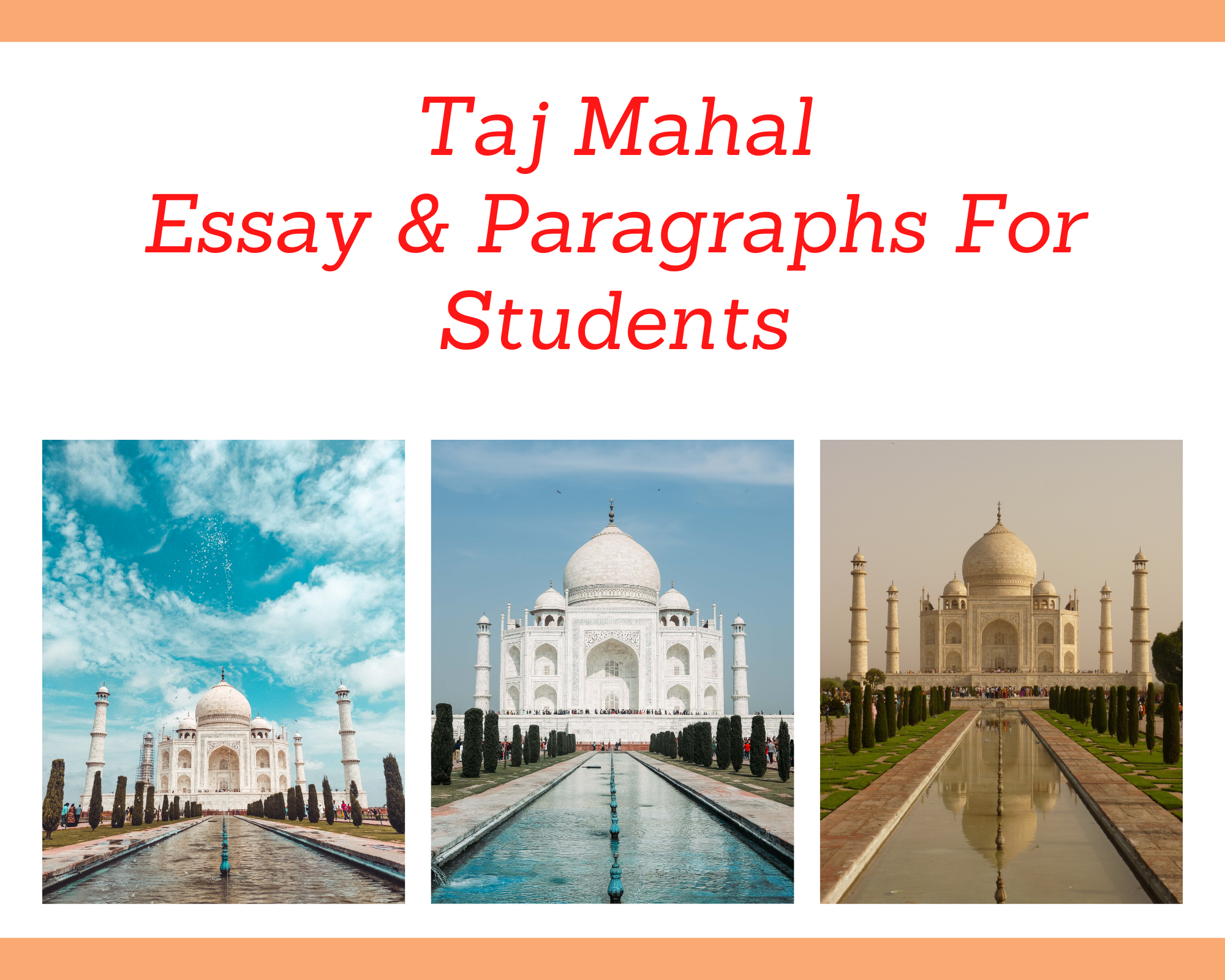 To treasure all the memories of his beautiful wife, Shah Jahan decided to build world's most beautiful building in honor of his wife.
In 1983, UNESCO declared this Mahal as a World Heritage Site. A 10-day event known as "TAJ FESTIVAL" is celebrated in February in front of Taj mahal to invoke these memories of Mughal era.
Location of Taj Mahal
Taj Mahal is located in Agra near the river Yamuna and is surrounded by a 280-meter square garden. It is situated behind the fort of Agra from where the king used to see it daily in the memory of his wife.
Construction of Taj Mahal
Taj Mahal was completed in 1648 by skillful artisans. It is built on a 17-hectare complex. Shah Jahan rejected numerous designs before finalizing the present structure of Taj Mahal. He called architects from different places on Earth and the materials were collected from all over India and Asia.
>>>>> Related Post:  Essay on Red Fort For Students
It took 20,000 workers to build this in a span of 22 years. This Mughal architecture has been made beautifully by combining Indian and Persian art. The main architect behind this absolute masterpiece was Ustad Ahmed Lahori.
Taj Mahal involves a lot of smart and brilliant architecture. It is built with white marble which was brought from Rajasthan.
Twenty-eight types of precious stones were inlaid into the white marble that shine beautifully in moonlight. There are four tall towers around the Mahal.
Each tower is divided into three equal parts by two working balconies that ring the towers. These pillars are inclined to prevent the monument from any kind of natural disaster.
It has five major structural components including main entrance, gardens, mosque, rest house and central mausoleum. The interior walls and delicate work on them are an example of skill and hard work.
The area surrounding the Taj Mahal contains beautiful lake, trees and lawns. At the entrance pathway, there lies a fascinating fountain gleaming with water.
The reflection of this Mahal in water presents such a mesmerizing view. It is such a beauty which mystifies the onlooker as it changes color from pink at sunrise to golden yellow in the moonlight.
Tomb of Shah Jahan
Shah Jahan wanted to make such a grave for himself too but after his sudden death, his son, Aurangzeb buried him in the mausoleum next to his wife.
The tomb is not placed in the center of garden but at one end. There is false sarcophagi of Mumtaz and Shah Jahan in the main chamber, the actual graves lie at a lower level in a dark chamber.
Conclusion
Taj Mahal is one of the most beautiful buildings and nothing in this world can beat the magical effect of this building. The best time to visit Taj Mahal is between October and February because weather in these months is cool and pleasant.
>>>>> Related Post:   Essay on Patriotism For Children & Students
Tourists especially students and researchers from all over the world visit this place to learn the significance of this monument in Indian history.
Unfortunately, the industrial pollution around Taj Mahal is the biggest threat to its beauty. It is our duty to protect this master piece from destruction so that our generation can see and appreciate this beauty.