Swimming is one of the best all-around exercises. It provides cardiovascular exercise, strength training and muscle toning, flexibility, range of motion and coordination. The fact that swimming can be done anywhere makes it a great workout option for people on the go or who may have injuries that limit their ability to do outdoor activities outside of the pool.
Read the following short and long essay swimming, value and importance of swimming essay for children and students. These are quite beneficial quite for school exams preparation.
Essay on Swimming | Importance, Benefits of Swimming for Students
Swimming is an exercise in the water that involves the use of one's body to move through said medium. It can be used as a type of relaxation or warm-up or, more commonly, done with specific goals in mind for physical fitness purposes.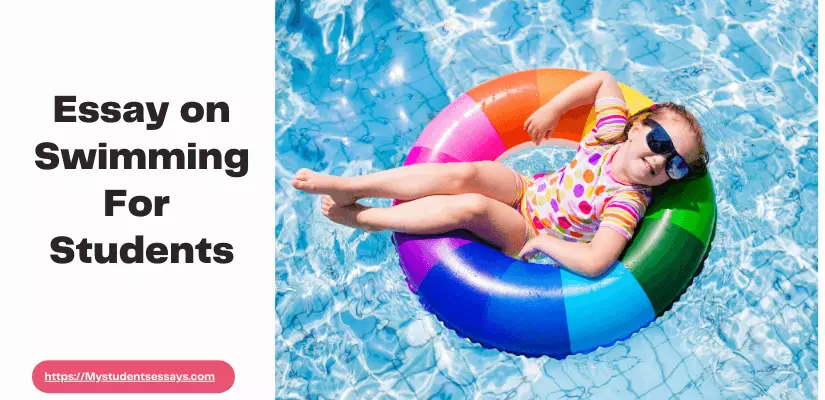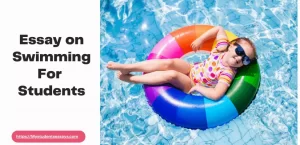 Swimming allows people to achieve physical fitness goals, such as weight loss or gaining strength in specific areas. It can also be used as a break from high-impact exercises for those with joint troubles. Swimming serves various functions for different people, but can be used as a form of meditation or stress-relief by many swimmers. As one swims, breathing techniques can help reduce anxiety and increase focus while also providing invaluable aerobic exercise to improve the cardiovascular system.
>>>>>> Read Also:   Essay on Yoga, its Importance & Benefits for Students
Benefits of Swimming 
Swimming is a low-impact exercise that can be done no matter one's current fitness ability or age. Because of this, it is beneficial for those who may have injuries and need rehabilitation as well as those looking to keep fit and young. Following are 5 major benefits of swimming:
One of the greatest benefits of swimming is that it can be done by nearly everyone. Because there are no high-impact motions involved, those who are recovering from joint injuries or age-related problems such as arthritis can participate in swimming without exacerbating these conditions. This makes it a good workout option for seniors and rehabilitation purposes for younger populations.
Swimming can be done at any fitness level, making it an exercise accessible to nearly everyone. This is because there are many ways to swim – one can choose whether they want to use their arms or legs more, for example, or simply stick with a style that works best for them. For those who are not physically fit, swimming is a low-risk workout option, allowing them to slowly improve their health and fitness level.
Because water offers resistance, swimming strengthens the muscles one uses when they are in the pool. Many swimmers also do weight training outside of the pool to build muscle mass and increase strength even further. As muscles are built, fat is burned, providing even more incentive for people to get in the pool.
Swimming is a cardio exercise that can help improve cardiovascular health and overall endurance while also strengthening muscles needed for other activities where high-impact motions may be involved, such as running or jumping sports. Regular aerobic exercise, such as swimming, has been shown to reduce the risk of disease by lowering blood pressure, cholesterol levels and body fat. This makes swimming beneficial for those with medical conditions that are worsened by these factors, such as heart disease or obesity.
Finally, swimming is a low-impact workout that can be done by nearly everyone, making it beneficial for those with joint issues or other medical conditions that restrict their ability to do high-impact exercises. Since swimming reduces the risk of injury later in life while still providing many other benefits, people may want to consider adding this activity into their lifestyle if they want to improve their overall wellness and decrease the risk of developing medical conditions in the future.
Swimming is good for Children
The importance of learning to swim early in life cannot be understated. Beyond the health benefits, swimming builds confidence and a love for an activity that is great exercise with lifelong benefits.  As a parent, there are many things you can do to help ensure your children enjoy a positive experience while also making sure they stay safe in and around the water.
>>>>>>>> Read Also:   Vote of thanks Speech | Samples & Writers Guide
Conclusion
Swimming is a beneficial form of exercise for all ages and populations. It can be done by people at any level of fitness. Swimming can be done with or without equipment and is a low-impact workout that can help those who are rehabilitating injuries or who may have medical conditions worsened by high impact exercises like running or jumping sports.