While to talk about the qualities of a good teacher, is akin to talk about the beauty of sun or the moon!. There are countless qualities which can be found in a good teacher. We can't limit it like 10 points, 20 or 50 qualities of a good teacher and like that.
However, there can the most important & common qualities that are found among every good teacher. To continue with, we have written a complete essay on qualities of a good teacher.
This essays discusses about the most common characteristics, qualities, responsibilities of a good teacher, importance and role of good teacher in our daily life, in points, with quotes & images. We believe that this essay would prove helpful for children & students
Essay on Qualities of a Good Teacher | Role & Importance of Good teacher in Life
Teaching is a very noble profession. Teachers have the ability to emerge the capabilities of students and make them a better person of society.
The qualities of a good teacher are observed through their values, behavior, teaching style and attitude. There are certain qualities which a teacher should possess if he wants to be remembered as a good teacher.
Qualities of a Good Teacher
A good teacher does not care about his routine. If the class is lacking somewhere in subject then he will take extra classes too without caring about his time. For him, his students are his priority.
>>>> Read Also:  "  Essay on If I were a Teacher For Students "
He neither likes sugarcoated words of his student nor likes to do any extra favors for his favorite students. All students are equal in his eyes and he does not believe in favoritism. He knows his students very well. He listens to every problem of his students and try to solve his problems.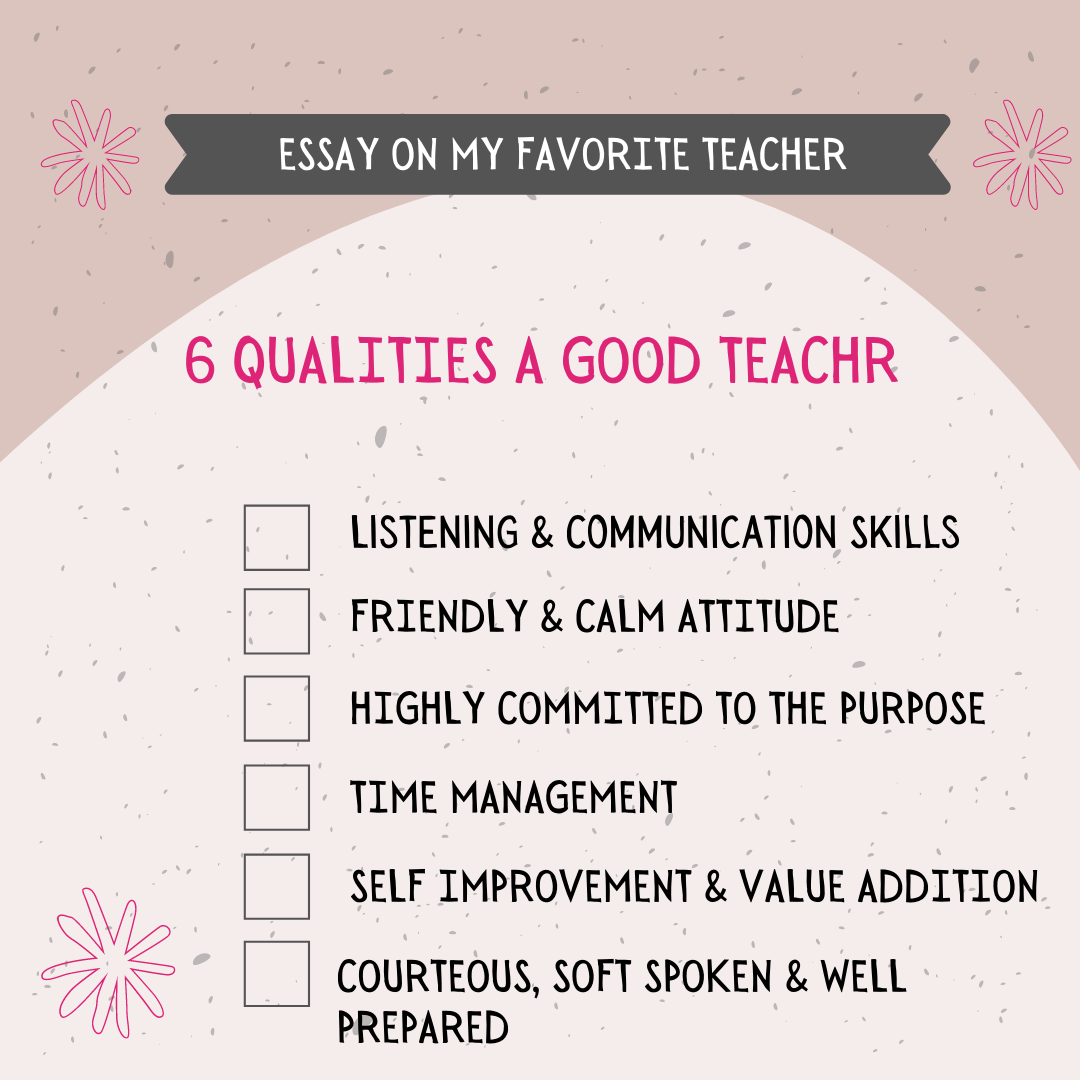 A teacher should be an ideal example for his students. He should be empathetic towards his students. A student cannot do better in exams if he is scared of his teacher.
>>>>>> Related Post:   Speech on Education For Students
He might study because of fear but there is no point in that because he will forget all the work later. Therefore, a teacher should not implement harsh methods on his students.
He should teach them with care and kindness. A student will automatically study with more attention if the subject is of his favorite teacher who is nice to everyone.
If he wants his students to be punctual then he should stay punctual first. He should arrive in class on time to teach his students punctuality. If he wants his students to be disciplined and obedient then he should first stay disciplined too.
Students observe their teachers so much. They follow their actions because teachers are supposed to show them a better pathway towards life.
A good teacher should always remain neat and tidy. If a teacher is tidy and sweet then he automatically draws the attention of his students. He should maintain good relation with his students and other teachers.
A student needs a teacher that will not give up on him and that is why a teacher should always be encouraging and supportive. He should encourage his students not only to study what is in the books but to pursue the areas of their interest and then appreciate their efforts.
A good teacher should have excellent communication skills so that he can add humor and pace to the class. Students will not be afraid of making mistakes in this type of environment. They can make a lot of progress because they can easily take chances to learn a lot of new things.
A teacher's pronunciation, lecture delivering style and attitude should be impressive. He should have good grip on his subjects and know how to teach his subjects in a more effective way.
He should also attend seminars, educational workshops and conferences to increase his professional efficiency. He should be emotionally stable because if he is unstable then he will not be able to do justice to his work. He should not always rely on books for knowledge but use other sources too to update information in his field and bring new information to classroom.
He should have passion to teach his students. How can a teacher expect his students to learn well when he is not passionate enough to deliver his lectures with interest.
>>>>>>> Related Post:  Essay on an Ideal Teacher For Students
Conclusion
Teachers play an important role in the success of every country. They are the ones responsible for shaping the future of their students. They should have good teaching qualities in order to perform their duties well.