Teaching is a very noble profession. No doubt it demands curiosity, intellect and insight but in actuality, its worth desiring. The following Essay I have written If were a teacher that talks about the nobility of teaching profession, how its sacred, vital and most desirable profession and what change one can bring while being  a teacher. This essay is going to be very helpful for children and students in school exams and written tests.
Essay on If I Were a Teacher | Qualities of Teaching that I Desire to have
Teaching is a wonderful profession. It offers you various opportunities to get in touch with students, learn their behaviors, about their cultures, and find the different ways to fit into the mind of your students. I believe teaching is one the most demanding mental activity. You needed to look through the window, into the minds of your students. If I were a teacher I would have taken a different approach.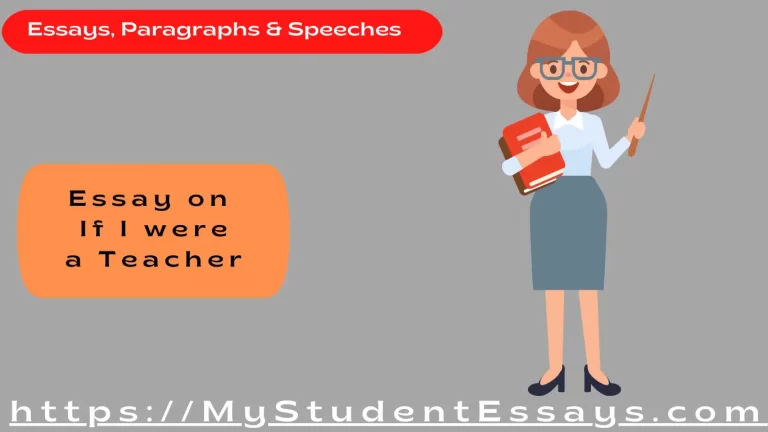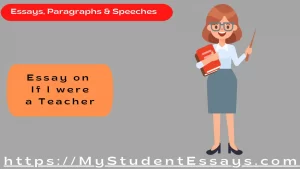 As a Teacher: Bring Novelty in Teaching Methods.
If I were a teacher, I would try to bring more novelty in my teaching methods. For example, I would occasionally change the seating arrangements in my classroom so that students would not get too comfortable and start taking things for granted. I would also frequently use different teaching aids (such as flashcards, puppets, etc.) in order to make the class more interesting and engaging. In this way, I would be able to keep the students' attention focused on the lesson.
>>>> Read Also: " Paragraph On Classroom For Students"
As a teacher: Facilitating Group Learning
If I were a teacher, I would also focus on facilitating group learning. I would encourage students to work in small groups on projects or assignments. This would not only help the students learn from each other but would also promote team-building and cooperation. Additionally, by working in groups, the students would be more likely to stay engaged and motivated.
As a Teacher: Friendly behavior
If I were a teacher, I would try to be as friendly and approachable as possible. I would want my students to feel comfortable coming to me with any questions or concerns they may have. I would also make an effort to get to know each of my students on a personal level. In this way, I would be able to build relationships of trust with them.
In addition, I would also try to get to know my students as individuals. By understanding their backgrounds, personalities, and interests, I would be in a better position to cater to their individual needs.
Overall, I believe that if I were a teacher, I would try to be as creative and innovative as possible. By doing so, I would be able to keep my students' attention focused on the lesson and help them learn in a fun and enjoyable way.
>>>> Read Also: "Paragraph On Life of a Student" 
Conclusion
Therefore, I believe teaching a unique and creative experience. You need a lot more things than just bookish knowledge. You needed to apply your practical wisdom and insight to be better able to teach your students in a constructive way.