Failure is nothing but an effort went missed to hit the target to bring success. Failure is somehow the process the tests the mettle and strength of every struggler in way of achieving something in life. The success is always preceded by multiple failures. There has never been a great success without lots of failures in the way. The following Essay on Failure talks about the Meaning, Importance of Failure & Why Failure is the Stepping Stones towards Success.
Essay on Failures in Life | Failures & its Lessons For Students
Failure is the most painful thing one has to experience. It can befall anyone, anytime and anywhere. It is the outcome of our wrong decisions or lack of efforts to do something. People often don't want to talk about it because it is hard to accept but the truth is that we can only learn from our failures.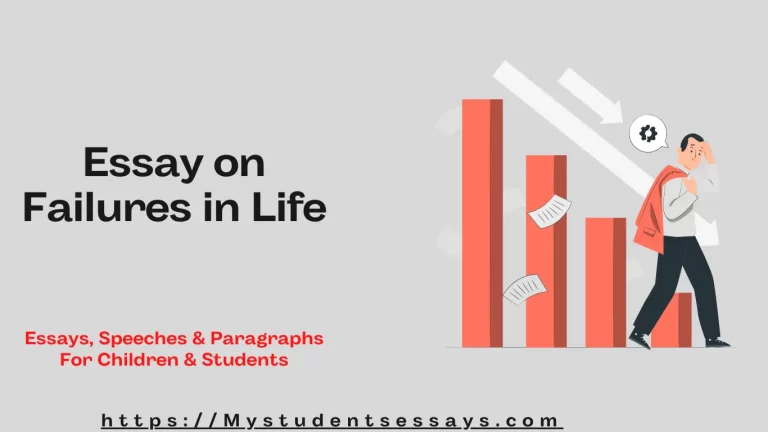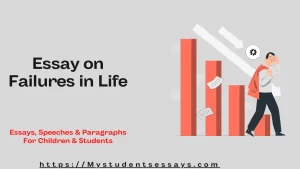 Failure can be defined as not achieving something that was set out to be achieved. It is the lack of success, which could be in academics, personal life or professional life. There are many factors that contribute to failure such as not having a clear goal, not being motivated enough, not taking action, inadequate preparation etc.
>>>>> Related Post:  " Essay on My School Principal "
One of the most important lessons of failure is that it can happen to anyone. There is no one who is immune to it and this is a hard truth to accept. However, it is also a very important lesson because it teaches us not to take things for granted and to always work hard. No one is perfect and everyone makes mistakes. However, what separates the successful from the unsuccessful is the ability to learn from these mistakes and to use them as a stepping stone to success.
Another important lesson of failure is that it teaches us persistence. Life is full of hardships and setbacks but the key is to never give up. We must always pick ourselves up and continue moving forward. Failure is a part of life and it is what makes us stronger. If we give up every time we face difficulties, we will never achieve our goals.
Lastly, failure teaches us to be humble. No one likes to fail but it is important to remember that we are not perfect and that we all make mistakes. We must learn to accept our failures and to learn from them. By being humble, we can open ourselves up to new opportunities and learnings that we would not have otherwise.
Overcoming Failure:
There are many ways in which students can overcome failure. Firstly, it is important to have a positive attitude and to never give up. Secondly, students must learn from their mistakes and use them as a learning experience. Thirdly, they should stay motivated and focused on their goals. Fourthly, they should prepare adequately for all tasks and challenges. Lastly, they should be humble and accept their failures.
>>> Related Post: "Essay on Every Cloud has a Silver Lining "
Conclusion
The failure is a painful but important experience. It teaches us valuable lessons that we can use to improve our lives. It shows us that we are not perfect and that life is full of hardships. It also teaches us persistence, humility and the importance of learning from our mistakes. These lessons are essential for students as they embark on their journey to becoming successful adults.