Money does not grow on trees. It takes work and effort to make enough money to live day-to-day expenses. If you want extra spending cash, then you'll have to learn how to get it the right way. Money problems are too common in this day and age which means that you will need to learn how to save money .
Essay on Importance of Saving Money for Students
People often fail to realize the importance of saving money. They think that they will get enough time in their lives to save and invest their money for future use. But according to me, it is better we start investing our money from an early age itself because we can see a glimpse of inflation when we are in our teens. Inflation has been increasing year by year. If the inflation is there then it should be checked by putting some of our money in the bank rather than spending them on useless stuff which may not have worth in future.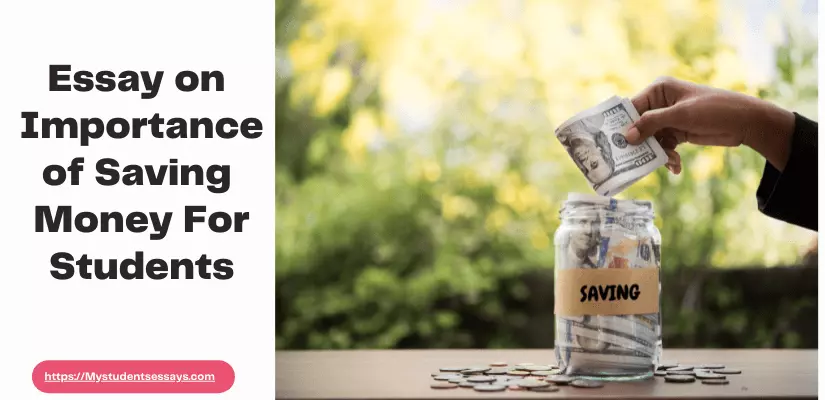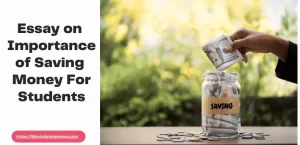 When we are young, parents or elder people teach us to save or put some money for future use . People often think that its better to invest money in business so that they can earn more money. But first of all a person should try to save as much as possible because if we have money saved in bank no one can take it away from us . Even the Government cannot take our hard earned money from us. So people should start saving as early as possible.
>>>> Related Post: Essay on If I were a Millionaire!
Saving money is not as difficult as you think. In fact, it can be easy once you decide what your needs and wants are. You also have to figure out where your money goes and find ways of saving money daily. For example: Do you go out with friends frequently? Then, one of your wants would be going to a bar or restaurant with friends. Perhaps, you can cut down on spending money by inviting them over for dinner.
Don't let the fact that saving money takes time stop you from doing it. Money doesn't have to be saved in a bank either. Use calculators online and determine how much you can save each day. Once you reach your savings goal, put the money in a safe place like under the mattress or in an old shoe. You don't want to lose it or spend it all at one go.
>>>> Related Post:  Speech on Corruption, Causes & Impacts
One of the best ways to save money would be by creating a budget plan . It will help you see where your money goes and where you can cut down on spending. You can even use budgeting apps to track your expenses and learn how much money is spent per week. This will allow you to see your progress as well as keep a close eye on what money is going out and coming in each week or month.
After you cut down on spending, you can learn how to save money on gas and transportation . This will help you get more mileage out of your car which means more savings for you. You will also need to learn ways of saving money at home such as using coupons when shopping or making food from scratch instead of buying it.
Saving money is a skill that takes time and effort. However, it is a skill that you will need to learn even as an adult. It is one of those skills that can make all the difference in the world when it comes to your financial future and well-being .
>>>> Related Post:  Essay on Dowry System in India
Conclusion
Saving money is important because it allows you to build wealth . Wealth, in turn, helps you make more money. Saving provides a cushion for emergencies that come up with regularity. And finally, saving money is one of the factors that determines how wealthy you are or will become.