A Millionaire is a term that people use to define wealth.  It is usually the threshold up to which some are willing to work. A Millionaire usually works hard to earn a lot of money before they decide to retire, it could be anything from building a company or investing in something that will assure them good incomes for life. Read the following Essay If I were a Millionaire
Essay on If I were a Millionaire | Short & Long Essay for Students
The term millionaire is often used to describe a person who has net assets of over one million units of currency. Alternatively, the term may be used to someone with a vast amount of it in his possession. However, this can be different from the actual meaning where it refers to an individual who possesses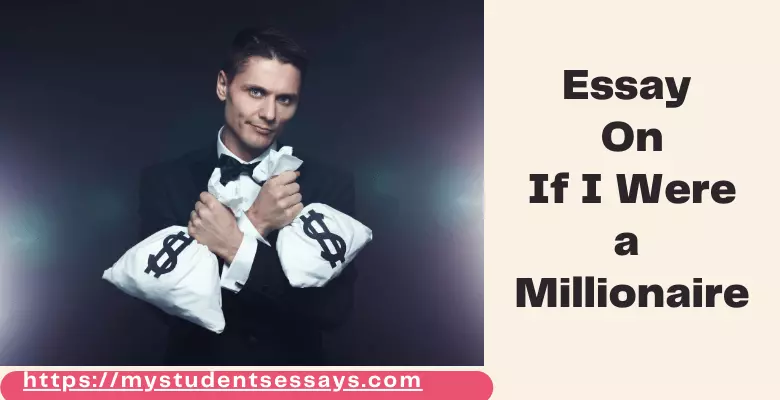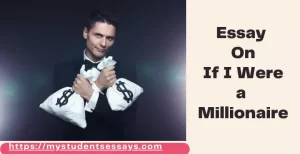 Assets that are worth 1 Million Units of Currency, regardless of whether or not they are in possession of it or not.
Why its Good to be Millionaire?
A millionaire is financially free.
A millionaire can do what they want with their life, be it travelling or just having fun. Not only that, they are not bound to any particular location nor is their time limited by a job they need to clock in daily for work. They do not depend on others for basic needs or for their paychecks.
>>>> Related Post: Essay on Importance of Saving Money in Life
A millionaire is more eligible for credit facilities.
This is one of the major benefits of being a millionaire in this modern world. Having a good credit rating and record can enable to get loans and mortgages at lower interest rates, and hold on to important assets such as houses and cars that may still require further purchases.
A millionaire gets a lot of respect, even if they are just a kid.
A millionaire is often associated with being grown up and mature people who have enough sense of responsibility to manage their own earnings and resources without the help of others, especially when making big purchases or financial commitments such as buying houses or cars on credit.
If I were a Millionaire
If I were a millionaire I would have done the following things;
Buy myself a nice house and a car or two.
Travel to new places and explore the world's hidden cultures and traditions with my friends and family.
Open up an orphanage for abandoned children in town where I live, so they can have a good life just like me 🙂
Help the poor, sick, elderly and special children in need.
Hang out with celebrities around the globe and tell them about my awesome life and achievements 🙂
Visit Africa and help people there! I really want to know how it feels like to be a part of their lives.
Buy a super awesome camera! I love photography!!!
Be financially free, especially for my parents and siblings, they are the people who raised me up to what I am now 🙂
Finally retire from my job
>>>>> Related Post: Essay on How to be Successful in Life For Students
Conclusion
Being a Millionaire, you have the freedom to do basically whatever you want in life! You can spend your days on a beach or in a fancy resort!! Or you could go around the world and see new places, experience different cultures + delicacies..  So many options after getting lots and lots of money I will help my poor families, specially help them to get education.