Myself essay for class 1 students, myself essay for kids, KG students and further steps how to write myself essay for all classes.
Myself Essay For KG Class 1 Students | How to Write Myself Essay Guide For Children & Students
Myself Essay for Kids, class 1 students should have to be very simple, clear and reflective of the nature of a child. It should truly state what a child experiences and understands about his life, school, friends family and more importantly about himself.
The following sample essay about myself for KG class 1 students would surely help you out. In addition to that, a small myself writing guide has also been provided for you.
1. Myself Essay for Class 1 Students
I am Mahesh. I am 10 years old boy. I live in Delhi. I have 2 brothers and one sister. My grand father and grand mother also live with us. We are a happy family. I am the most cute and love boy in my family. I love to play with my toys. I love to listen music and watching cartoon. My grandmother also tells us fair tales stories. We all love it.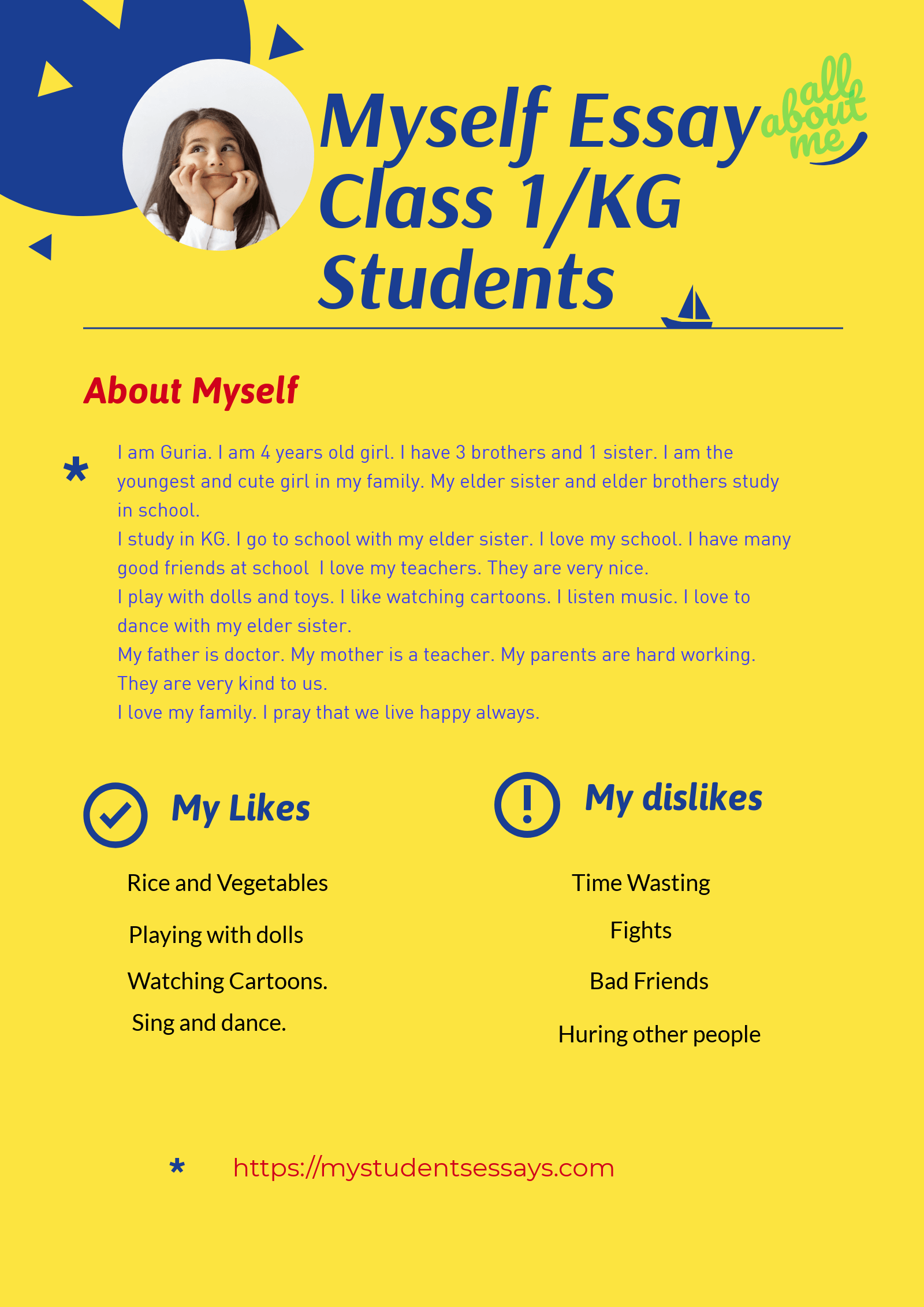 I like good friends. I have good friends at my school. I enjoy playing with them. I love my school and my teachers. My teachers are very nice to me. My father is an Engineer. I also want to be an engineer like my father. My mother is a lecturer. I come school with my elder sister. My little brother is just one year old. He plays with my grand mother.
On every Weekend, my father takes us to visit the city. We go to museum and national park. I love deer, elephants, zebra and Monkey at the zoo. We all enjoy. We also go to picnic. Last Sunday, we all went to National park for picnic. It was raining.
We enjoyed a lot. Many people came to enjoy rainy day with picnic. I am very much thankful that God has gifted me loving family. I love my family. I pray that we all live happy for whole life.
2. Myself Essay for Kids
I am Rani. I am 6 years old girl. I have one brother, Rahul. I live in Delhi. Our family consist of five people. My parents, my brother and my grandmother with me. We all live happily.
I study in class one. My brother Rahul studies in 5th class. We study in the same school. The name of our school is city Public School. I come to school with my brother. My school is very beautiful. I have many good friends at school. My teachers are very nice. They love us and teach us kindly. I like English. I am very good in this subject. My brother Rahul is interested in Math and science.
I play with dolls and other toys at my home. I love to watch cartoon movies and dramas. Sometimes, I sing and dance also. My favorite dish is rice and vegetable. My favorite color is blue. I love it. I also do drawing as well. My father is a Police officer. I like him. He is very hardworking and honest man. My mother is a teacher.
She helps me in my studies. She is a good cook also. We all love dishes made by my mother. Every weekend, we all go outside for picnic. We play and enjoy a lot. In vacation, we also go to visit our village. It is very beautiful place. I love green fields, cows, buffaloes and goats. It is so sweet there. I am very happy with my family. I enjoy a lot. I wish all my friends good parents and good families.
Related Post: MYSELF ESSAYS FOR ALL CLASS STUDENTS
3. How to write Myself Essay for children

?
An essay on myself for children, Class one or KG students, is simple and essay to write. Being a child or student if you are asked to write myself essay for class one or KG students, how would you write? It is simple as 1,2,3. Follow the basic outline how to write a myself essay for class one students.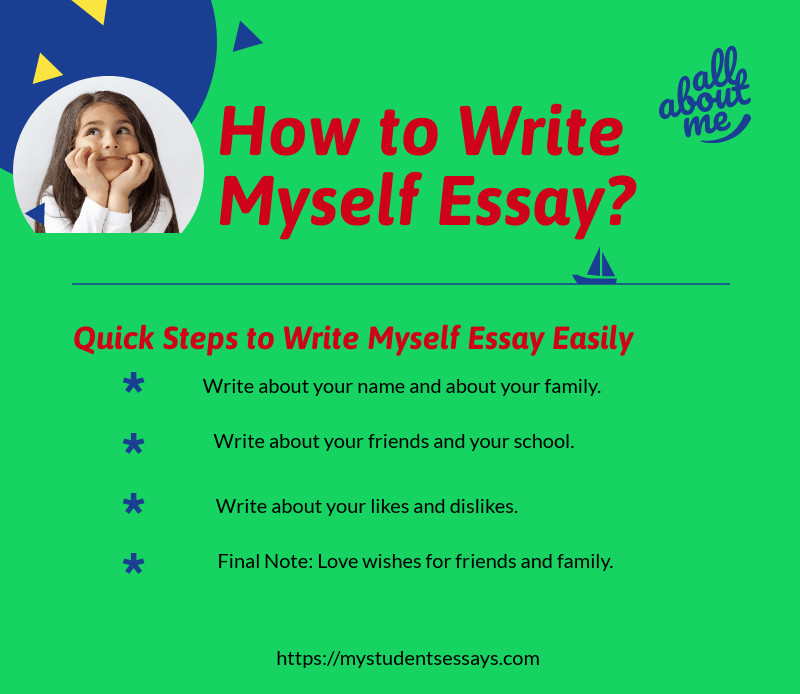 Be brief; do not think that you are supposed to write a long essay. Myself essay for class one can
be  simply either 100 or 200 words. It's not more.
Start by writing your name and a little about your family.
Write about your school. You can write about your class friends and about your school teachers as well.
Write about your likes and dislikes. For instance, you may write about your favorite toys and colors.
Write about your family. What you father and mother does?
In the end, write a love note for your family, friends and school.
That's to say, a myself essay for class one and KG students wouldn't need much. Enjoy and share this with your friends.