My hobby is my pride. Hobby is our unique identity. The following Essays, Paragraphs & Speeches  on (my) hobby including; singing, dancing, swimming, reading,traveling, gardening, cricket, Painting & drawing with quotes, are quite helpful for 1,2,3,4,5,6,7,8,9,10 class students.
My Hobby Essays, Paragraphs & Speeches with Quotes, Examples & Info graphs for Children & Students
A hobby is called a pastime activity for which one is passionate. Everyone enjoys doing what he likes the most in his free time. There are many hobbies like drawing, dancing, playing, stamp collecting, horse riding, books reading, swimming, singing, traveling, gardening etc.
1. Essay on My Hobby Drawing/Painting
The nature of a human being is different and diverse. Apart from living for others, a human mind is always inclined towards some sort of skill or activity that makes him happy and engaged. Those skills can be reading, writing, traveling, painting, etc.
A hobby is what a pastime pleasure that keeps you engaged, focused and happy all the way. It is born out of sheer interest and aptitude of human nature into some sort of skill and activity. Apart from having a lot of interests and activities in life, my hobby is painting. It has been with me since my childhood when I used to make random pictures, portraits with colors randomly.
Though it caught the attention of my parents lately. But thanks to all, I am never restricted from getting engaged deeply into my hobby. I am rather appreciated and regarded well in my family. I belong to a family where my father is a well-educated businessman and my mother is a writer. Perhaps, I have inherited my father's aptitude and my mother's talent combined to make me an adept painter and drawer.
Apart from my home, I am well known in my circle of friends. I always participate in various drawing and painting competitions that are held in my school from time to time. I am extremely thankful for the skills that I always win rewards and applause from my teachers. I have been three times gold medalist in annual inter-schools drawing and art competitions
Painting is an art. It is more a natural gift. I feel deeply engaged when I turn myself to painting and drawing. I am deeply inspired by the life and works of the world's famous painters including Leanardo, Pablo Piccaso and Vincent van Gogh. There are deep lessons from their lives for us to learn.
I hold painting as a sacred art. It strengthens your belief in peace, love, and prosperity of human beings all around the world. The painters are also the custodians of art literature, history as the sacred trusts.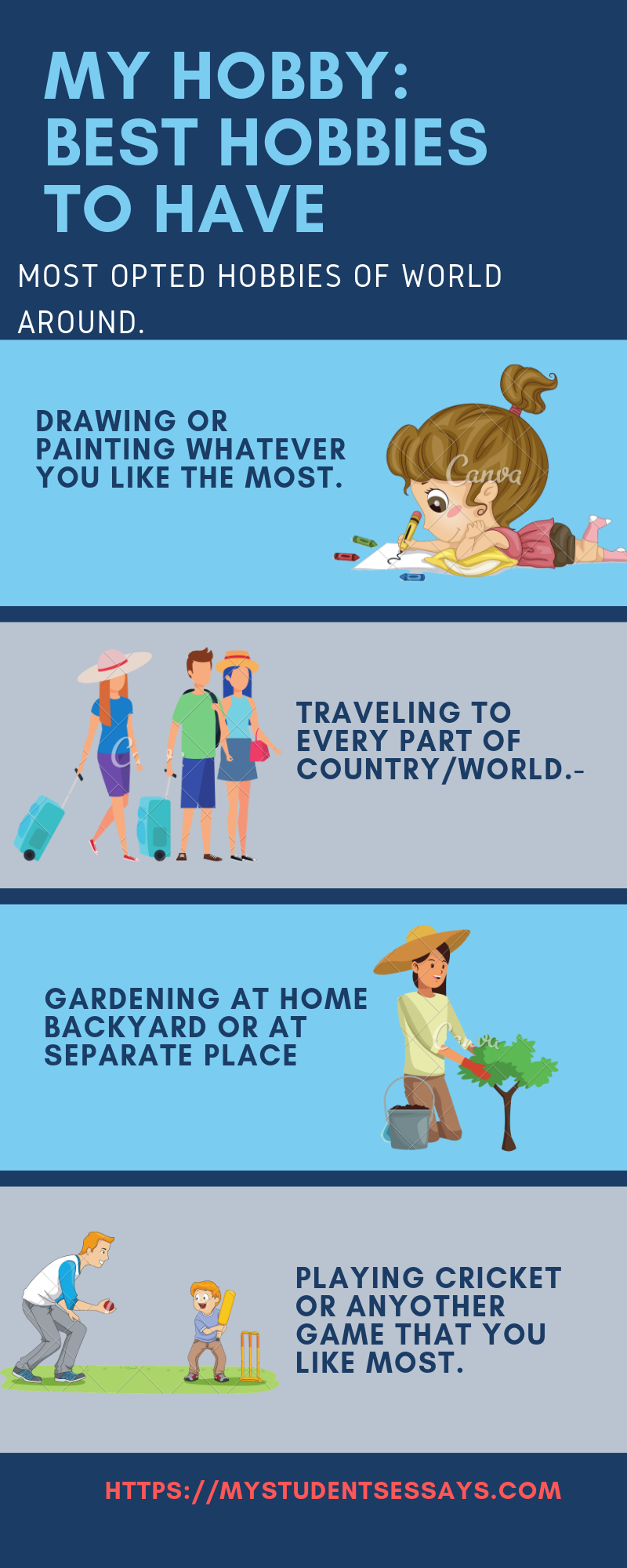 2. Essay on My hobby Dancing

Like all other hobbies, dancing on melodious music is one of the most favorite hobbies around the world. It keeps active and alert. It is an art that is developed with intense and rigorous preparation of body and mind. Not only it involves the movement of the body but it takes your mind and soul to become a good stage performer. As it said;
"Dance is the hidden language of the soul."
Martha Graham
Dancing is my favorite hobby. Since the days of my childhood to this day, I have learned and performed dancing on various occasions. I have got a list of awards won by me in various dance competitions. I vividly remember my very first dance. Inspired by my cousin, I jumped into dancing at the age of 5 years. I wore a pink dress and performed a ballet dance.
It was one of the memorial days of my life. Since then, I became attached to dancing. We danced in a group on various occasions and had won so many rewards, trophies, and medals. To be a good dancer apart from a hard practice and experience you need your favorite dance apparel too.
For instance, you can't impress the audience by having a dance with a bad combination of clothes and shoes. They also help you with your moves and attraction.
"Nobody cares if you can't dance well. Just get up and dance. Great dancers are great because of their passion."
Martha Graham
There are countless types of dances today. For each type, you have to learn its moves and adopt the particular dancing rhythm without which you can't have a good dancing impression. A good dance performance keeps you motivated, relaxed and confident in your appearance.
Dancing is a strict and demanding hobby. Everyone can't have the same. To be a good dancer you need to have the active support of your family. I am thankful to my parents who stood beside my passion for being a good dancer. I have earned a lot of respect and recognition among my peers and nears.
3. Essay on My hobby Singing For Children & Students

There are countless hobbies people are having around the world. Each person is different from the other. Due to the difference in taste and tendency every person has a different kind of hobby.
Singing is one of the most favorite hobbies in world along with other like dancing, traveling, painting, stamp collecting. etc. Singing is my hobby. In fact I am very passionate about it. It is one of the best hobby that keeps you happy all the time.
It always keeps me happy and refreshed. It provides me a way through which I can express what I feel about anything. I started taking interest in singing right from my childhood. I used to listen the songs of every genre. By and by, I developed a good taste for singing.
Due to my good vocal, I was encouraged by my peers at school and later my family to sing. I always take an active part in all types of functions that are organized at school. I love to please my colleagues and all with my sweet sound. I have won my awards and accolades in singing. I am extremely proud of natural singing style.
No one can be good at any skills without the help of a teacher. I am thankful for my parents who helped me get trained from a well reputed music academy of my city. I learned all the famous styles with popular music genres of world. My tutors always praised me for skills and aptitude in singing. Though I am good at both classical and modern genres of music but I personally like a mixed soft genre of music.
When I sing, I feel like lost in the world far away from here. I forget all and give my full to influence and impress my audience with my heartbreaking singing skills. My hobby has led me towards and established singing career. I feel quite wonderful with a life of singing and entertaining the people from all walks of life. I always encourage my juniors for working hard to achieve the intended aims and goals in life.
To me singing is a sacred art. It is because of the gift of sweet sound that helps you run higher in the field of singing. I believe that with passion, dedication, art and commitment of purpose there is nothing in this world that can't be achieved. Therefore, I always advice my young singer to learn the art of singing with passion, dedication and patience to be a good singer of tomorrow.
4. Essay on My hobby Gardening

A hobby is an activity that you passionately do in your free time. Every single man has had a passion to do something. There are countless hobbies like cooking, dancing, fishing, traveling, etc. Every person has a different hobby to do in his/her free time. To me, gardening is my favorite hobby.
I love gardening more than anything else.To satisfy my craze for gardening, I have raised a small garden near my home. I love spending my free time therein. I have planted many trees including some flowers like roses, jasmines in my garden.
I love watering and raising my favorite plants. I also invite my friends to visit my small garden and enjoy sitting in the sweet fragrance of flowers around. Gardening is a smooth and sweet hobby. It helps me get relaxed and refreshed. I spend my quality time with flowers, trees and little birds there in the garden.
To protect my small plants against diseases I consult with gardening experts here in my city. Apart from that, I have raised an iron fence to protect my plants from animals.
Gardening is not an easy activity, especially when you are a newbie in it. Apart from your core interest, good gardening is dependent upon certain factors. It requires a well nourishing soil that helps plants grow smoothly. A dirty and dry soil is quite difficult for gardening. You have to give water to it and add healthy manure and fertilizers to make it nourishing and healthy.
Secondly, gardening requires you to chose the plant breeds wisely. As per your soil and climate needs, decide what you need to plant. You can easily find plants sapling from the market. Be careful of buying healthy sapling to plant because you are going to invest your time and passion in that. After all of these, you have to take strict care of these plants until they grow good.
Gardening is one of the sweetest hobbies one must-have. It makes you relieve stress and anxiety. However tired, tensed and worried you are, you will feel relaxation and happiness inside the garden. Therefore, the gardening hobby has physical, psychological, economic and environmental benefits. One should never leave it as a hobby.
5. Essay on My Hobby Traveling

Going from one place to another, learning from the historical experiences and strengthens one's observation and understanding regarding different places of this world, is called traveling. One may travel for several purposes. We all travel in this life for our different works.
Traveling becomes a hobby when you leave another place and find another to gain more knowledge, observation and idea about that out of sheer quest, is called traveling hobby. I am very fond of traveling. It is my best ever hobby. I never settle at one place. Instead, I like visiting different place and meeting different people.
In fact, I am the team leader of our hiking and traveling group at school. Our school offers us a traveling and learning experience to different locations twice a year. That truly helps us in maximizing our knowledge and understanding regarding life.
I like to travel to the historical places like forts, old temples, mountains, sculptures etc. I have visited and explored many historical places in India in Mumbai, Gujrat, Orrissa, Mahrshatra and at other places. I have compiled of my travel experiences around these different places. This serves me a good memory that I enjoy watching in my free time.
Traveling is a wonderful and healthy activity. It has a lot of physical and mental benefits. It adds knowledge, experience and adds more learning. Though it is a bit expensive hobby yet is recommended for a man to travel to different new location once a year at least. It would help a man to stay focused and satisfied in one's life.
6. Essay on My hobby Playing  Cricket
A hobby is the name of an activity that one does in his free time with passion, dedication, and joy. A hobby is a pastime activity loved by the people of all around the world. Every man around the world has his/her favorite past time activity called a hobby. Some people enjoy singing, dancing, traveling, cooking while others enjoy playing games, reading books or watching movies. These are all called hobbies.
Playing cricket is my favorite hobby. Cricket makes you happy and healthy. Playing cricket involves a lot of physical exercises and activities. It is a healthy exercise with good physical and mental benefits. Playing cricket is not like a child play. It is liked only be active, alert and smart people.
I have been playing cricket since childhood. In the initial days, I used to play with my peers in the streets. I really miss today the cricket of those days. I have learned from there and since then I am on the way of being a professional hitter batman.
I have earned a good name in my circle because of cricket. I have helped my school cricket team to win annual inter-schools tournament thrice. I received a lot of appreciation and medals due to my best performance at various cricket matches. I am very much inspired by my Indian Cricket team. I like and wish for the way our hero Sachin Tendulkar plays. During my free time, I watch his past matches.
It has greatly helped me in playing and performing well on the cricket ground. I have watched his live performance in a few cricket matches. I always aspire to become a man like him. Apart from Sachin, I am a huge fan of Ms Dhoni, Virat Kolhi, Rahul Dravid, Rahul Sharma, and other hitter and great bowlers of our country. We all love them because they are our pride when the beat other countries in cricket.
Cricket is one of the most popular hobbies across the world. It is a wonderful hobby with a lot of physical and psychological benefits. It can become a good career though. But given the fact, a hobby is always a pastime activity. Therefore, a balance needs to be created between what you and what you need to do. Along with cricket, our study and career choice are also important. Therefore, friends should decide wisely.
>>>>> Related Post:   Essay on Pleasures of Reading For Students
Frequently Asked Questions (FAQs) about Hobby

1. What is your hobby paragraph?
A hobby is the pastime activity for fun, entertainment, learning some skills or converting it into a full time business/job with passion. There are different hobbies like singing and dancing, playing cricket, football etc, Painting and drawing, walking or traveling etc.
2. How can I write about my hobbies?
Its quite simple to write about your hobby or hobbies. Just simply write a brief introduction and explanation of your hobby with its positive qualities and reasons why you like it most. In addition, to that, write points why your hobby is suitable to your personality or appearance.
3. What is your Favorite hobby and why?
My favorite hobby is traveling all across the area I live. In my free time or during vacations I prefer to stay outside and explore the beauty of nature. I have traveled to many good places of my country. I love meeting new people, visiting new places and exploring new opportunities and challenges.
I am the man of creative ability and have an instinct to explore new things. I love writing and exploring new things. I always love challenges and meeting new people and making new friends
4. How do hobbies help us?
The hobbies are the inherent part of our life. They help us stay focused and in fresh healthy mood. The hobbies help us to channelize our leisure time for a good goal in life. The hobby like writing help us to summarize our experience in our own words. We reflect on our life and try to improve ourselves for our goals in life.
The hobby like dancing helps us stay fit and even we can channelize that hobby into our profession. Same goes with the hobby playing cricket or football. They help us maintain our bodily health. In fact, all  the hobbies have some great purpose and benefit for us in life.
5. Why is it important to have a hobby?
The hobby is in fact the part of our personality. A stronger, healthy and successful man does always maintain some good hobbies. The hobby reflects our personality, our preferences and our interest and aptitude to our life
6. What are cool hobbies?
There are many cool hobbies in life including, writing, singing and dancing, cooking, traveling, swimming, riding reading books etc.
7. What is a good hobby?
Every hobby is good. In fact, the hobby is what a person does with passion for his mental, spiritual or monetary benefits. However, it should be noted that there is  a difference between a hobby and habit. A hobby is always positive, good and a man always finds satisfactions while doing that. Whereas, the habit is one that is acquired and left when needed
8. What are social hobbies?
The hobbies that require social presence are called social hobbies e.g dancing, singing, playing cricket or football, traveling etc. For social hobbies you have to interact  with the people. Whereas, the hobbies that can be done alone are non social hobbies. e.g reading book, listening songs, watching movies etc
9. How do you develop a hobby?
The hobby is the sum total of your interest and aptitude for something. It is your great interest for something that makes a hobby. The interest can be developed by rigorous practice and following rules and discipline