Cricket is one of the oldest and famous sport all around the world. It is the national game of England, there is a national cricket team of many countries.
The Following Short & Long Essays on topic Cricket Match, facts, & importance of cricket are quite helpful for children & Students of Ukg class 1,2,3,4,5,6,7,8 & high school students.
1. The Cricket Essay | Short & Long Essays On Topic Cricket, Importance & Facts For Children & Students
Cricket is a wonderful and very popular game all across the world.  It is said that cricket is being played since Colonial period.
Every year many national and international tournaments and matches are organized throughout the world.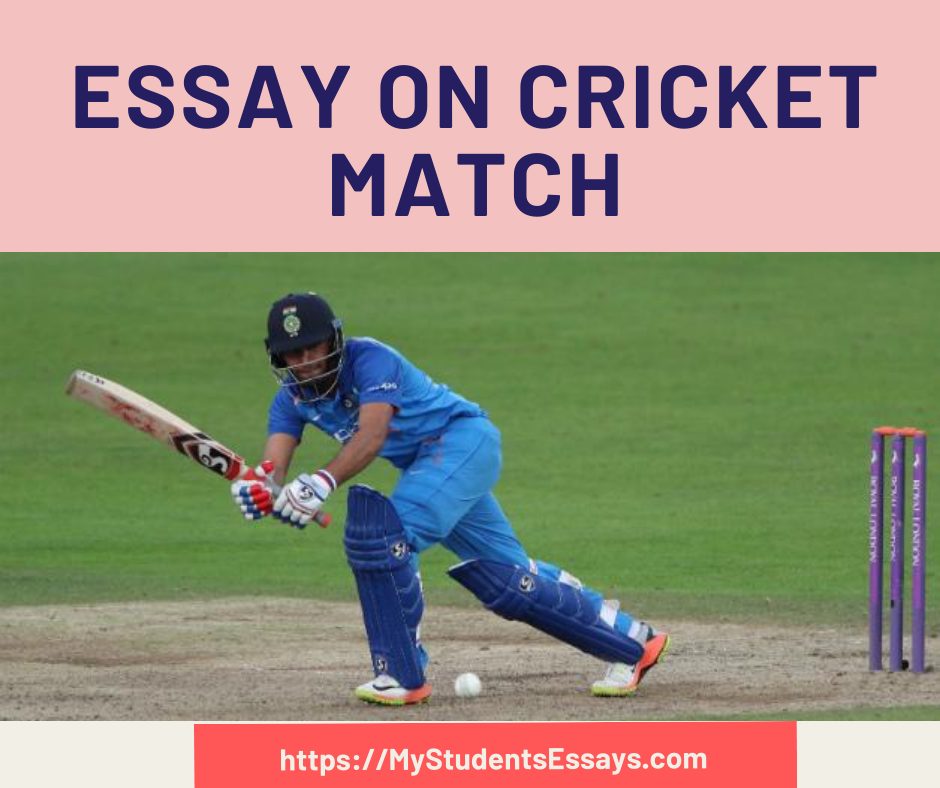 After every four years, World Cup is held in which many teams of different countries participate to win the title.
The cricket is wonderful and favorite sport of many students. In many school under 18 School tournaments are held where students from all classes like class 5,6,7,8th & High school students take part.
The cricket match revives national spirit. The cricket bat and the cricket ball excites the interest when we witness the national teams playing in international sport.
The cricket is the craziest and exciting game that amounts to creating cricket fever in most of cricket enthusiasts.
Cricket match is played between two teams, the match start with the Toss, the winning team either choose to bat or bowl first. Each team consists of eleven players led by a captain.
There is one wicket keeper, three to four good batsmen, two to three fast bowlers, at least one spin bowler. Each team has their specific openers who come to ground to bat first.
Cricket match is played in a oval shape ground, in the mid of the ground there is a rectangular shaped pitch where a bowler balls and a batsman bats.
On both sides of cricket pitch three wooden sticks called wickets are placed, on top of these wickets bails are kept which fall when ball strikes with wooden sticks.
The standard cricket pitch for international matches measures 22 yards while the size of the ground varies. The cricket ball in international matches is found in two colors, red and white.
There are three types of cricket matches, test matches, one day matches and t20 matches. Test matches are played with red colored ball, in test matches players play till the get out.
They face many overs and try to score more runs. Good batsmen try their best to score century, a player who scores 100 runs in a cricket match is called century.
A test match continues for five days, each team play series of matches with each other, it lasts for five days. The 50 overs match is called one day match.
In one day each team face 50 overs, the team which scores more runs wins the game. One day match lasts for ten hours.
While in t20 matches there are 20 overs, in t20 cricket players play aggressively, in each over batsmen try to hit more and more fours and sixes to score more runs to face the opposite team.
When the ball hit by the batsmen fly over the boundary line is called a sixer but even if ball touches the ground and fly over the boundary line is called four.A t20 match takes three to fours to complete.
The Umpire play an important role in the match because umpire's decision is considered final one. If an umpire fails to decide or doesn't get the idea he refers third umpire who finally declare decision.
Importance & Advantages of Cricket

Cricket is very popular game, it is played in streets, towns and at national and international level.Cricket is a source of inspiration for many people.
Many people play cricket to earn identity at world level while some just play to maintain their physical fitness. It is not only source of healthy recreation but teaches patience, team work and hard work.
Conclusion
All games whether indoor or outdoor games play important role in our life. Cricket is popular outdoor sport. The leading organization of cricket is called ICC, it stand for international cricket counsel.
After world cup tournament, one enjoys to watch league matches in different countries in which players from all around the world participate in different teams. The most famous leagues are IPL, PSL and BPL.
2. Essay on one Day Cricket Match at School
Principal announced cricket match between our school and neighboring school to be held on Saturday morning. Preparations were made.
Our team practiced to their level best. We arrived at the ground 7 am. Students were carrying different play cards in favor of their team. After recitation and national anthem, umpire called for toss.
Host team won the toss and elected to bat first. Caption of our team set the field wisely. my friends and I were cheering for our team.
Host team played well and hit some amazing shots that were appreciated by the audience. They scored 108 at the end of tenth over.
We surely have some amazing batsman and they showed their skills very well. They hit amazing shots in the beginning and everybody cheered for them.
After fifth over, wickets began to fall. There were tension on the faces of supporters and coach. Host team bowled really well. Our team was in need of skillful player who could handle this pressure.
We needed 30 scores in just 12 balls. A well known batsman of our school came to the field. Everyone was well aware of his skills and he was last hope our team.
Our coach was determined that he had skill to do this miracle. Crowd cheered a lot for him. He hit amazing sixes over the head of crowd in first two balls.
He added energy to the audience. They all were cheering loud for me. He continued to hit thrilling shots and made his team to win this match.
All the students stood on their feet to pay homage to both teams. Players appreciated one another for their game.
At the end, principal thanked the host team for coming. Gifts were distributed among best players of the match.
3. Short Essay on Cricket Match
My friend told me about the local cricket tournament in our city. He told that number of players from neighboring cities are participating in the tournament.
All the teams are second to none and it had been thrilling tournament so far. He further told me that he had bought tickets for the final.
Being a fan of cricket, I could not resist and accepted the proposal. Match was decided to be held at 8pm and we arrived the stadium at 7pm.
There was farewell ceremony in the beginning and number of local singers and dancer added to the festivity of the event. At sharp 8pm, umpire called the captains of both teams for toss.
Team eagles won the toss and elected to bowl first. Team loins was so far undefeatable in the tournament and there were a lot of pressure of final on both teams.
Team loins send their batsmen to field. They started like a champions and scored 96 in just 9 overs. Team eagle was pressurized by such a brilliant start but then there came a young bowler and he knocked two batsmen in his first over. After it, wickets began to fall and at the end of twenth over, team loins scored 180.
After a break of 5 minutes, batsmen of team eagle entered the field. Team loins again bowled nicely and knocked out 2 batsmen in just three overs.
Supporters of both teams were cheering for their respective team. Team eagles was losing wickets and team loin was dominating the match.
At the end of 8 over, they scored 60. There came the caption of team eagles a well known batsman of city. All the eyes were on him and he proved himself skillful by scoring 40 runs in just 18 balls.
He hit long sixes and mesmerizing fours. Team eagles required 14 runs in last over and caption was still there on the crease.
He hit long six at first ball of the over and all the fans stood up cheering for him. He hit three consecutive sixes and made his team taste the victory. He was announced man of the tournament. Players of both teams shake hands and match was ended.
4. Few Lines on Cricket Match
The cricket is the wonderful & most interesting sport.
The cricket is popular sport all across the World. It is the National Sport of many countries.
The Cricket sport started from England and then spread to the world.
There are 11 Players each in two teams, that are needed to play cricket.
The cricket match is played is cricket ground or pitch where both teams play with thousands spectators all around.
5. My Favorite Game Cricket Paragraph
Cricket is my favorite game. I love to play this game. This game gives me fitness, happiness, strength and skills for life. I have been playing this game since childhood.
I have played number of tournaments at local level and at college. I am also caption of my team. I am batsman and always try to do best for my team.
Being a caption, I always encourage my players to give their best. I have to keep eye on every player during match. This makes me keen observer.
Sometimes we lose the game but I never lose hope. Cricket has taught me that failures and success are part of time. Instead of losing hope, we should learn from our failure and try our best for success.
All the players work hard with harmony and coordination for success. We learn the importance of team work in cricket.
Sometimes there is a lot of pressure during the match but we have to remain calm during match. Sportsman spirit is very important in cricket.
All the eleven players give their best to win the match and they have to fight till last bowl. Cricket teach me that your struggles always bore fruit so that we should believe in our selves.
Besides, cricket keeps with fit and healthy. It refreshes my mind and I am able to concentrate better on my work. It helps me to forget all the worries.
My favorite cricketer is Baber Azam and I always try to observe his performance. I learn a lot from his game. I want to become professional cricketer in future and represents my country in cricket.
I have already won a lot of medals and trophies in this game. Cricket is one of the best game and I really enjoy playing it.