The Kabaddi is one of the wonderful, traditional and historical sport that is played across India. Various types of matches; national kabaddi, international kabaddi premier league etc are held.
Therefore, in order to give you complete information, facts, slogans and history of Kabaddi, We have written following short essay on Kabaddi, few lines as 5 lines,10 lines, main rules of kabaddi game etc.
Read the following short & Long Essays on topic kabaddi, few lines & more sentences for Ukg kids, class 1,2,3,4,5,6,7,8,9,10th level students.
Essay on Kabaddi | Main Rules, Facts, 5 lines, 10 Lines & More Sentences on Kabaddi For Children & Students



The word kabaddi is derived from a Tamil word 'kai-pidi' which means 'to grip hands'. It is an outdoor physical game that is played in an open field. It is a traditional and famous game in our country. It does not need any particular location and it can be played anywhere. There are two parties required to begin the game.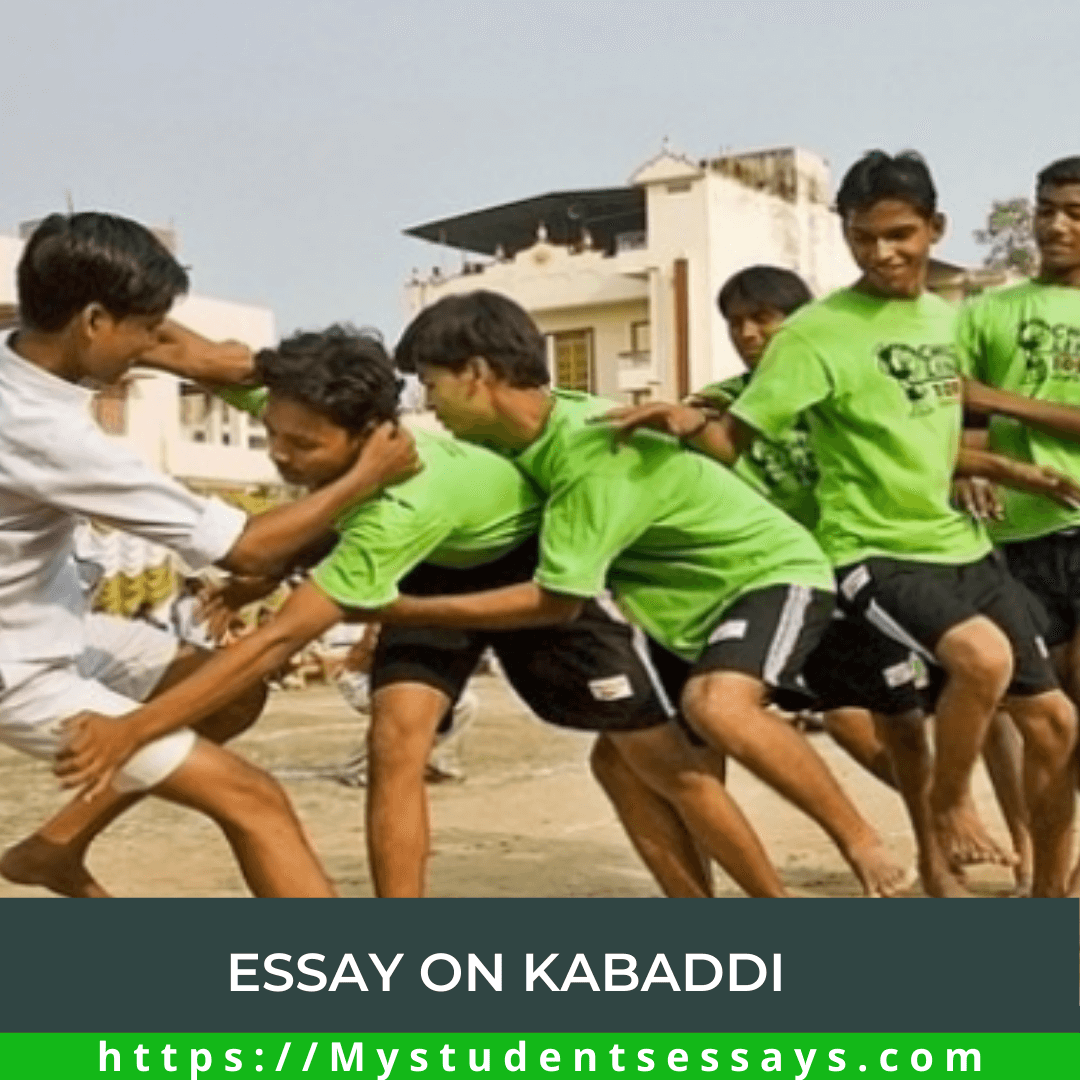 It is a very exciting and interesting game in which we have to stay alert and create strategies to move out of the danger very fast. This game requires stamina, physical and mental strength, cooperation and team spirit. It is very exciting to even watch this game.
History of Kabaddi

In early times, kabaddi was known ashututu. Over 4000 years ago, it emerged in Tamil Nadu located in India. It was played by people to show their strength and stamina.
>>>>>>>> Read Also:    Essay on Swimming, Importance & Benefits
Now, it has travelled far and long from Tamil Nadu to international surface. It became a part of Beijing Asian games in 1990. First kabaddi world cup was played in 2004.Now, kabaddi has become one of the most played sports across the world. India is the unbeaten world champion till now.
How Kabaddi is Played?

Kabaddi is played between two teams and each team has 7 players. The matches are based on body weight and age. A straight line is drawn in the middle of the field between two teams.
This line is called 'pala'. The team who wins the toss gets to play first. When the referee whistles then the game begins. A player goes to other side after crossing the pala and says 'kabaddi-kabaddi'.
After this, he tries to touch the player of opposite side. The players of other team try to escape and capture him in the court.
If the opposite team captures him then he is declared 'dead' but if he succeeds and returns to his own side successfully then the team scores a point and the player who has been touched is declared dead. This dead player is then considered out and he does not participate in the game.
Sometimes, the defenders hold their hands to form a chain when the opponent comes to touch a player. This technique is used to confuse and distract the opponent player. The time duration of this game is 40 minutes and divided into two halves of 20 minutes with a 5 minutes interval between these halves.
There are six officials which supervise the match including a referee, two umpires, one scorer and two assistant scorers to finalize scores. The team with highest scores wins in the end.
Why I Love Kabaddi Essay

There are many reasons for liking this game. Firstly, this game does not require any expensive sports gadgets so it is an inexpensive game.
There is no effort required to prepare the field as it can be played anywhere. I also like this game because it is a healthy sport that gives exercise to all parts of our body.
In this game, all the players have to stay alert constantly which keeps our mind and body active. It teaches us team spirit and co-operation. Moreover, it also helps to increase player's strength and endurance. Also, it is an exciting game and anyone can play it.
>>>>> Read Also:   Short & Long Essay on Football For Students
Conclusion
Kabaddi is one of the leading sports played by various countries. The simplicity of kabaddi makes this game more fun because there are not a lot of tricks to master. There is nothing more exciting than watching a match of kabaddi. Such games are very important for our youth to keep themselves fit and healthy.