The life in a big city has its own benefits as well as disadvantages, merits and demerits etc. The city life is very structured with problems issues etc as compared with the village life.
There is varying difference in the lifestyle of both city and village life. Quite often in the exams or in schools students are asked to write about the city life, problems, issues and hazards of city life, paragraph on city life and village life, in points, short notes, essay & Paragraphs on city life for 2nd year, college life students. The essays that we have written are quite helpful for children & students of primary, middle, 9,10,11 & 12th class students.

Essay on City Life | Advantages & Disadvantages of City Life | City Life vs Village Life Essay

City life is much modern and fun. People enjoy luxuries and comfortable amenities. There are number of facilities available in city life that are not available to those living in small towns.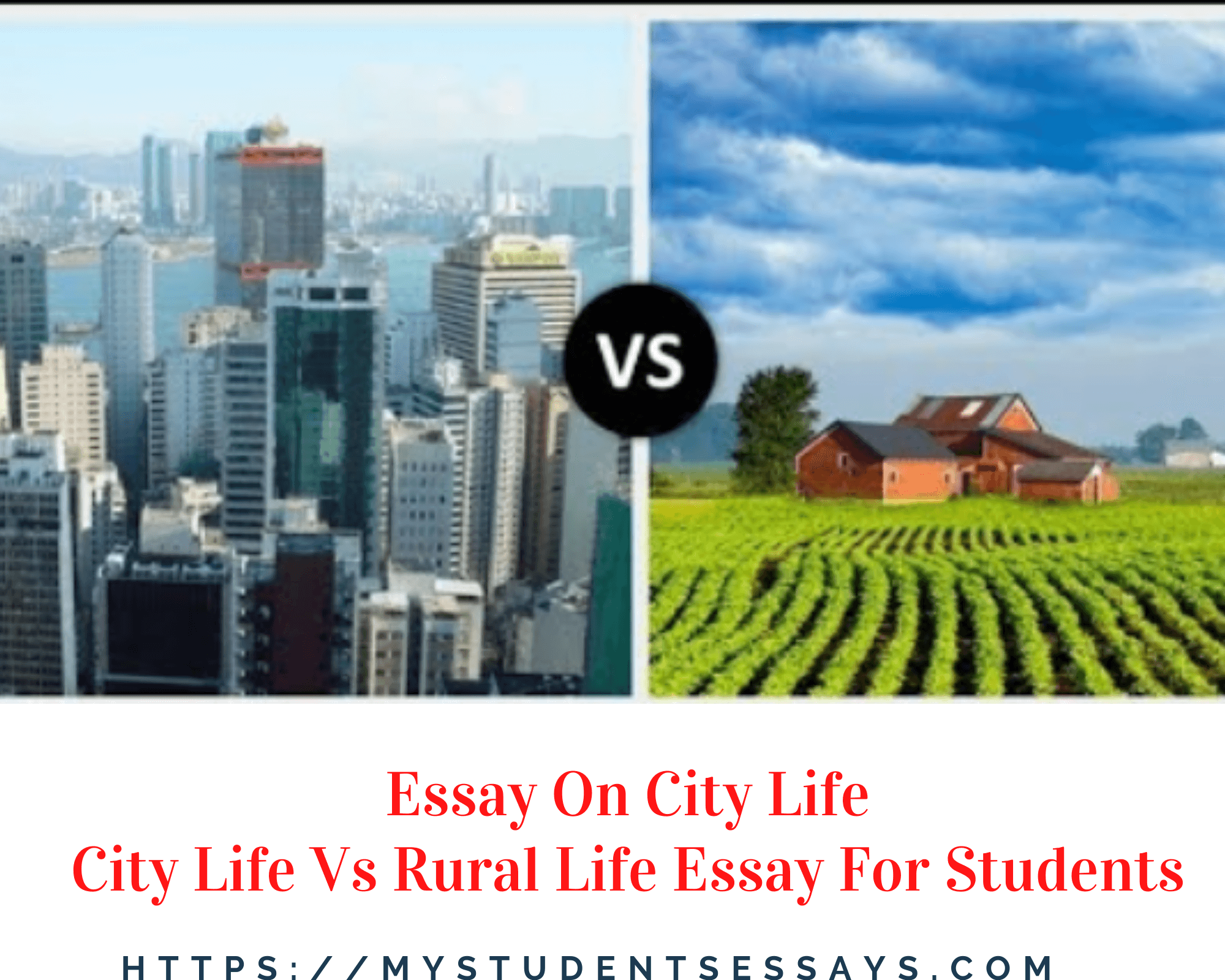 The first attractive thing about city is its lights and beauty. There is nothing which a person cannot find in a city. Even though everything is expensive here but people still prefer living in a city rather than a village.
Advantages of City Life

The City life has a couple of merits and demerits. The following are few advantages of city life.
1. Education Opportunities
There are vast educational opportunities for students in city. In city, there are educational institutes that offer education from primary to post-graduation. There are arrangements for both boys and girls to study in schools and colleges equally. These institutes give chance to every student to participate in various educational activities.
As a result of these healthy activities, children living in cities are more confident and intelligent. There are museums and libraries available in cities too which are a great source of education.
2. Medical Opportunities

Medical facilities are excellent in cities. There are number of hospitals, pharmacies and diagnostic centers available in cities. City hospitals are equipped with modern machines and equipment to deal with any kind of emergency. There are many qualified doctors and nurses in cities to treat sick people.
3. Job Opportunities

There are plenty of jobs available for individuals in cities. These job opportunities are for everyone, from daily wagers to professionals.
A person can easily find a job that suits him or he can start his own business too. There is immense scope for business growth here if a person works hard.
4. Entertainment Opportunities
Cities have big trade centers where people can buy everything. Moreover, there are number of cinemas and restaurants with better food where everyone can eat and enjoy with family. There are many parks and gardens for children too where they can play and enjoy.
5. Cleanliness Opportunities
In city, cleanliness and sanitation system is excellent. Government takes special measures to ensure that the city is free of garbage and contamination.
Disadvantages of City Life
Besides so many benefits, city life has its own downsides too.
1. Social Distancing
Everyone is so busy in city life that they do not time for each other. They live a very stressful life. Social bonding is also absent in city life. They do not even know about their neighbors fully well.It is totally normal for people to be neighbors without taking interest in other people's happiness and sadness.
They are so busy in their race towards success and power that they not have time for their families too. This is creating a gap between family bonding. They do get successful in the end but unfortunately, they do not have anyone at that time to share their success and happiness.
2. Pollution
There is a lot of pollution in city. There are different chemical industries in cities, their smoke directly goes into atmosphere and pollutes environment. Moreover, different types of vehicles run in cities and these vehicles emit smoke which pollutes the air.
3. Traffic Jam Issues
Traffic problem is another major problem in cities. Since everyone is shifting from villages to cities that is why population in cities is beyond normal level.
This uncontrolled population has caused many problems. Since everyone goes to work on his own personal vehicle so the traffic jams have now become a part of daily life. AS a result of this, people get late from their office.
Conclusion
City life provides a better living standard and way of life.It broadens the perspective of an individual and offers scope in various areas. Advantages of city life are much greater than disadvantages. In spite of some disadvantages, city life still has its own charm and beauty.