Essay on my school bag for 1,2,3,4,5,6 class students. The essay describes the importance of school bag, pack school bag neatly and school bags essentials. This short, simple essay would help you in your exam as a short paragraph, speech or essay.
Essay on My School Bag
I have a medium sized pink school bag. I carry it towards my school every day. It keeps all of my books, my pens, and my lunch box safe. This school bag was given as a gift on my birthday by my father. My School bag is sweet, cute and shiny in color. There is the picture of sweet kitten on the front of my school bag. It looks very beautiful and colorful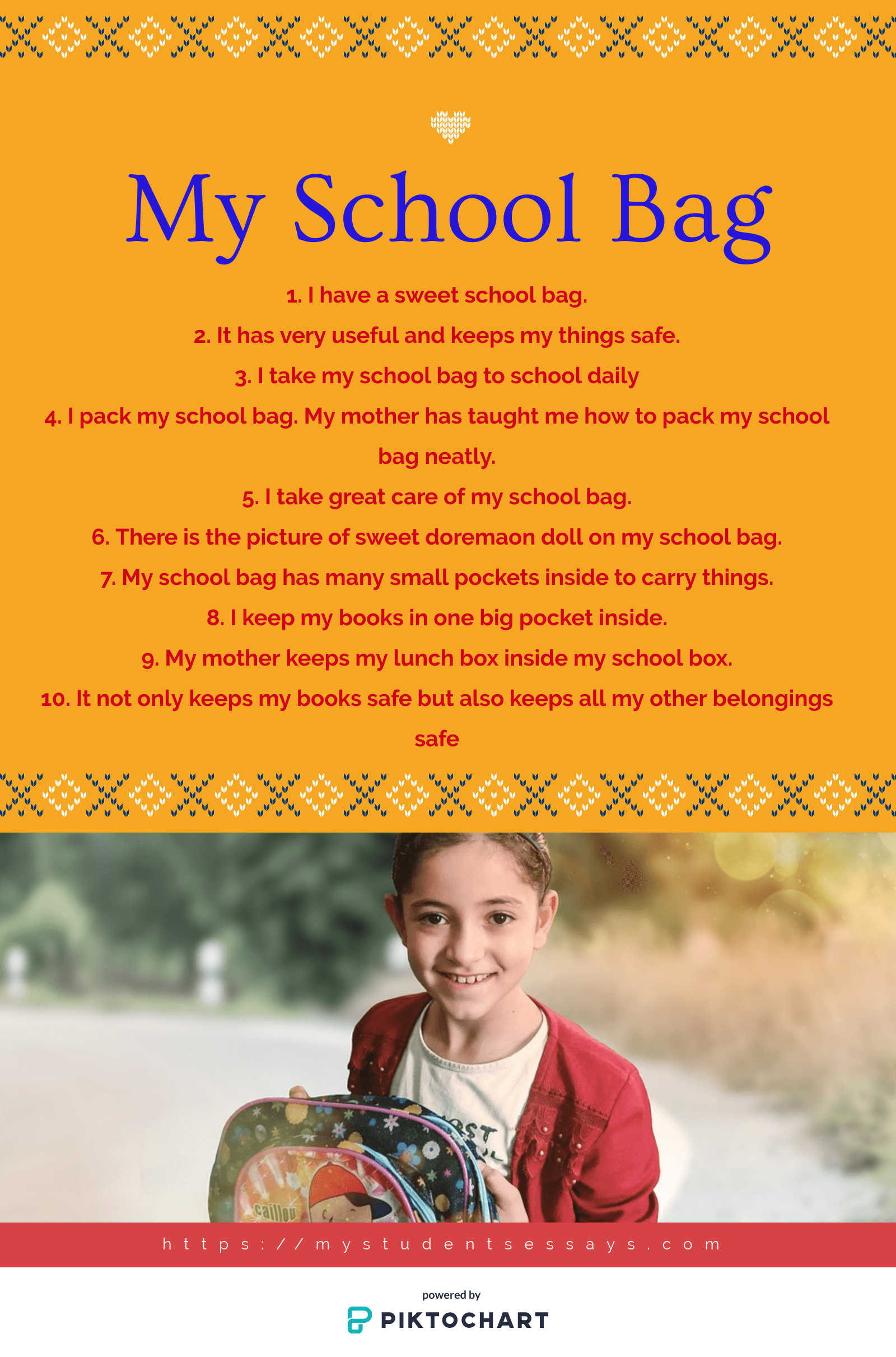 My school bag has fast zips that can be locked. My school bag has small sections inside to keep each item separately. In one side section, I keep my books, my pen in other section. There is a small pocket for keeping lunch box.
There is another front side pocket where I keep my chocolates and other things. My bag is very soft and easy to carry. In one side pocket there a straight pocket where I keep my umbrella. I use umbrella during heavy sunshine and in rainy season. It really saves me from the scorching sun as well during the intense rain
My bag is easy to carry. It has small wheels through which I can drag it when I feel it heavy. I carry my bag during school trips as well. Last month, I took it with me during my summer camp by my school. It saved me a lot and kept my things safe. I love my school bag. The picture of kitten and a doll on its cover makes it very cool. I always take care of my bag because it is the sweet gift of my father. It is very useful and invaluable gift. I would keep it with me for my all life.
Latest Essays & Speeches