I love my family essay, speech, short paragraph for kids, KG class 1,2,3,4,5,6,7,8,9,10 high school and college level students with info graph description for the reasons why I love my happy family.
I Love My Family Essay | Why I Love My Family Quotes, Reasons | Essay & Paragraph For Students
Love is the natural human response to anything he likes most. In this life a man looks out for many things, he observe many facts and interacts with many thing to enrich his experience.
There are many thing that a man loves. But the love of family is superior than all. Family love is sacred love for human being for which can sacrifices all the things. Therefore, it is quite natural for a man to love his family most.
Why I Love My Family
Family is the name given to a group of people who are living together under the same roof. The members of a family are connected with each other with different roles. In one family the members may include parents, sons, daughters, wife, grand parents etc.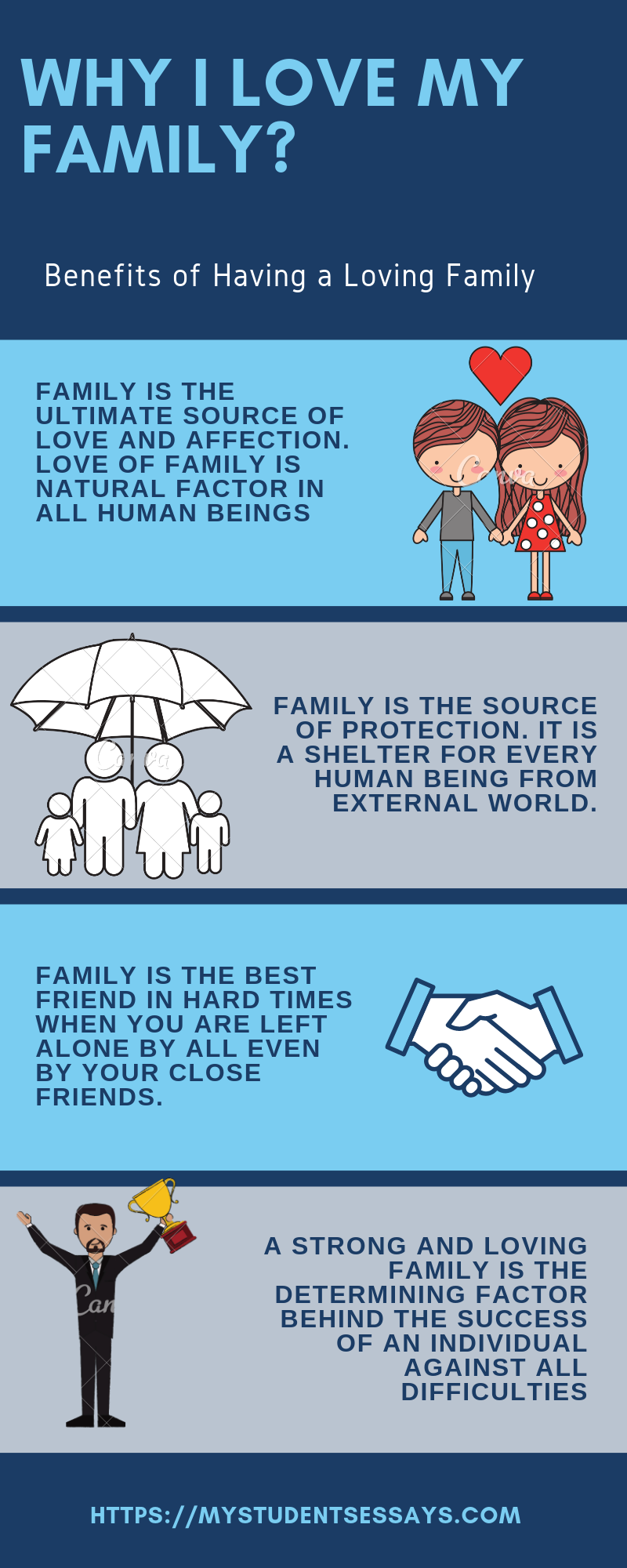 There are two types of a family. One part is called nuclear family or small family. Whereas, the other type is know is joint family.
The difference between them is that in micro or nuclear family one father or mother lives with their children. Whereas, in joint family there live many children with many fathers and mothers who are related with each other in different blood relationship.
I Love My Family Essay Quotes
I live in a joint family. It is large family setup. There are ten members in my family. My family members include two my parents, and my grand father and mother, my three sisters and three brothers including me. Despite being a big family, we all live happily and enjoy our life fully.
"The most important thing in the world is family and love." –John Wooden
My father is an IT professional. He is always busy in his projects. But despite being very busy he gives us complete time and love. My mother is a housewife. She had job of lectureship at near by college. But gave the sacrifice of her job to give full time to our family.
It is because she loves our family most. She manages to serve happily our big family. She has given us the good lessons of self discipline, good character, love, cooperation and obedience of all. Apart from managing all the work of our family, she gives complete time to us. She helps us in our homework. She always encourages and inspires us of doing good in our life.
"Being a family means you are a part of something very wonderful. It means you will love and be loved for the rest of your life." –Lisa Weed
Yavraj is our elder brother. He has completed his IT education here and he is now preparing to study further in UK.
My father is very happy about his decision to get more education in IT. Neesha is our elder sister. She is doing her MBBS. It is her passion to be a doctor. My other brother is studying in college with my another elder sister there. I am very punctual and disciplined in my student life. I got to school daily with my younger sister. We both happily study there.
I always complete my homework on due time. It is because of the help of my mother that I got first position in my school last year. I am working hard to maintain this record for my future exams. I love my family most. My family has taught me great value of cooperation, love and tolerance. We are always happy with each other.
During the birthday celebrations of every family member, we organize a big celebration party. We invite our cousins, uncles and other relatives. It is great fun. We also enjoy all other festivals very much Grand parents are a real gits. My grand mother always entertains us and take our care when my parents are out for any event.
She is very lovely and healthy. My grand father doctor. He runs a private free of cost clinic for poor people. He enjoys treating poor patients free of cost. All he needs, prayers from poor patients. He always inspires and advises us for social service. He has taught great lessons to us for serving poor people.
Conclusion
A family is a real blessing. I believe that everyone is not lucky enough to have a loving and kind family. There are many issues and problems in every family. I feel greatly honored and thankful to God to give me a real loving and kind family. I always pray God to give everyone a kind gift of loving family.
>> Related Post:  "Essay on Caring For Elderly "