My school essays for class 1 and class 2 separate. Study these simple multiple lines and sentences, simple and easy  essays for children & students
My School Essays For Class 1 & 2 Children & Students
This short, easy to understand and simple essay has been written for class 1 & 2 KG students. This essay and Paragraph includes the experiences and understanding shared by students. It is equally a wonderful essay and Paragraph for students.
1. My School Essay For Class 1 Students
Nothing can be more beautiful as that of my school. My school has a tall and beautiful building. It has wide and airy classrooms. I happily go to my school on time. All of our teachers are kind and helpful. They treat us like our parents. Our school has a good discipline. It is neat and tidy with beautiful walls and a large play ground.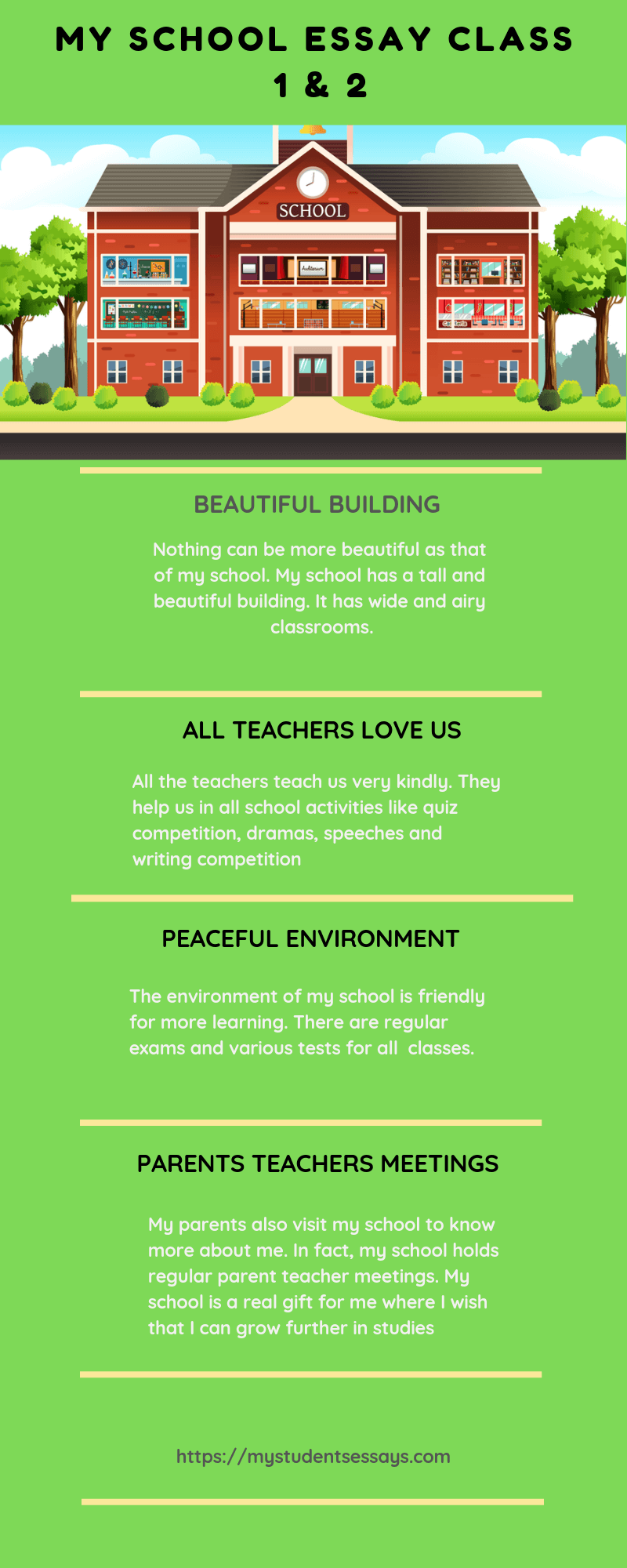 All the teachers teach us very kindly. They help us in all school activities like quiz competition, dramas, speeches and writing competition. My school has a big library. The library has good books for children. All of my class fellows are very sweet and kind. The environment of my school is friendly for more learning. There are regular exams and various tests for all  classes.
My parents also visit my school to know more about me. In fact, my school holds regular parent teacher meetings. My school is a real gift for me where I wish that I can grow further in studies.
2. My School Essay For Class 2 Students
I love studying here in my school. My school has a wonderful tall and confident building. The large beautiful gate of our school greets us every day with a big smile. The watchman shakes hands with all of us. My School has large multi story beautiful building. Its room are wide and airy. My school has a playground and a small garden as well.
I study in class (write your class). I sit near the big window in my classroom where I enjoy seeing students playing in the playground. I love my school, my studies and my kind class fellows. My school has a big library that has huge books. I love reading books that I borrow from my school library. Apart from library, my school has a big science lab, a computer lab for students and a big auditorium for students.
We celebrate all the national events here with great zeal. All of the teachers of my school are very kind and helpful. They treat us like our parents. My school keeps my parents informed about my progress in school. Our school provides us the best ever environment to study and progress.
We happily participate in all extra curriculum activities like singing, dancing, quiz competition, speeches, tabloids, and sport events. The school administration encourages and motivates us to be more active in extra curriculum activities. All of our teachers are really hard working.  The principal of our school is very kind and cooperative. That is why all the students of my school are happy and hardworking in our school.