My School Essay for 9th class students, descriptive with simple heading and hints. It is equally beneficial for all high school students.
My School Essay High School Students

This Essay for Class 9th Students has been written as per the real observation and experiences shared by 9th class students. This brief, easy to understand essay sums up all what a student of high school feels for his school
Essay on My School For 9th Class Students
The education is a sacred trust. The school is the place where this treasure is transformed from one generation to another. This has been in place since the centuries. The school, therefore, is the real foundation stone of a nation. It prepares the better minds like engineers, doctors, politicians, scientists, warriors for tomorrow.
A nation with no sound education system cannot progress in today's world. In all of that, a best school like that ours, is a real gift. I am proud of my school that is counted in the list of best ever schools.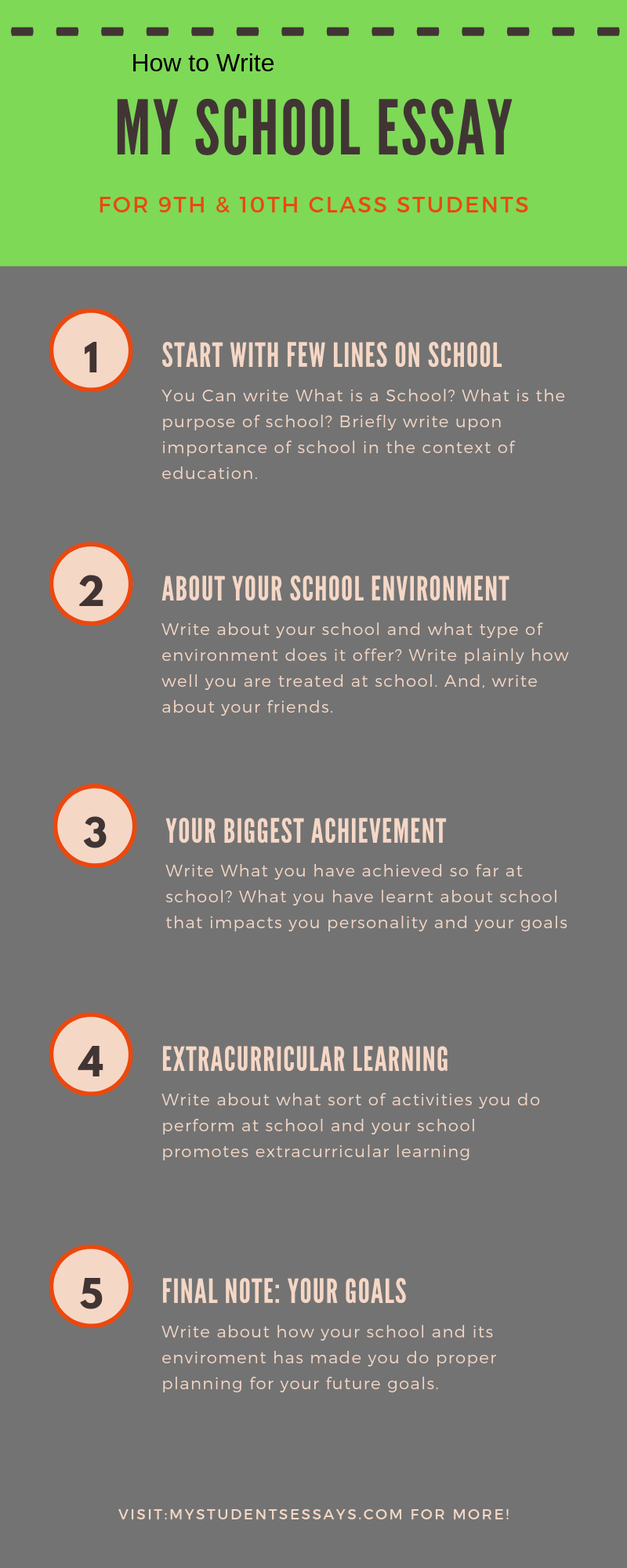 I am studying in school (write school name). It is the best ever school in our vicinity. The beautiful building of my school welcomes us every day. My school has wide airy and excellent classrooms. We have a large open ground to play in our school. Our school has a small garden as well. The school is completely neat and tidy. The entire school staff is kind and motivated.
Related Post: 10 BEST LINES & MORE SENTENCES ESSAY ON MY SCHOOL
We are like a family in our school. The teachers are very kind and cooperative. Our Principal is also a kind and competent man. We learn here practically under the kind command of our teachers. Our school is served with all necessary facilities like a central library, a computer lab, a big science lab and a big auditorium hall to celebrate national events.
Extracurricular studies are the main focus of my school. Many of our fellows have won prizes for school in various activities like quiz competition, singing, dancing, tabloids, speech, dramas, cricket etc.  Our school keeps close coordination with the community. There are regular parent- teacher meetings. The parents are informed about the performance of their children in school. We are studying here like a family.
The teachers here motivate us and guide us thoroughly. Education is in fact a sacred trust of humanity. The schools are doing their best in providing the quality education to help our humanity to survive and excel in all fields of life.
>>>>>>> Similar Post: A Simple Essay For Class 1 & 2 on My School Topic
It can be well said that without a true education system the human progress would not have been possible on this planet.