World peace is the only hope of humanity left today. Read an Essay on topic world peace, covering all aspects including; need and importance of world peace, is world peace possible, why world peace, celebration of world peace day etc,
This essay is quite helpful for children & students of Primary, 6,7,8,9 and 10th grade students. Additionally, you can also download pdf and share this essay with students.        

Essay on World Peace | Need & Importance of World Peace today

Introduction

World peace means cooperation between countries without any violence.The definition of peace is not just related to absence of war, it also means presence of law and justice in a country.
World peace occurs when countries sort our their conflicts without any violence or abuse and work together to improve the lives of the people of their country.
Why World Peace is Important?

All of us have imagined ourselves living in peace and harmony, we all want a world where there is no war, no racism, no terrorism and no violence. Unfortunately, no area of this world is safe from the advanced destructive weapons.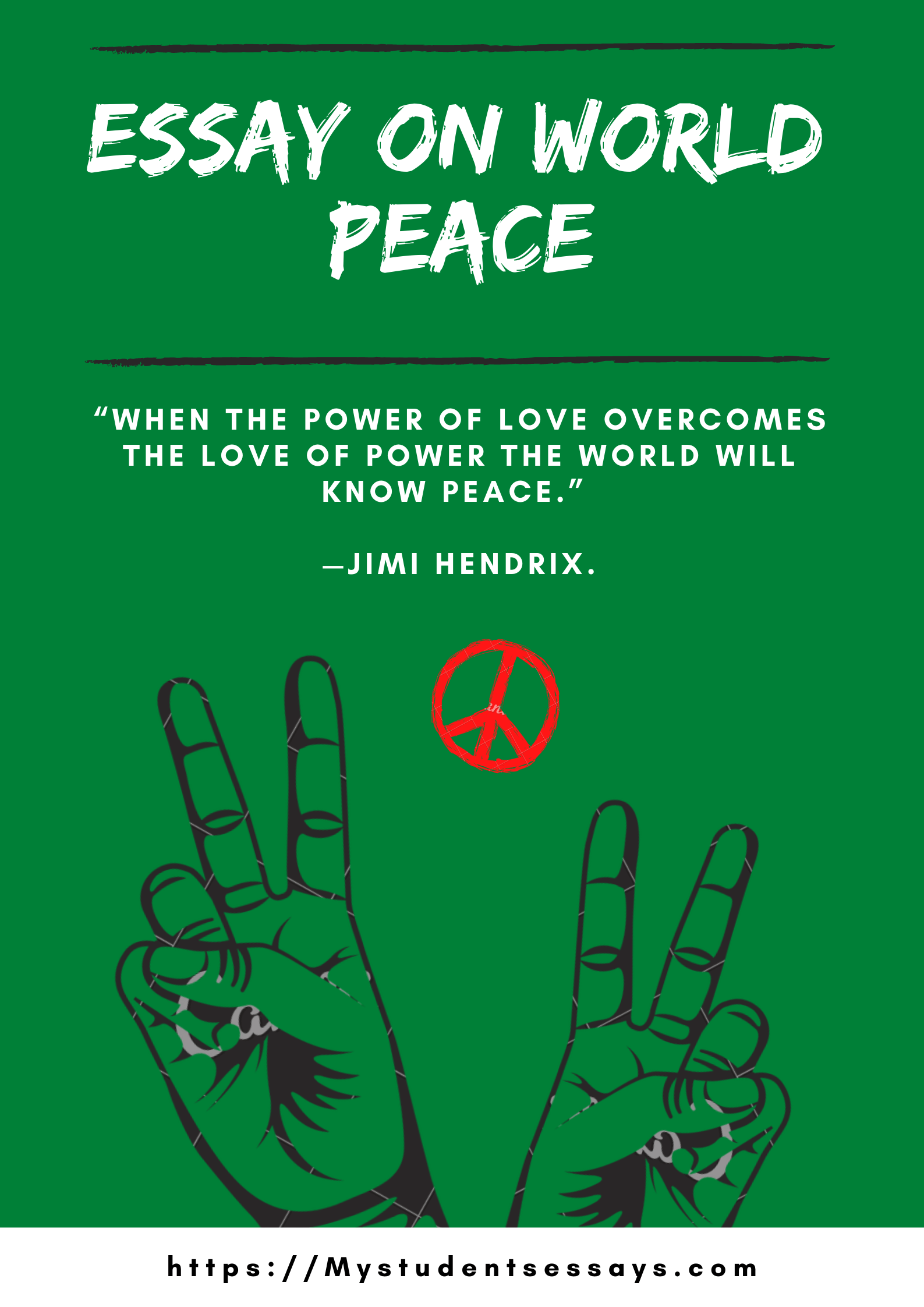 If one bad thing happens in one area of the world then it has its side effects in other parts of the world too. But the thing is that this is not a recent problem, it had been in existence since a long time.
This world has seen so many wars, terrorism and violence till now. It would not be wrong to say that if all the countries do not decide to live in peace and sort out their differences then all the deadly weapons which every country possesses will wipe out this whole civilization.
Related: Essay on Value of Simple Living and high thinking
The destruction caused by previous two wars is so massive that humanity still shivers with the thought of repetition of that trauma.
This planet is facing so many problems right now that it is difficult for one country to solve them. For example, we cannot prevent global warming alone, we cannot prevent wastage of natural resources on this planet alone, we cannot prevent war alone; however, if all the countries cooperate together with peace and unity then we can reverse this destruction of our planet.
When there is world peace, people feel free to visit any country without any fear of terrorism. This promotes tourism and increases economy of any country because people from different countries can easily carry out foreign trades without any fear of violence. People also feel safe to interact with each other and spread the message of peace and love.
How to achieve World Peace?
It is high time that effective measures should be taken before it is too late. United Nations should take serious steps to prevent this destruction and promote world peace. There should be strict ban against the use of force or weapons if there is dispute between countries.
There should be equal distribution of resources and modern equipment between developed and non-developed countries.
There are many countries where education system is very poor. Instead of investing money in weapons, the well-developed countries should focus on ending this misery of those poor countries. This will promote world peace.
The main reason that leads to violence in the world is dictatorship. When people have the freedom to vote and choose right leaders who are also interested in world peace, only then we can achieve world peace.
World peace can also be achieved when globalization is encouraged between countries. When countries will have economic ties between them then they will avoid getting into fights that will affect their economic relationship.
Related Post: Essay on Need & Importance of Moral Values in Life
We can also achieve world peace by creating awareness about the benefits of world peace. A country cannot get peace if the people living there do not understand the importance of peace and try to implement it in their daily lives.
Conclusion

We should put all our differences aside and just cooperate without caring whether our neighbor is of different race, caste or religion. We are the future of this country and we should promote the importance of world peace. Only then, this world will become a happy place to live in peacefully.