There are billions of people on this planet earth. Of India, there are millions. Everyone person is very different from one another.
No one is similar or identical to others. We can say, everyone possess different natural, physical, psychological traits.
As, the people are different so are the ideas, values, beliefs, cultures and orientations. That's why everyone is different. I myself can know best Who am I? what are is my life philosophy?
What I think, read, and what goals I cherish? Following are the sample essays on Who Am I? These example who am I essays would help you best in understanding the real meaning and purpose of your life.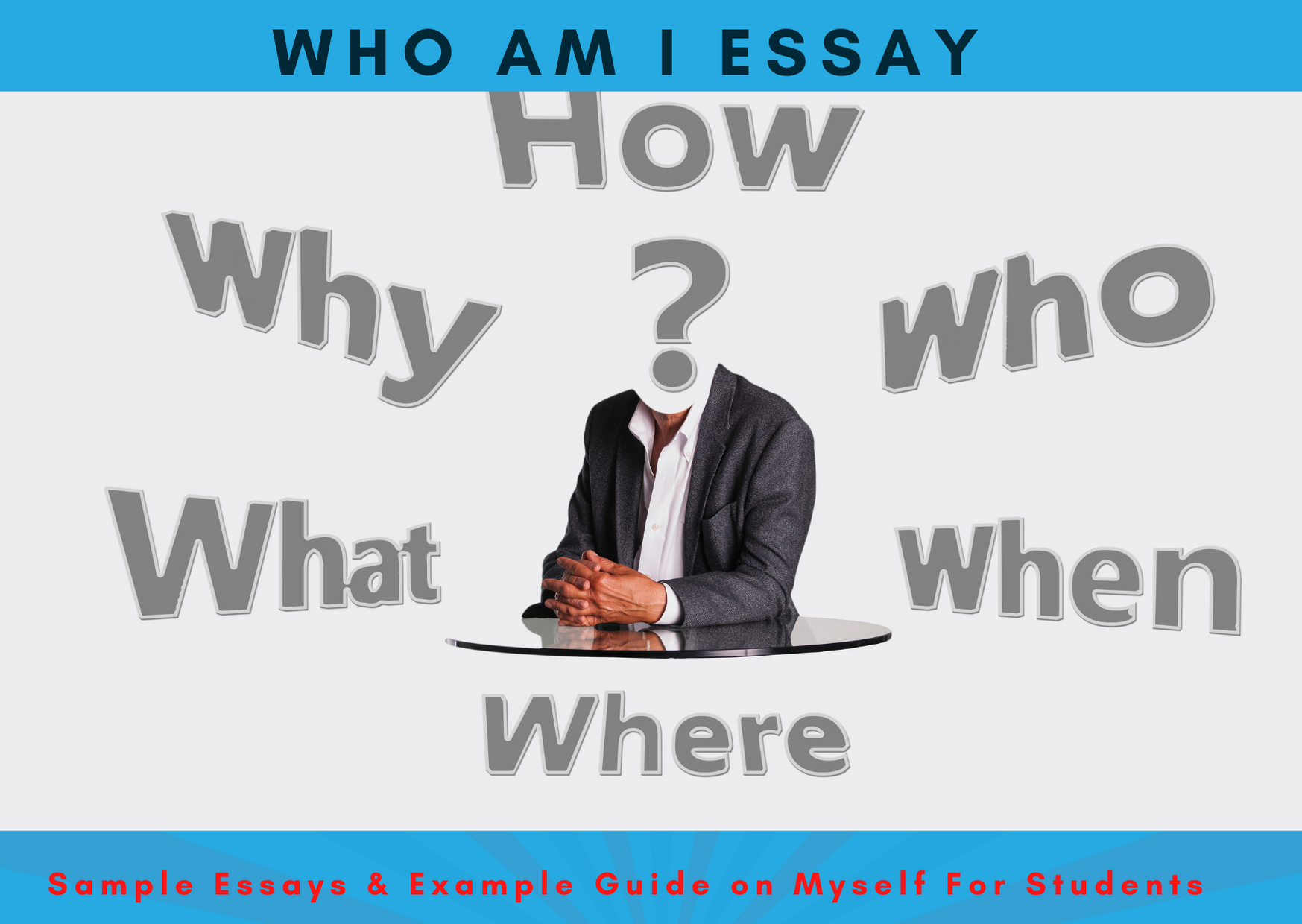 These Short & Long Essays on topic Who Am I, are quite helpful for high school & College level students. We have added quotes, info graphics and pictures for easy understanding with additional guide how to write who am I essay for students.
Essay on Who Am I? For College Level Students (1000 words)
I am a boy who has just landed into the teenage. While entering into the college, I am full with ideas, energy and optimism within myself. I love myself and the whole that surrounds me.
I am the one who loves to be surrounded or be in the company of productive and progressive hardworking people. For all of these, the credit entirely goes to my family.
To begin with, I live in a joint family system. We have six people in our family in total; my grand parents, father, mother and my younger sister. We are a loving family. We love to celebrate the success, joys, and laughter on every occasion.
Be it our birthdays, religious festivals or the family functions, we love to take pride in going ahead in full celebrations. My family is my true inspiration. Our house, in fact, the center of activity, filled with guests, sharing smiles and happiness always.
The weekend and the holiday are just the moments of fun, pride and happiness. I am what, is all but because of my family. My who am I philosophy is entirely due the contribution of my family.
But before going further, let me introduce you to each and every member of my family. Because, my goals, ambition, ideas, philosophy of life etc is all constructed upon our family values.
My Grand Father: to begin with, my grandfather is extremely loving, caring, kind and cheerful persons. He is the real foundation stone of raising my father to a successful person of today. He, in fact, supports me as well as my younger sister.
My grandfather has been a visionary, struggling and committed person. He comes from a part of subcontinent that now is the part of Pakistan. He was raised in Lahore. After partition happened he left all along with his parents and settled here at Delhi.
How he managed to survive and come through those hard days of life, is a true inspiration for all of us. He entertains us by telling us his real life stories.
My Grandmother; Our grandmother is really wonderful lady. In fact, she has been the real support to our grandfather, in all the hard days of life.
She is sweet, entertaining and has a good sense of humor. That's to say, she entertains we all by her humors insights and life stories. We all really enjoy her company.
My Mother; I am really thankful to God to have blessed me such a good, sweet and loving mother. My mother is careful, disciplined and courageous woman. She is, in fact, the doctor.
Apart from giving time to the clinic, treating patients with due diligence, she fulfills house responsibility as well. My mother is the real inspiration for us.
From her, we have learned the importance of time, value, discipline, and commitment. She is the practical example of success and commitment for us. She gives her time to us as well, assisting us in our studies, homework.
My Father; Like our mother, my father is also a strict and well disciplined person. My father manages his own business and  loves discipline, sincerity and hard work in life. He nurtures the values of bravery, honesty, hospitality and human service.
My father also participate in social activities apart from managing his own business. He supervises a charity based school and a hospital. Along with my mother, he looks after affairs hospital and the school, by his time and financial contribution.
My Sister; My sister has entirely taken face of my mother. That's why, out of fun we all call her our mother. She is really a genius piece of nature.
Apart, she has the humorous nature. She makes us laugh by her talks. Apart, she loves to serve our family guest as well. She has the keen interest in cooking, along with studies.
Who Am I because of My Family
It is quite right to believe that the environment impacts your personality. Whatever you are is truly because of the people you are surrounded with. This entirely stands true for me.
Whenever, I look at myself I remember my sweet family. My Grandparents, my mother, father and my sweet sister. The values like discipline, time management, sincerity to purpose etc, have been ingrained into my nature.
My mother has always taught me sincerity and commitment, to my father I look for time management and sincerity to purpose, and to my grandparents, as symbols of struggles and optimism. My sister is the icon of our whole family.
She is the embodiment of love, laughter, joy and peace. I love my and I am extremely thankful to God to have blessed me with such a nice, wonderful and loving family, I am proud of being part of it.
My Goals & My Life Philosophy:
To stand clear, my real purpose of life is the service of humanity. I have seen my family taking care of other, doing maximum. Like my mother and father, apart from professional responsibility, they love to share their time and finance in social responsibilities.
My mother look after a charity hospital, gives her time there. My father looks after the affairs of a charity school. Though my professional goals to be an IT expert. I love computing and coding. But, from social point of view I love to contribute to the good of my society as well.
Conclusion
Defining one's own-self is really important. One has to be clear in one's life for his purpose, values, goals and commitment. It gives us a goals and path to work hard and achieve what we aspire in our lives.
Who Am I Essay for High School Students (500+ words)
I am loving, kind-hearten and caring fellow. I am a social person. My personality treats like helping others, has always helped me with bundles of friends to my side. I prefer others; I love to help the fellows of my society and my community.
To this end, I am also the active member of social organizations of my area. Though, it is really wonderful to serve others but, it also cost your personal time. You have very little time left for your own-self and your immediate family as well.
Realizing this, i am trying to maintain a balance between social service and family commitment. And I recognizes that the excess of anything is really bad.
Who am I ; I am very Social
Helping others is however, is very well appreciated. One feels happy, elated and cheerful always. Happiness can be practically experienced whenever, you help others, you realize the smile on their faces and prayers from their hearts.
Help a poor getting admission into a school, assist anybody financially or solving other problems you will truly feel the warmth of happiness inside. I do to the best of my extent to spread smiles and happiness all around.
Sometimes, my friend wonder why I have been so serious in helping others. This all, in fact, I can relate to my grandfather. My grandfather has been a renowned person of my area in helping other in whatever cost.
My this habit of helping others in excess has, to some extent, brought problems for me. I help my fellow students as well. For example, I help students in explaining and assisting in different subjects, I share my notes even if the second day of exam! I can't deny anyone for any help.
In other ways, I share my lunch, pocket money, books etc with one who need! Sometimes, it brings troubles for me as well! Like you shared your notes with others and the same your received torn and in unwell condition!
You share your stationary etc with others and you receive in broken condition! I have learned, from here, that for helping other you have to be strong. You have to face the troubles and hardship from helping others, sometimes
What Am I is to help others;
As regards of my helping nature, I sometimes face difficult times. Sometimes, I couldn't manage my time. My studies and my health sometimes gets impacted. This makes my mother nervous sometimes. My family, though, praises me for my sincerity and helping others.
But along with it, my mother has taught to keep a balance between family time and social time. And, lately I have realized this. I believe that, when you help others, you can't end all the woes of others.
Problems are there to stay in this world. When we help others, in fact we are contributing a little and to our own extent in minimizing the hardships of others.
Someone has rightly said, "You can't pour from an empty cup". That means you have take care of yourself first.
I have realized the importance of self. And I have been trying to keep up a balance between family responsibilities and social responsibilities. My mother, in this regard, has been a real inspiration.
I am the person who loves to share love, laughter and happiness in life. I am extremely thankful whatever I have got in my life.
Conclusion
I am truly thankful to my family and my friend for standing beside me in all my endeavors. And I believe, social work is the collective work. I give credit of all to my family and my friends.
Who Am I video; How to Introduce Yourself in School or in Interview?
Why I am here Essay For Students



Why am I here? This thought strikes the minds of many people. To some life is the merriment, joy, and self service only. Whereas, others hold a contrary view. Being a responsible person of society, I hold different view.
To me, life is full of meanings. It is laden with responsibilities, goals and commitments. I believe, I am here because of multiple reasons. That's to say, I have certain values, beliefs and commitments to share.
Why I am here because of following goals;
Helping others.
Serving my family & My Parents
Serving my Country.
The short life that we have got here, has a lot of works to be done. Quite often, people get perplexed at why they are here and what was the meaning and purpose of life. Sometimes they spend years in ignorance and refusing to accept the real purpose of life.
In most of the cases, people realize the real purpose of their lives in very late. You might have observed the people who get very old or when they retired from professional life, then they turn towards the social service!
Though it is encouraged and very good but in fact, these thing one should from the very start. As it is accepted fact that we are social animals. We can't live in isolation.
Therefore, more than wealth we need health, more than material needs, we need inner peace and more the extra achievements we need contented life, a purposeful and happy life. As, the life is for fulfillment, enjoyments, achievements, value, purpose and social service.
Related Essays: