Nursing is one of the Noblest professions that mankind has. It is the core part of the health care system. The Nursing system is designed so as to promote healthy living, prevent the spread of diseases, and ensure quick reach to the diseased, mentally challenged segments of society. In that way, the medical field without a proper nursing system fails to achieve its lofty aims.
The Nurse is the one who is well trained in taking care of sick, injured and mentally challenged people with efficiency and care. The Nurse is the integral part and parcel of entire health management. He/she specializes in assisting the doctors for the greater quick recovery of ill people.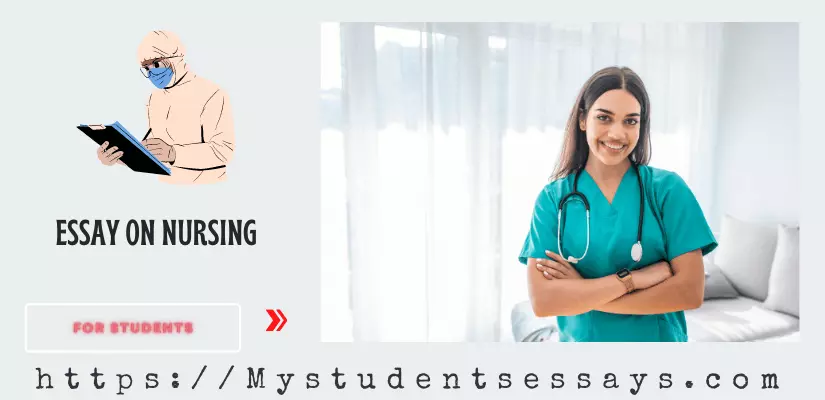 Nursing is a passion not only a profession. It takes a lot to be a Nurse. However, from an academic point of view, if we see we know that there are certain requirements to become a Nurse. The minimum qualification you need to be a registered Nurse (RN) is an associate degree or the Bachelor's degree in Science along with passing the National Council Licensure Examination for becoming a registered Nurse.
>>>>> Related Post:   Essay on Meditation, Types & Importance in Life
Roles of a Nurse
Nursing as we stated earlier has a critical role to play. However, being specific, we can say following is the role of Nurse;
Dealing politely with Patients, checking their medical history and conducting a basic check to ascertain the symptoms, facts of disease.
Brief the doctor, coordination and cooperate with the Team to ensure the proper patient care.
Promote awareness among the community regarding good health and disease prevention.
Properly administer medicine and treatment to the patient.
Conduct regular tests to monitor the health of patients.
Motivate the patient; cooperate with others to maintain peace and comfort.
Qualities of Good Nurse
As we have already stated that more than technical knowledge this profession requires the Passion. With passion and dedication we come to know there is a good nurse. A good nurse has few core qualities along with;
A good nurse is hardworking, dedicated, calm and composed.
She know how to put her maximum with subtle knowledge and wisdom.
A well trained nurse is even tempered, empathetic and optimistic. She know to maintain a balance between the stress and responsibility
She has the fine skills of communication and conveying with concerned patients.
>>>>>> Related Post:   Essay on Career Planning For Children & Students
Conclusion
The Nursing is the profession of care, diligence and responsibility. It is regulated by pre defined core values and professional ethics. The best nurse is one who is driven by passion, integrity, sincerity, care and social responsibility.