Meditation is commonly defined as a family of self-regulation practices that focus on training attention and awareness in order to bring mental processes under greater voluntary control and thereby foster general mental well-being and development and/or specific capacities such as calm, clarity, and concentration (and potentially also self-transcendence).
Essay on Meditation | Types, Benefits & Need of Meditation for Students.
Meditation is the intentional, systematic practice of calming and focusing one's attention. Meditation has been practiced since antiquity as a component of numerous religious traditions and beliefs. Meditation often involves an inward focus, such as on a single object (e.g., one's breathing), sound, or mantra.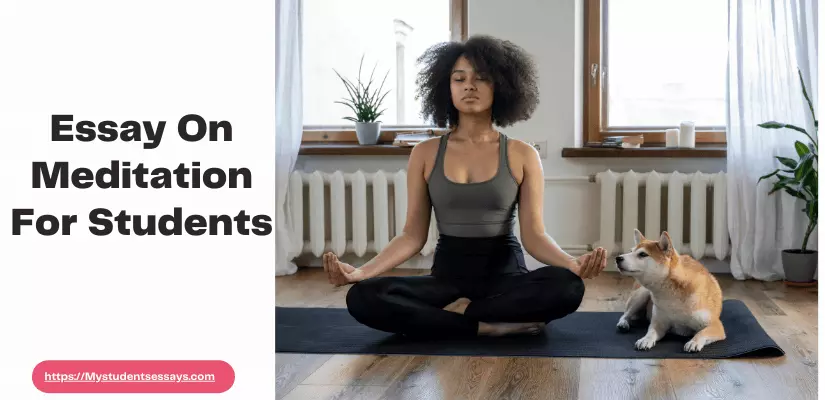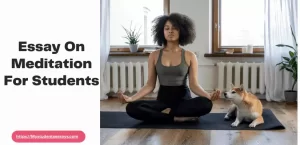 Meditation can take on many different forms. Different types of meditation may focus on different aspects of the mind and body, including relaxation, concentration , mindfulness , visualization, attention , or mantra (silently repeated words or sounds). Meditation may involve generating an emotional state for the purpose of analyzing that state—such as anger, hatred , or grief—or directing it towards a particular object, such as light. Meditation may also involve repeating a mantra and closing the eyes. The mantra is chosen based on its suitability to the practitioner, such as in japa yoga mediated upon a particular syllable, thought, breathing exercise, or visualization during meditation.
Meditation and Yoga in Life:
Meditation is one of many tools that can be used to help you live your life with more happiness and positivity, and less stress. Yoga asanas (postures) and pranayama (breath control) are the foundation of all meditation practices. Yoga provides a connection between mind and body. The benefits of yoga are deep mental, physical, and spiritual.
Yoga does not just affect the body but it also affects the mind and can help us in many ways. We can learn to relax with yoga. Stress contributes to illnesses such as heart disease, digestive disorders, depression and anxiety. Yoga can help us to relax our minds as well as our bodies.
Benefits of Meditation
There have been a variety of positive effects that have been associated with meditation. Meditation has been shown to improve focus and concentration, reduce anger, promote weight loss etc.  Let us discuss some of the benefits of meditation here.
Meditation has been shown to have positive effects on levels of stress, anxiety , fear etc. It can be very beneficial in people who suffer from high stress and anxiety levels. This is because meditation helps them to become less anxious about day-to-day things. Meditation has also been shown to lower anxiety levels by changing the activity in the brain. As they continue to meditate, their brain becomes more able to handle stress and anxiety.
Meditation has also been shown to boost energy levels in people who suffer from low energy levels. This is because meditation helps people to lower their stress levels, reduce anxiety and also changes the activity in the brain. All these things combined leads to higher energy levels.
Meditation has also been shown to be beneficial for weight loss. This is because meditation helps people to reduce their stress and anxiety levels and it also helps to change the activity in the brain. This leads them to become less consumed by food cravings and emotional eating. They are able to eat more healthily and are less likely to emotionally overeat.
Meditation has also been shown to improve the levels of empathy in people who suffer from low empathy levels. This is because meditation helps people to become more self-aware. They are then better able to understand the feeling of other people. They are also less likely to judge people harshly, which makes them more empathetic
Meditation for Children
There are many benefits of meditation for children. Some of the benefits include reduced hyperactivity, improved concentration levels, reduced stress levels etc. Meditation helps children to relax and it also improves their concentration levels, which can be very beneficial for them at school. Meditation has been shown to improve the mental and physical health of children. It has also been shown to improve their emotional well-being, learning abilities and cognition.
Learning meditation has been quite easy.  You can start by learning how to meditate in 5 steps :
First, get comfortable. Although it is possible to meditate anywhere, initially you may find it easier to meditate in a quiet, distraction-free environment.
Once you are comfortable begin your meditation practice.
Start by breathing in through your nose for the count of four. Hold it for seven, and exhale out through your mouth for eight counts. Think of this as one breath.
Focus your eyes on the tip of your nose and let them fall slightly to look at the floor.
Start to think of each area in your body from the top of your head down to the tips of your toes. Relax each area as you go.
Conclusion
Meditation is a great way to help manage your feelings and find peace within yourself. It fills you with positivity and happiness. It can be done anywhere including at home, school or work. You can take what you learn in meditation and apply it to your everyday life. As your knowledge of mediation grows, so will the benefits you experience. Meditation is not just for monks in the Himalayas. It can help anyone, anywhere at any time.
Happy Meditation!