If you are trying to write an essay on the topic my favorite Movie then you can read here a sample essay on topic of my favorite movie. Everyone loves different movies my favorite movie can be; 3 idiots, fast & furious, harry potter, bahubali 2 etc.
The following sample essay on my favorite movie in English, in 150, 300 words will help you to write an essay on my favorite movie easily.
Essay on My Favourite Movie For Children & Students
The entertainment industry is very popular for making hundreds of exciting movies to entertain us. Each film has a different genre like there are social, historical, science, fiction, documentary-based, religious, thriller, or horror movies.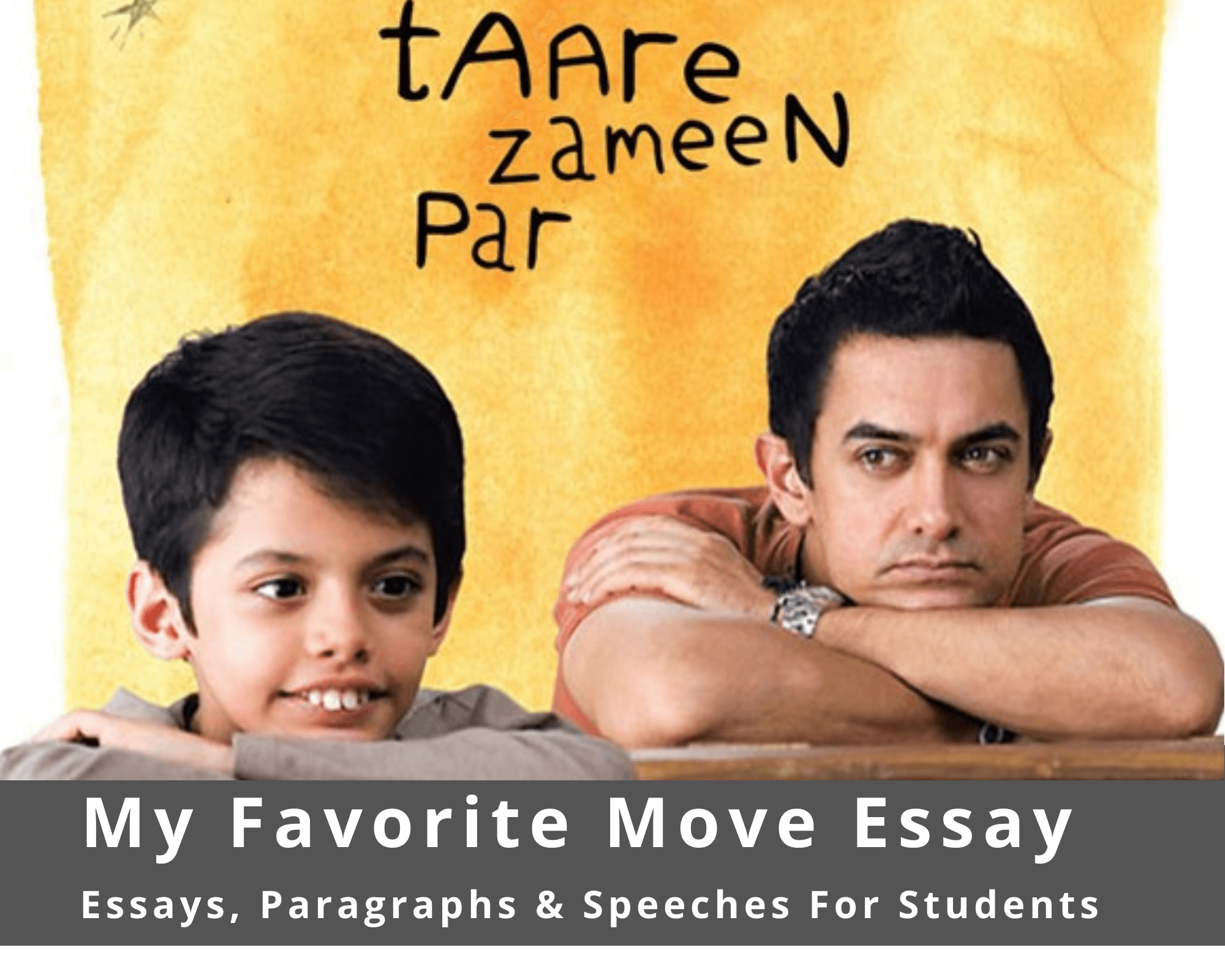 I also like to watch movies in my spare time. According to me, a good movie is the one in which we can relate with the characters and share the excitement or sorrows.
My Favourite Movie Essay
The movie that I like the most is "Taarezameen per". It is my favorite movie and I have seen it so many times. There are no bold scenes in this movie and people of every age can watch it. This is my favorite movie because the story is very touching. This movie is both entertaining and educational. All the characters have acted so well in this movie.
>>>> Related Post:   Essay on My Favourite Personality For Students
It is an emotional movie which always keeps me glued to the screen. It tells about the story of a boy who suffers from dyslexia due to which he is unable to identify speech sounds and how they relate to letters. Because of this disorder, he cannot excel in any activity.
He finds all the subjects difficult to study. Even with this disorder, he is very good at painting. However, he gets expelled from school because of his poor performance.
All the teachers tell his parents that their boy is not normal and he should be sent to school which is especially made for special children like him. Later, his parents send him to boarding school. There he sinks into a state of nervousness and fear because of new environment. Fortunately, he finds an art teacher there who is very supportive and caring.
>>>> Related Post:  Paragraph on My Best Friend for School Exam
His teacher realizes that it is not ishaan's fault to get bad grades but a disorder which makes it difficult for him to focus. He visits ishaan's home and gets surprised to see his drawings.
He also gets to know that ishaan's dad does not understand him and often shouts at him for not getting good grades. Because of this, ishaan no longer paints and suffers from anxiety.
He gets motivated to improve ishaan's writing and reading by using techniques developed by dyslexia specialists. These techniques help ishaan to score good grades in school. In the end, he also wins a painting competition because of his striking creative style.
I like how this story is relevant in today's society. According to me, this is a movie which gives best moral to parents, teachers and every child. It is a marvelous piece of work which shows a perfect relationship between a teacher and a student. It highlights the issue that sometimes, parents do not understand that every kid is different.
If he is not good at studies then there must be some other thing which he is good at. He might be interested in painting, acting, singing or sports. Therefore, parents should not discourage their children but help them in what they like.
I like how the director of this movie has brought out a clear message that parents should not ignore the interests of kids and they should not snatch their childhood from them by giving them burden of getting good grades or efficient performance in every field.
>>>> Related Post:   Essay on My Favorite Author For Students
I just hope that this movie will change the thinking of parents and society. I have seen this movie so many times with my family. Every aspect of this movie, from cast to location selection is amazing. All the actors have done an amazing job. I really cried while seeing this movie. I know, I will never get bored from this movie.