My best friend and I have been classmates each year at school since our kindergarten years. I cherish and treasure our special friendship and our close relationship.
In class, my friend sits beside me and is kind and helpful, and if I have any difficulties understanding any topic or completing my homework or school project, she is there to help me.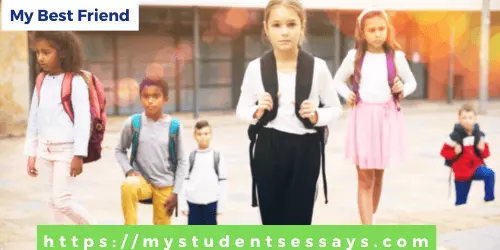 Because she excels in science and math, I excel in English, so we are both able to help each other in any way possible. I enjoy the fact that she never insults me, so I greatly appreciate that aspect of her. She does not make me feel obliged.
Whenever I am sick or hurt at school or in the craft room, she is the one who comes to help me. It's she who helps me in the medical room at school. She helped me reach home safely once when I fell ill at school, and I am always grateful to her.
I travel to school on the same bus, and sometimes she takes me to school in her car when we miss our bus. My friend's mother is also friendly and sweet. She enjoys hosting me when I go to visit her. During our summer vacations, she baked us cakes and made us ice cream.
We participate in extracurricular activities together at school and at home. As part of our summer vacation homework from school, we work together on the projects. We can do that by involving our parents who take us places to complete our projects, making it more fun and easier.
When we work on embroidery or needlework together, we enjoy the activity together as well. Music and chitchat make it easy for us to complete the task as we listen to music while working on our tasks.
Also, while on holidays or at school, we go to yoga classes together in the morning or evening. Regular yoga practice is beneficial for physical health, and meditation can help us achieve balance, clarity, and peace in our minds. Together, we enjoy these classes.