Happiness is the peaceful state of mind. As discussed in the following essay & Paragraph for children and students, the happiness is concerned with a host of factors in life. It offers a healthy life benefits.
The following essays & Paragraph on happiness will help children and students in writing a wonderful essay on happiness and how to be in life.
Essay on Happiness, Benefits & How to Gain Happiness in Life
Definition & Concept
The positive feelings or emotions that make one feel happy is called happiness. The state of mind in which one feel optimistic. Happiness is called as the key to success and prosperity.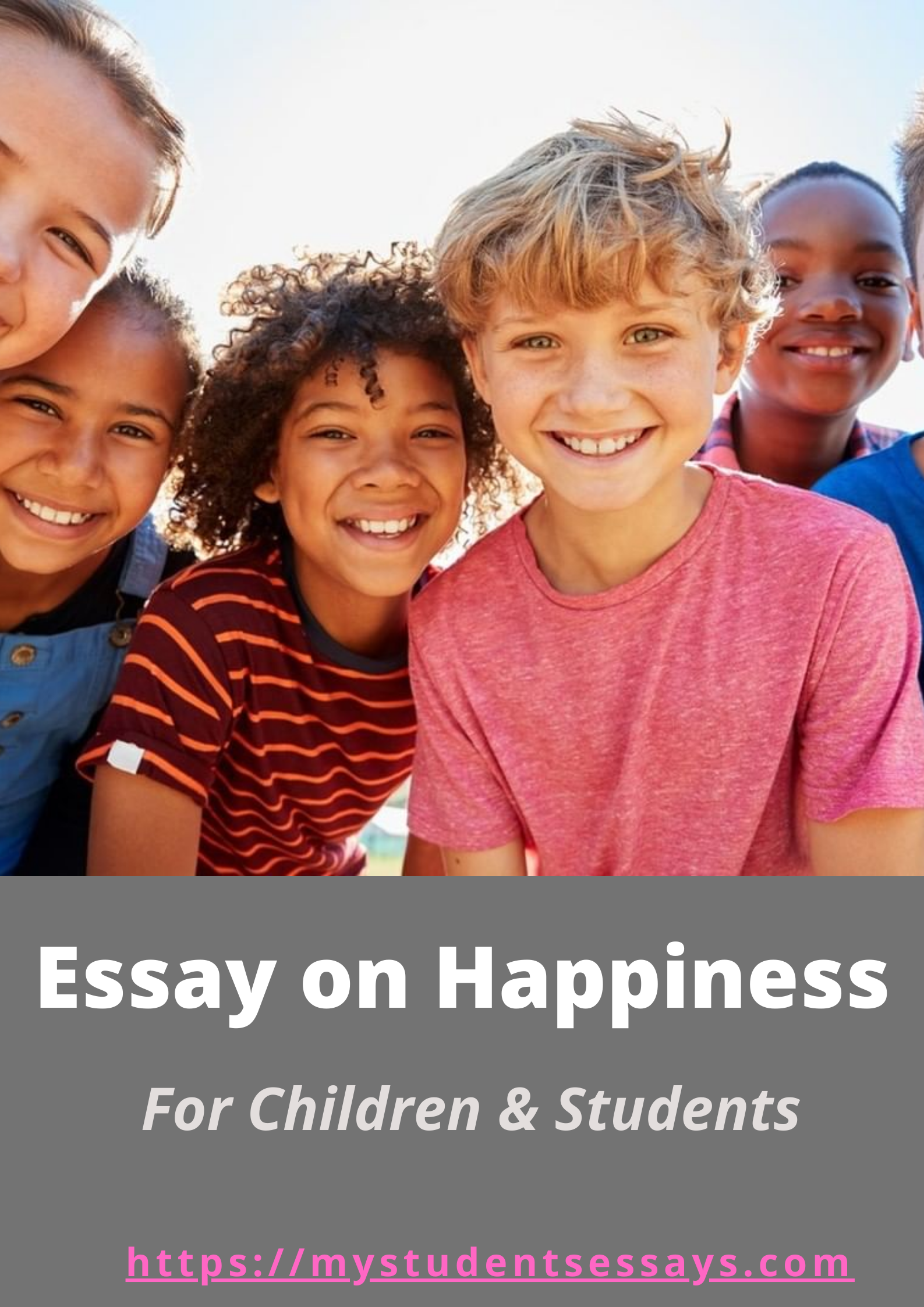 Happiness and joy are two different things, joy is the permanent state of mind while happiness is felt on some events in life. Happiness is opposite of sadness.Simply it is defined as the satisfaction of mind means a sense of complete satisfaction is called happiness.
It is widely believed that one who get enormous success in any professional or academic field experiences real happiness.
Secondly happiness is often experienced when one meets with family members after long time, the reunion with near relatives, with own children, with wife or parents makes one taste the true happiness.
Thirdly happiness is observed on the face of one who enjoys celebrating his hobby or favorite event on weekends, monthly or annually.
How to achieve Happiness in Life
Happiness is something which is achieved by performing certain deeds. Achievement of happiness differs from person to person, some feel happiness by performing one deed while some by performing another deed or action.
The happiness can be achieved in following ways
1. It is an axiomatic truth that one feel very happy by helping a needy, poor and weak person. The true sense of happiness begins where our desires end. Helping someone selflessly makes one experience true happiness.
2. Living a content life also showers happiness. Greediness and wolfish rapacity eats happiness as fire eats wood.
3. To experience happiness one need to shun materialistic pursuit because often people in pursuit of mundane desires remain devoid of happiness.
4. One has to remain positive minded always to achieve happiness, as negativity of mind is enemy to happiness.
5. Present is the best time, one must stay focused on current events of life instead of remembering past or visualizing future. Only plan for future, learn lesson from past and work in present to lead a happy life.
6. Some people waste their precious time on cudgeling their mind on terrible events of past, come out of past and move on and on to be get your desired goal in life. One who stops worrying about past lives a happy life.
7. Thankfulness is sister of happiness, always thank God for everything that you have or you possess. There is none who is not bestowed tremendously by God.  God is the great just, whatever he has given you be thankful to him of all that has been given, you will always feel happy.
8. Always establish contact with those who bear positivity of mind. Company of good people also makes one feel happy.
9. One must always set a day's work and do it with heart and soul, at the end of day just take a look at what you have done not at what you couldn't do, in this way you always feel happy.
10. Happiness doesn't lie outside, it is something which reside in you inside, don't search it in worldly pleasures, search it in your inner soul.
Never feel dejected or disappointed looking at the luxuries of world, even if you are deprived of many things, forget it all, just look what you have and utilize your possessions you will ever feel happy.
11. The sorrow can never sink you in if you practice to be happy at every walk of life.
12. Remember it is something which you can't buy with money, if it had been so, many renowned celebrities of world wouldn't had committed suicide. It is something which come from within. Practice to be happy whether you succeed to achieve something or miserably fail to achieve something.
13. Give time to yourself because it is you who can create happiness within you.
14. Always try to be good with others, specially establish good relations with your friends and family members because relations are a supportive network which never let you feel sad or unhappy.
Conclusion
Life is not a bed of roses, it is both bed of roses and bed of thorns, both happiness and misery go hand in hand in life. Life is a battlefield, one has to face many challenges in life.
Only those enjoy and experience perennial happiness who remain optimistic and hope better in life ahead. It is very easy to earn happiness, all those acts which gives you inner peace like helping a needy or supporting weak and helpless one makes you feel very happy.