Games & Sports are the real spirit of our lives. The following essay & Paragraph discusses on meaning, importance and benefits of Sports in our life.
It is in simple language, easy to understand, with heading, in points, conclusion quotes and images for children and students of Ukg class 1,2,3,4,6,7,8,9,10th class students.
Essay on Sports & Games, its Benefits & Importance For Children & Students
Sports is a physical activity performed in order to win a competition or game. Sports, a five lettered word is defined as a physical exertion, skill or activity which requires certain rules.
There are many forms and kinds of sports, all types of sports are good for health.  Each one has a different fun and fan following.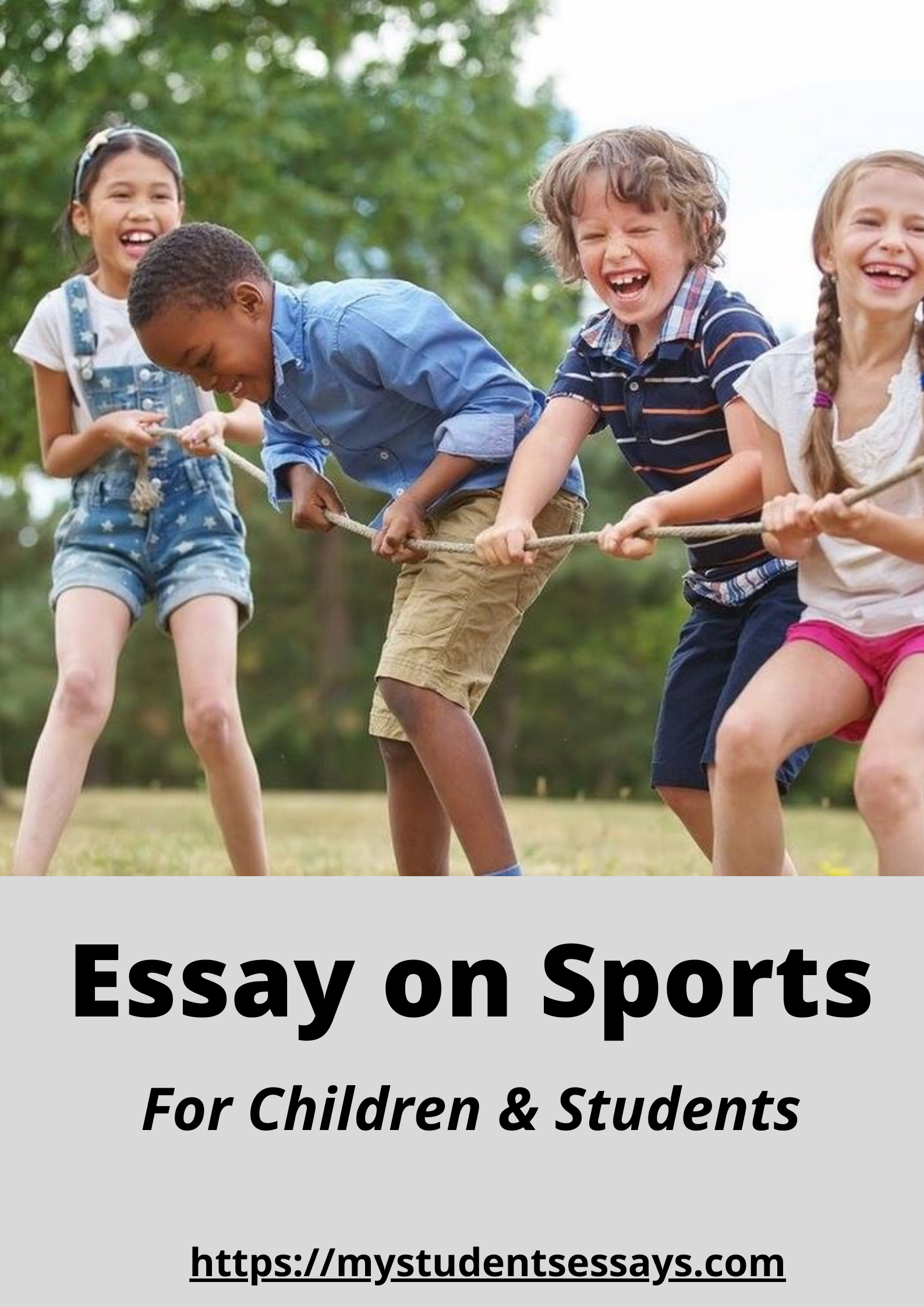 Young as well old play and like sports equally, to young it is an exercise or ability to prove oneself while aged people watch or play it for the sake of entertainment.
Importance of Sports
Sport exits at every part and parcel of the world. It is both socially and economically very important. It help boost the economy of the country and help create social harmony among people at national and international level.
All around the globe, sport has occupied an important place, different countries have different national games, it is widely believed that the interest varies from person to person, in some parts of the world one game is dominant while in other part another is dominant.
For example in South Asian countries cricket is loved and played more on the other hand in gulf and western states football is liked and played widely. It means sport exist everywhere in different forms.
Sports is a blessing in disguise, it is vitally important for fitness and strength of a person. One associated to any sport remain away from many ailments and illnesses.
As it is a physical activity, the movement of body limbs and muscles while playing any sport makes man very strong and fit. Apart from it, one learns discipline, team work and unity by playing any sport.
Initially, sports remained just part of entertainment and exhibition. Where now, that sports have the valuable importance, as a result, whole world celebrates 29 August as the national sports day. In 2019, it was celebrated on (Thursday) 29 August and in 2020, it will be celebrated on (Saturday) 29 August.
Sports include indoor games, outdoor games, athletics and racing. Indoor games are played inside the rings or room like; boxing, badminton, table tennis and wrestling.
Outdoor games are played in open ground like; football, hockey, tennis and many more. Athletics is a group of sporting events, which includes running, jumping, throwing and walking. Racing is also type of sports as cycling and car racing.
Advantages of Sports & Games
The advantages of sports are enlisted as under.
1. The sports refreshes our mind and makes us feel happy.
2. Through sports one comes to know his or her talent and become aware of capabilities.
3. It teaches us teamwork, discipline and unity.
4. It improves our health and makes us fit. One can maintain his or her by playing any game. It is a preserver of health. It is a healthy activity.
5. Playing any sport in free time is good use of time.
6. It reveals the character and teaches to work hard to win. It makes us active and enthusiastic and energetic.
Conclusion
Someone has said that the first wealth is the health. Sports is very necessary to maintain good health. Sports teaches self discipline, it is believed that self-discipline is the best discipline.
One must choose sport for recreation of thought and mind. The stress and pressure retards the mental capabilities of a person, one must play sports to release the pressure of stress.
Someone has rightly said that "The greatest weapon against stress is our ability to choose one thought over another". Choosing sports in free time is the best choice.