Pollution is a monstrous issue of today's world. Read the following written speech on pollution for children and students. This speech explains the importance of saving environment for the future beings.
Speech on Pollution For Students
Good morning to the respected sir, madam and my friends. On this occasion, I would like to speak about pollution, the most serious issue of our time. Environmental pollution is the most powerful demon causing environmental imbalance in the atmosphere. Despite its global significance, it varies in nature and extent with regional variations.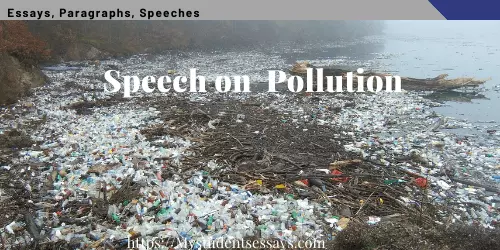 It is the topic of anxiety and debate to solve this issue. It is not the time to accuse one another however it is the time to fight this demon together with some effective weapons. In spite of the fact that developed countries are heavily responsible for the widespread pollution and global warming, in fact, all countries are bearing this burden.
We have been the victims of environmental pollution, but we cannot ignore the fact that we created this problem. It is we who have caused this problem through our irregular consumption of natural resources and modern living patterns. Several factors contribute to pollution, including fast urbanization, deforestation, industrialization, and unmanageable wastes from industries and factories. Due to the extensive use of fertilizers in agriculture, as well as emissions from chimneys, motor vehicles, etc., it is experiencing a boom.
Fuel consumption levels have increased due to the increased number of vehicles, which is causing air pollution to a great extent. The ever growing pollution is also a result of population growth. There have been a growing number of houses being built, plants being chopped down for living spaces, and other modern needs leading to pollution. No one is thinking about this issue, since everyone is busy making money and gathering things of physical comfort. Human needs for physical comfort (such as AC, TV, electricity, electronic devices, fertilizers, freeze, washing machine, etc.) have also increased due to overpopulation. The spread of pollution is directly related to the demand for fresh water and wood.
Our current environment is not suitable for breathing fresh air, drinking fresh water, growing healthy crops, or sleeping in a peaceful environment. We have to bear all that due to our negligence and carelessness. For real physical and psychological comfort, we have to continuously strive for a naturally fresh environment. We need to get control over this demon and protect the lives of the inhabitants by planting more trees, managing wastes from industries and factories, reducing heavy vehicle use, and taking other effective measures.
Thank You.
Short Persuasive Speech On Pollution
During the event celebration, I will give a speech about pollution. My dear friends, pollution is not a foreign word to us. We know about the environmental problems caused by it, and its negative impacts on our lives. A natural environment provides the living organisms on Earth with everything they need to survive, grow, and develop. However, what happens to this natural environment if it is polluted. The existence of life here will be threatened by everything getting out of control.
The pollution has occurred as a result of the mixing of hazardous unnatural ingredients with the natural resources, thereby making the ecosystem unbalanced, which poses health risks to humans and animals.
The industrialization, urbanization, deforestation, technological advancement, overpopulation, etc., are all contributing to the damage of the ecosystem. These are the main reasons for the increase in toxic gases (causing air pollution), solid/liquid wastes (causing water, soil and food pollution), and sound (causing noise pollution). All are responsible for imbalances in the natural ecosystem in some way, either directly or indirectly.
I have taken it seriously and need to solve it. People have a lower life expectancy due to diseases like cancer, diabetes, and heart problems caused by pollution. The pollution facts I'd like to share with you
Worldwide, around 6.7% of all occurrences of death are due to air pollution, along with 7 million premature deaths. Nitrogen pollution in the Mississippi River amounts to approximately 1.5 million tonnes. The pollution caused by China may affect weather patterns in the United States. Up to 56% of trash in the United States is in landfills (half of that is only paper).
The most harmful pollutant to the environment is fossil fuel, which has caused pollution in air, water and soil. We all have a responsibility to protect and enhance the natural value of our environment. We should try our best to tackle this problem and ensure a healthy future for our next generation.
Thank You.