APJ Abdul Kalam has been the greatest leader in the history of modern India. His works and achievements truly inspire million of people of all around the world. Read the best selected Short & Long Speeches on APJ Abdul Kalam, his life and achievements for progress and development of India and the rest of the world.
APJ Abdul Kalam | Brief bio, Struggles, Achievements | Short & Long Speeches for Children & Students
APJ Abdul Kalam is the name that beeps into the heart of millions of people all across the world. He has been the living legend with the noble character, charisma and countless achievements. The following essays & Paragraphs are written in line with APJ Abdul Kalam his life and achievements and dreams for the better India and the better world.
1. Speech on APJ Abdul Kalam For Students
Honorable Principal, respected teachers, my dear fellows and deal all! I welcome all of you over here to come up for celebrating the day of not a lesser known person, APJ Abdul Kalam. He is surely the pride of India.
Respected all! APJ Abdul Kalam, the missile man of India and the Jewel of our Land is one the greatest personalities all around the world. A great motivator, teacher, scientist, the President and overall a gentle human being is a book in himself. Though this legend can never be describe in few minutes or in short span of time Yet let me try to sum up about this great, his services and contribution to the world.
His  full name was Avul Pakir Jainulabdeen Abdul Kalam. Born in the middle class family at Dhanushkodi, India, he was the childhood genius. Apart from serving his craze for education and betterment, he stood as a support for his family as well. Despite the hard days around, he never gave up the courage and commitment for working hard for achieving his long cherished goals.
The flying birds and the breeze of wind, fascinated him. It took him into the field of science. He joined aeronautics. The mathematics and the science attracted his genius wit. He therefore, earned his degree in aeronautical engineering. Dr. APJ Abdul Kalam was the man of passion and great commitment. With this aim in mind, he joined Indian defense department. Within a very short span of time, he successfully made all of us proud by turning a new chapter in the defense history of India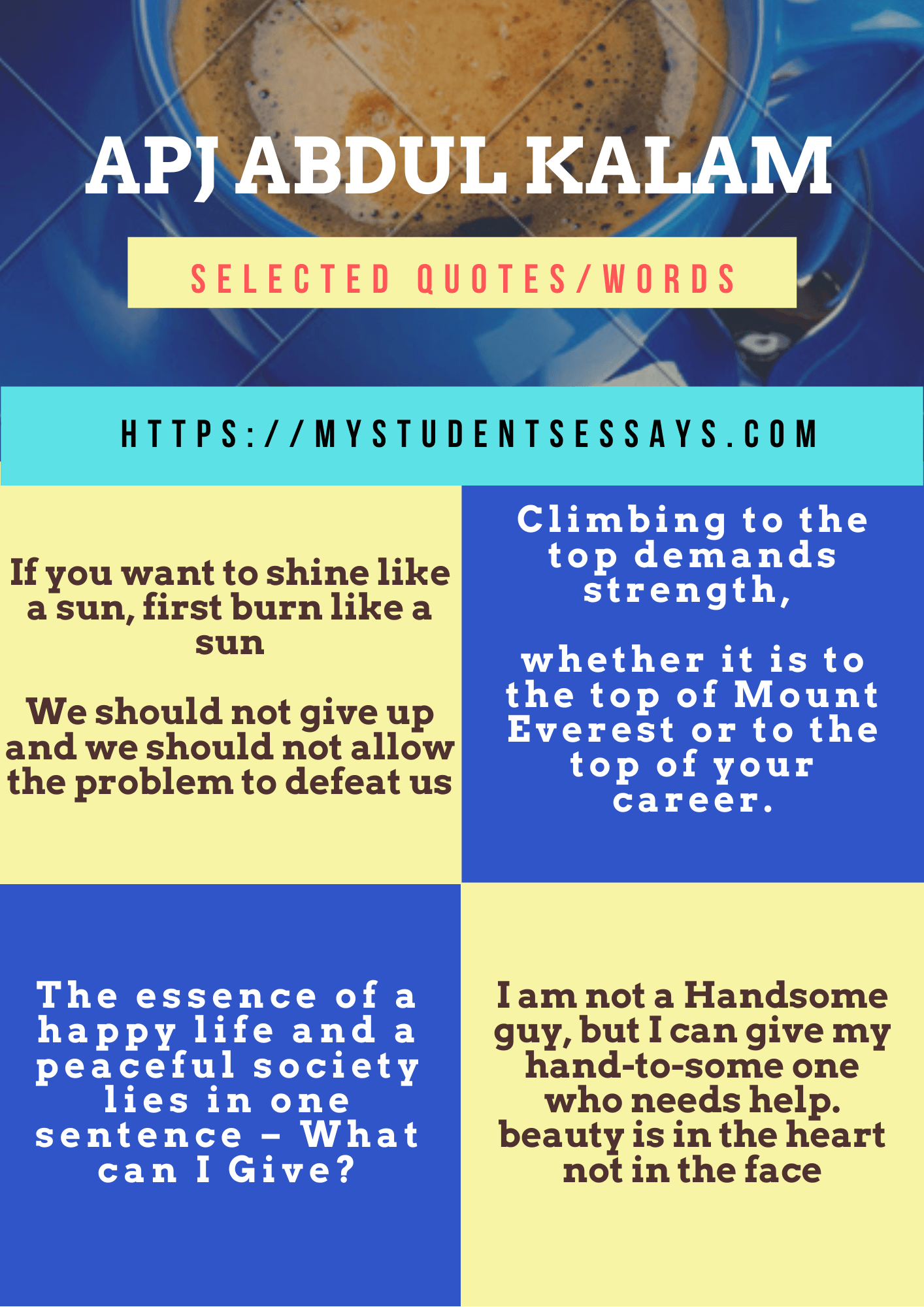 He was, then after, titled as the "Missile Man of India". The destiny lead him and he became the 11th President of India.The youth awareness and betterment has been his entire focus. He conducted extensive meetings with the youth and initiated many good initiatives for the betterment of Indian Youth.
APJ Abdul Kalam was the man of love, peace an Kindness. He was very optimistic about the future of India. His writings and speeches depict about his craze and vision for the future of India.
He was a prolific writer as well. Some of his written books include; My India 2021, Inspiring thoughts, "The Mission India", "Ignited Minds" etc. The life and the works of APJ Abdul Kalam is a living lesson for us. His passion, commitment and sincerity with the India are the great lesson for our Youth. His words are inspiration an his actions the examples.
They make us see an act instantly for the service and development of our Mother Land. Let's remember him, not only in his words, but in his action. Let's follow the Path given by our great leader APJ Abdul Kalam.
2. APJ Abdul Kalam Speech In English For Students

Most respectable teachers and dear students today we have assembled here to pay homage to a renowned scientist, politician and great teacher of India whose date of birth is celebrated throughout India in order to pay tribute to the Missile Man of the nation.
Today's date 15thof October marks the birth anniversary of the world famous leader, scientist and teacher, Dr APJ Abdul Kalam whose life is a great motivation for several people specially for young students.
He is titled as the people's president who served the nation from 2002 to 2007. He joined Defense Research and Development Organization and Indian Space Research Organization as professional.
He was born into a very humble South Indian family in Tamil Nadu. His father built and rented boats to fishermen working on the coast. Since his childhood he developed a great fascination with air by watching birds. He transformed his hobby with a mission to join aeronautics
He was very bright and hardworking student. He had great interest towards studies, he was very promising student and showed enormous liking towards science and mathematics.
He was highly influenced by the words of his teacher who once said to Kalam that "To succeed in life and achieve results, you must understand and master three mighty forces- Desire, Belief and Expectation". He also told kalam that "with faith you can change your destiny". From there began Kalam's actual journey as he inspired and worked for greater things in life.
He specially used to get captivated by the mysteries of the sky and observe the flight of the birds from his early childhood days. Interestingly, he became the first child to fly from Rameswaram. The entire life of Abdul Kalam is an inspiration for every Indian citizen. He was an ardent nationalist. He lived a simple life and possessed a benevolent personality.
The entire journey of Kalam's life is full of messages and lessons for the youth and older ones. His life teaches us the lesson of perseverance, it means persistence in doing something despite difficulty or delay is achieving success is the unique skill to succeed.
He believed that small dreams are crime, always think big, as high as sky and work hard to materialize your dreams and make them happen. He said that 'Dream is not that which you see while sleeping, it is something that does not let you sleep".
Once he said that confidence and hard work is the best medicine to kill the disease called failure. It will make you a successful person. He always valued time and used time productively, the importance of time can be measured from his words that "Let not my winged days be spent in vain".
He loved youth and said that A society must always give special attention to the dreams, concerns and aspirations of its youth because they are the ones who will shape its future. To lay foundation of peaceful and prosperous society he gave message that forgiveness is the foundation of a good life.
Being an Indian I feel quite honored and prideful of him. He rendered enormous contribution for our dear homeland. For that, the generations of Indians would be remembering him