Tolerance is the greatest human quality. The following Paragraph talks about Tolerance and its Importance in Life with additional focus on how to promote tolerance in life. This Paragraphs is quite helpful in simple and understandable words for children & students.
Paragraph on Tolerance, Its Importance, Benefits & Ways to Promote Tolerance in Life
Tolerance is defined as the ability or willingness to tolerate something, in spite of feeling negatively about it. It is an important value to uphold in society, as it allows for different people to coexist peacefully. Tolerance can be difficult to maintain, especially when faced with things that go against one's personal beliefs. However, with patience and understanding, tolerance can be achieved.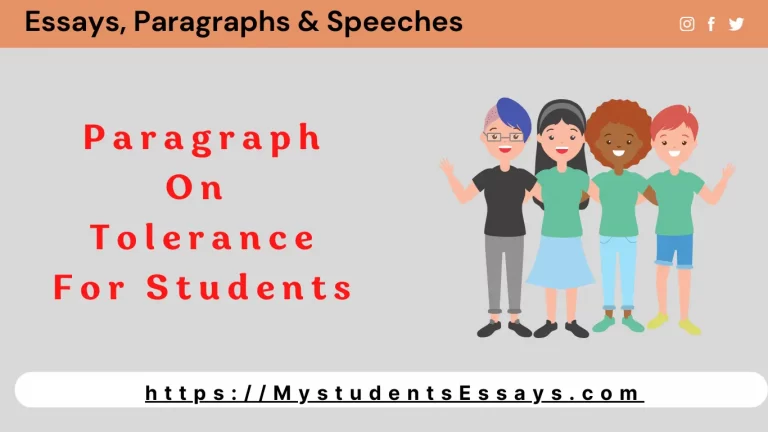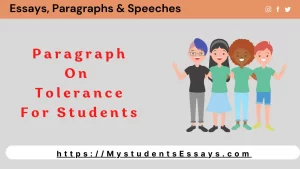 Importance of Tolerance:
Tolerance is important in life because it allows for different people to coexist peacefully. When everyone is tolerant of one another, there is less conflict and more understanding. This can be beneficial for both personal relationships and larger communities. Tolerance also allows for different perspectives to be heard, which can lead to progress and innovation.
Benefits of Tolerance:
There are many benefits of tolerance for students. For one, it can promote a more positive and cooperative classroom environment. Tolerance can also help students to better understand and respect others who may have different backgrounds or beliefs. Additionally, tolerance can lead to increased academic success, as students who are tolerant of one another are more likely to be able to work together effectively. Finally, tolerant students are more likely to be successful in the workforce, as they will be able to better collaborate with a diverse group of people.
How to Promote Tolerance?
There are many ways to promote tolerance. One way is to educate yourself and others about different cultures and beliefs. This can help to increase understanding and respect for others. Additionally, it is important to be open-minded and willing to listen to different perspectives. Finally, it is also helpful to take action against intolerant behavior when you see it. By promoting tolerance, we can make the world a more peaceful and accepting place for everyone.
Conclusion:
Tolerance, therefore, is essential for a healthy and productive society. It is a value that we should all strive to uphold. By promoting tolerance, we can create a more inclusive world for everyone.