Paragraph on Online Shopping:  Online Shopping is defined as the act of buying products or services over the internet. It is a form of electronic commerce which allows consumers to directly buy goods or services from a seller without an intermediary service. A large variety of goods are available online, ranging from books and clothes to electronics and furniture. Online shopping has become increasingly popular due to the convenience and ease it offers.
There are several benefits of online shopping. Firstly, it is very convenient as you can shop from the comfort of your own home. Secondly, it is very fast and you can find what you are looking for quickly and easily. Thirdly, it is very cheap as there are no middlemen involved. Fourthly, there is a wide range of products available online.
>>> Related Post:  " Essay on Internet in English"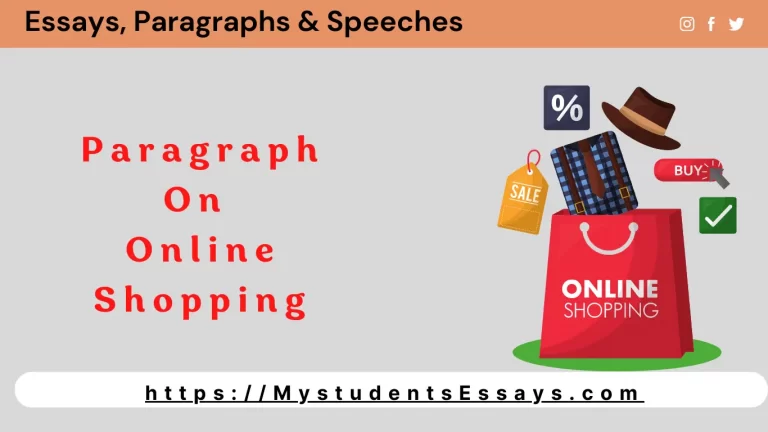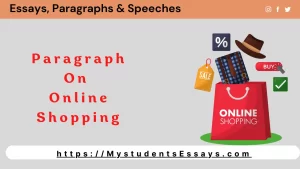 Finally, it is very safe as you do not have to give out your personal information to anyone. There are also some disadvantages of online shopping. Firstly, you cannot touch or try on the product before you buy it which means that you may end up with something that is not what you wanted.
Secondly, there is always the risk of getting scammed or being overcharged. Thirdly, the quality of some products may not be as good as you expect. Fourthly, it can be addictive and you may find yourself buying things that you do not need.
Students can buy online. However, they need to be careful as there are many scams and fake websites out there. Also, they should always check the return policy before buying anything. Finally, they should always pay with a credit card so that they can get their money back if something goes wrong.
Conclusion
Overall, online shopping has many benefits and few disadvantages. It is a great way to save money, find unique products, and shop from the comfort of your own home. So, if you are looking for a convenient, fast, and cheap way to shop, then online shopping is definitely the way to go.