Paragraph on Bullying:  Bullying is a problem that affects millions of students in schools across the world. It can take many different forms, such as physical violence, verbal harassment, and social exclusion. Bullying can have a profound effect on a person's mental and physical health, and it can even lead to suicide.
Paragraph on Bullying
Bullying can be defined as any repeated act or gesture that is intended to hurt or upset someone. There are three main types of bullying: verbal, physical, and social. The first type of bullying is verbal. Verbal bullying is when someone says something mean to another person. This can include name-calling, making hurtful comments, or threatening someone.
>>> Related Post:  " Essay on Superstition"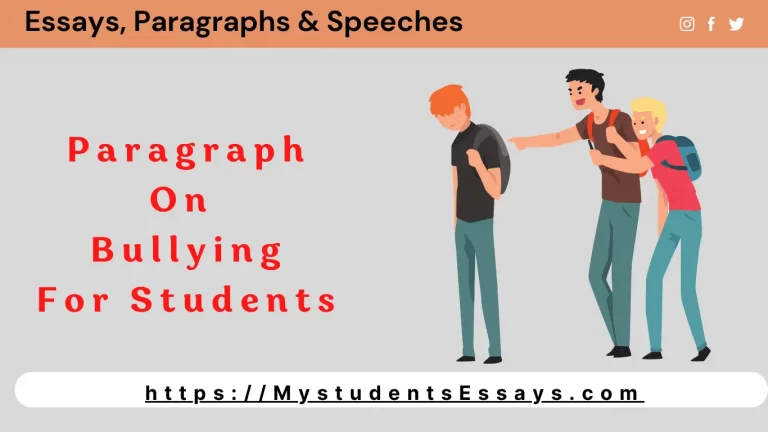 The second type of bullying is physical. Physical bullying is when someone hurts another person physically. This can include hitting, kicking, or taking someone's belongings. The third type of bullying is social. Social bullying is when someone excludes someone from a group or spreads rumours about them. This can include telling people not to talk to someone, spreading lies about someone, or not inviting someone to events.
There are also many different causes of bullying. The most common cause of bullying is peer pressure. When kids feel like they need to fit in or be like everyone else, they may bully others to make themselves feel better. Other causes of bullying include things like family problems, feeling left out or different, or having been bullied in the past.
Impacts of Bullying
Bullying can have a profound effect on a person's mental and physical health. It can lead to problems like depression, anxiety, and low self-esteem. Bullying can also lead to physical problems, like headaches, stomachaches, and sleep problems. In some cases, bullying can even lead to suicide. It is important to remember that bullying is never the victim's fault. No one deserves to be bullied, no matter what.
>>> Read Also: " Paragraph on Tolerance "
Conclusion
Bullying, therefore, is a serious problem that should not be taken lightly. It can have a devastating effect on the victims and can cause long-term damage.