Agriculture has remained the core base of human civilization throughout the ages. It has played a critical role in a country's socio, economic, political development. This Paragraph on Agriculture, talks about agriculture, its importance for growth and development of a country.
Paragraph on Agriculture & its Importance 
Agriculture is the backbone of our country. It is responsible for providing us with the food that we eat every day. Agriculture is a huge industry, and it employs millions of people. It is also an important part of our economy.
Agriculture in India
Agriculture is an important part of the Indian economy. Agriculture is the backbone of Indian economy. . Over 60% of the population is employed in agriculture. India is the world's second largest producer of food. Agriculture accounts for 18% of the country's GDP. The main crops grown in India are rice, wheat, maize, pulses, and cotton.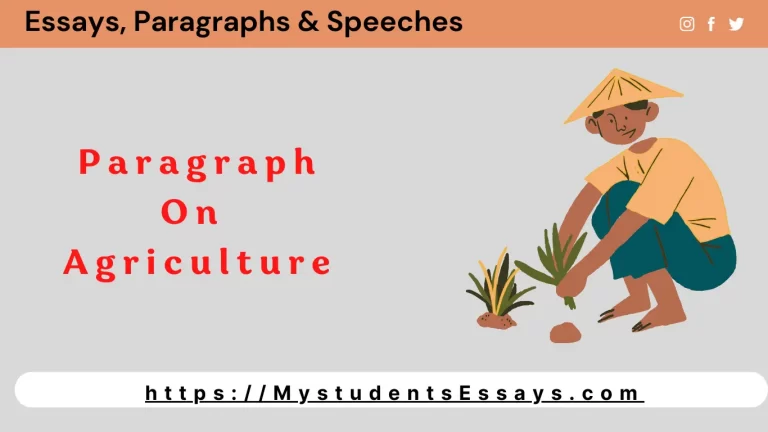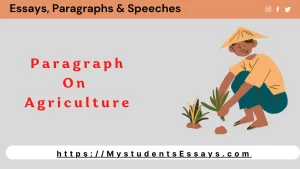 Agriculture in India is plagued by several problems. The main problems are poor irrigation, lack of technology, and a shortage of funds. As a result, the yield per hectare is very low. The government has tried to address these problems by launching several schemes such as the Pradhan Mantri Fasal Bima Yojana and Pradhan Mantri Krishi Sinchai Yojana.
The government has also created a special fund for the agricultural sector, called the Pradhan Mantri Krishi Sinchai Yojana Fund. Despite these initiatives, the problems in the agricultural sector remain unsolved. There is a lot of scope for improvement.
There is no single solution to the problems in the agricultural sector. However, some of the measures that can be taken are:
1. Improve irrigation facilities: This is one of the most important steps that need to be taken to improve agriculture. Many farmers still do not have access to irrigation facilities. This needs to be changed.
2. Promote the use of technology: Agricultural productivity can be improved by using modern technology. This includes things like tractors, irrigation systems, and pesticides.
3. Increase funding for agriculture: The government needs to allocate more funds for the agricultural sector. This will help in improving infrastructure and bringing in new technology.
4. Create more agricultural universities: There is a need for more agricultural universities in India. These universities can help in research and development, and also in extension services.
>>> Read Also: "Paragraph On Life of a Farmer "
Conclusion
Therefore agriculture is essential to the sustenance of our country. There are a lot of problems in this industry. Yet, it is hoped that with sustained efforts agricultural growth is expected.