The farewell day speeches are the important subject of our daily routine life. They are conducted in schools, offices, or at any other places in the respect of ones who are leaving the days of their lives with you. The following farewell day speeches guide would help you a lot.
Farewell Speeches , Types, Samples

Farewell day speeches are those expression and feeling of love, care and respect in honor to the one who is leaving a place of study or work.
These speeches are given in schools, colleges or in offices. The following farewell day speeches guide would definitely help you to make a good farewell day speech for students, senior students, teachers, employees or boss.
What is Farewell Speech?
A Farewell Speech is given in respect of the individual(s) who are leaving a specific position or a place. It is often a composition or utterance couched with nice words, best wishes, lovely memories etc in respect to the person(s) leaving the position or a place.
Types of Farewell Day Speeches
The most common types are; farewell speech given to senior students who are leaving the school by juniors or school administration, farewell speech given in respect of an employee, colleague or boss on his transfer, retirement or even on promotion etc.
How to Start a Farewell Speech?
Well, the farewell speech is really an important occasion. Its a wonderful opportunity for you to speak your heart out.
Given its importance, you need to be specifically prepared about its contents and your delivery style. The following tips are handy to help you to come up with the best farewell speech.
Be clear, creative, straightforward and speak your heart out.
You can Start with a nice quote or powerful statement.
Begin with kind due regards in respect to the ones who are present there.
Be nicely prepared, your appearance also matters how much importance you give to that moments.
Choose the nice, loving, creative and kind words for speech.
Confess openly the goodness you have found in your boss, colleague, friend or outgoing students, in whose respect you are delivering the speech.
Include a bit sense of humor in you speech. You can simply narrate some specific loving memories you have had with the outgoing subject
How can You Make Your Farewell Speech Great and Memorable Experience?
While, its a fact that the delivery of speech is an art, called oratory. A good ideal speech is one that is delivered slowly, coupled with nice and kind words.
To win the heart of your audience use touching yet simple and sweet words that are liked by your subjects.
Apart from that, the facial expression matters the most along with your tone. An ideal speech is one that touches the heart of listeners, creating a rhythm, coherence, coupled with sweet kind words, relevant quotes, poems or anecdotes.
Best Farewell Day  Speeches | Samples, Guides



Following is the collection of best sample farewell speeches for different occasions. They are quite helpful in making you understand and come up with you self created best farewell day speech. However, you may also choose any of the following speeches to make your time wonderful.
The specific care has been made in producing out the best farewell speech with selection of words, quotes, anecdotes, loving memories etc.
1. Farewell Speech For Teachers

Good day all of you here, honorable Principal, vice Principal, respected teaching fellows and dear students. With the heart filled with happiness and the mind with wonderful memories regarding my career at this school, I feel quite elated and happy while standing in front of you.
I am overwhelmed with joy and happiness to see such an immense expression of love and care from you people for me. My dear honorable Principal and teaching fellows! It has been quite wonderful to have the great time with you over here.
Your sincerity, love and cooperation would never get erased from my heart. I can't express my feelings of love and gratitude for the entire school administration.
Your cooperation, love, care and individual contribution makes my life a richer experience. I carry with me the things that I have learned from you and definitely I will share with others as well. As I have learned from that kindness grows collectively.
My dear Students! You have been the center of my attention throughout of my teaching career. Your presence with the sound expression of love, care and the presents make me quite proud of you.
Your love is no less than a treasure for me. I feel quite elated and happy for the fact that you came up entirely to my expectations. You have lived up-to my words. Your success is an honor for me and in fact, every success that you get in your practical life, makes me happy for you.
Being the students, you carry the name of this school an the teachers over here. You success represent the contribution of your school teachers. Dear all! I am happy to witness such an overwhelming love and care from you. It is evident here from your facial expressions.
With heavy heart I bid you all goodbye. I might not be able to find you all here but I carry the packs of wonderful lovely memories with you.
With Love and Kind regards you teacher (Name)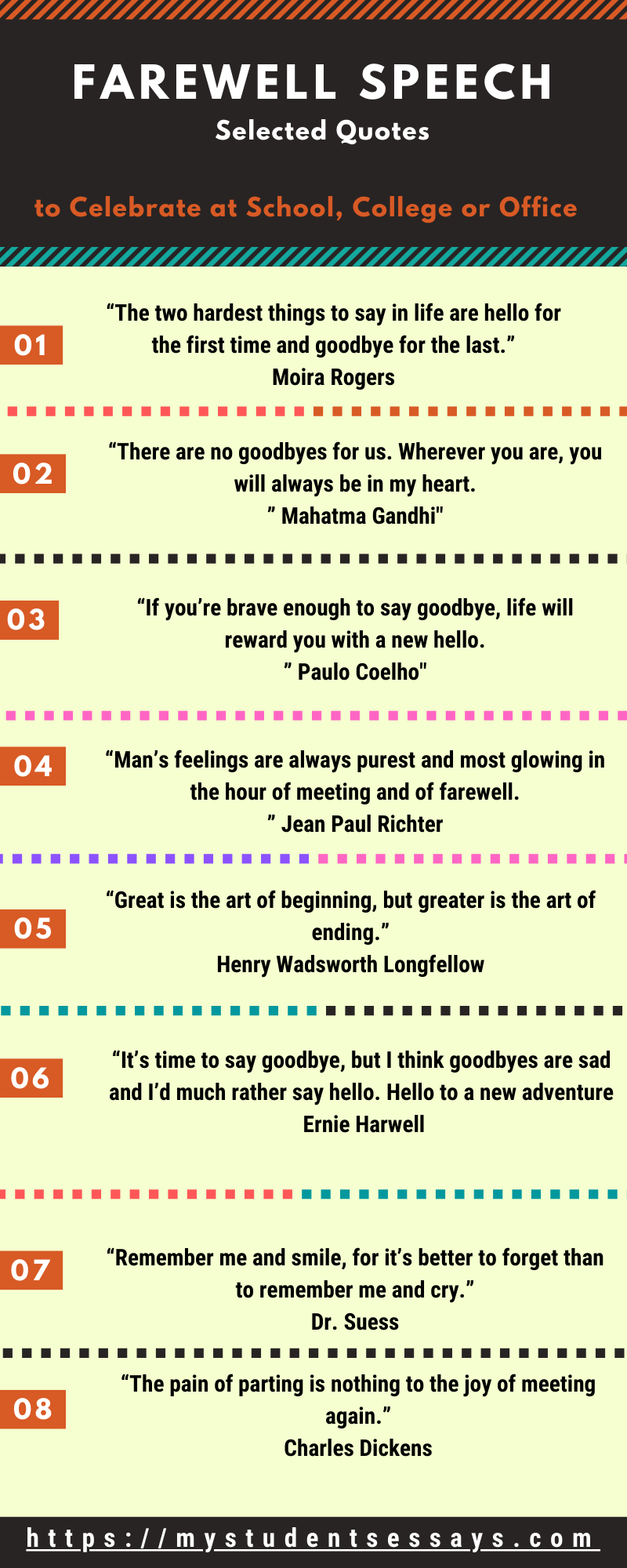 2. Farewell Speech For Students
Students are the treasure of a school. They are educated under different classes and categories. Under our educational system, students leave one school when they their level of education at one school to join another. For example students completing primary or secondary education, join another school to carry on their education.
Apart from that, the school leaving reasons might be many including, some students join another school when they complete level of education at one school or simply when they need to transfer to another school etc. The farewell program is organized by school or the junior students in respect of senior or outgoing students of the school.
Farewell speech for students is given in that perspective. The following sample of farewell speech for students would help you a lot to get prepared to deliver the best farewell speech to students.
3. Farewell Speech For Students by Teacher
Good morning, honorable Principal, respected my fellow teachers an my dear students, I welcome all of you here on this auspicious occasion. As you know all we are having the farewell party to our senior students of class 12th standards.
Today is an special day. We all have gathered here to speak up to our hearts in respect to our senior students. The young and bright minds, I hope, would prove their wit and wisdom wherever they go in life.
It has been an honor for our school to have these wonderful minds as our students. The 12th year of education have instantly passed. The school vividly remember each and everyone of you since the day you entered into this school. You, the young minds, have made it to the final way and I congratulate you all for completing your education here successfully.
My dear students. Being the class teacher of you, for most of the time, I instantly know what runs inside your mind. I have my hands on your veins. The time that went with you, is a wonderful part of our memories.
These are, I suppose, the last moments we all seeing us together at one place. For the next level of education, you might get dispersed. But let me assure that you won't be able to forget the honey memories of our wonderful company at our school.
My dear students, you are all because the sincerity and commitment of honorable teachers over here. You have tested and enriched your mind from the wonderful and great teachers over here.
Your knowledge is the accumulation of the wisdom and integrity that you have taken from these honorable teachers. You will never be able to forget we all. Instead, you would be very grateful for life for the wisdom, knowledge and intelligence you have acquired over here.
My dear students, Let me confess you that you have been the integral part of our school. Your aptitude, skills, integrity and intelligence have made you grow stronger on the platform of this school. The teachers are just mentors and good guides under an school. They can lead you out to the way of success. The much of this lies upon your shoulders.
I am feeling quite prideful on you that you have achieved successfully what has been meant for you. Among you, I see the artists, entrepreneurs, writer, engineers, doctors, scientist and other successful men. You are the treasure not only for this school but for our country as well. Dear friends, On behalf of our school administration I congratulate you and wish you best of luck for your future ahead.
4. Farewell Speech For Seniors
The following is the collection of different farewell speeches for seniors in college and school. A farewell speech is given by juniors to seniors at the time when the leave the office due to variety of reason.
School Farewell speech is given by juniors to seniors when they leave school by completing their education. Similarly, Junior employees give farewell speech to senior employee when they complete their tenure of service or simply leave one job to join an other. The following different speeches would help you to choose the best that suits you.
5. Farewell Speech For Seniors in School
Good evening to the respected and honorable dignitaries, sincere teachers and my beloved fellows. You know well that today we have organized this farewell party as a tribute and honor to our seniors, on behalf of juniors. It is an honor for me to speak here in front of you to express my feelings.
I feel honored to congratulate you the seniors for the wonderful career and endless opportunities ahead. I wish you the sure success, happiness in life and the bright future ahead.
Among our seniors are the future stars, successful persons and very talented persons that are to lead the world of tomorrow. My country is truly blessed and lucky to have the sweet and sincere young minds like you.
The entire credit of producing such a brilliant students and beautiful minds go to our honorable institute who has uncovered and sharpened such a novel talent among you, the senior students.
The wisdom and sanity is overflowing from your minds. We, the juniors, will miss you for the days of your glorious company. You have been our mentors and source of our inspiration. You have molded our minds to bring the best out of us.
The seniors have the tremendous role and impact in our lives. They have helped us in a lot of ways to get us adjusted and well settled into the new environment of our institution. They treated us like their younger brothers.
Whenever our school organized any activity to celebrate any special day, the entire responsibility used to be on our senior students. They made it sure that every event is celebrated successfully and smoothly.
Their cooperation, love and care used to be simply matchless. They have never let feel anyone to worry about anything in Institution. They have shouldered each and everything successfully and proudly.
Today, when we see our seniors leaving the school to step ahead we feel thrilled and excited. But let me make it clear that, they have successfully transferred the entire responsibility upon our shoulders. We feel quite honored to inherit the wonderful legacy left by our seniors.
Dear friends and honorable all! it is just the process of life. We all had to pass through it. Nothing is to stay anywhere for entire life. We all are here just play our part. The day is not so far when we, as the class mates, would be leaving like our seniors today.
Let me remind you again, nothing is to stay. Everything changes and nothing is to stay always. Therefore, the only thing that can do is leave good memories, kind acts and love everywhere. Let's spread the love, kindness, happiness and wonderful memories.
6. Farewell Speech By Students in College
Good Day all here, the worthy dignitaries, honorable teachers, sincere friends and dear all. I am Sushel Sharma from MCA 5th Semester. I have been blessed with this wonderful opportunity to speak my heart out on this auspicious occasion.
Happiness apart, but today is the day when we all gathered here to wish farewell and good luck ahead to the seniors who are leaving our schools. The seniors, who have been the wonderful part of our schools. Their contributions and efforts have their names in the history of our school.
Let me accept it here that our seniors have helped us a lot in all ways during our school life. I vividly remember how they received us, treated us during our initial day at our school. They helped us learn and adopt the norms and regulations of our schools. We were a little oblivious to the school rules. They were our seniors who stood by us and lead us correctly and confidently.
Dear all, the seniors of our school have much in their minds. They are capable, kind, curious, intelligent and advanced. They have been honed with intelligence and intellect here at our school.
They have the greater talent and aptitude to lead the world of tomorrow. I can clearly see, the future scientist, doctors, engineers, entrepreneurs, artists, teachers, and kind men among our seniors today.
Dear seniors! you are the treasure to us. Let me congratulate you and wish you best of luck for your bright future on behalf of my school and my class mates. You are our true role models.
You have truly guide us and shaped us to be the good, supportive, kind and careful students of this prestigious institute. You are leaving your kind legacy into our hands. It is upon us now to discharge our responsibility kindly with dignity and care.
7. Farewell Speech for Colleague
Good day everyone here. I welcome all of you here with the depth of my heart. You know all that we have gathered over here to present a wonderful farewell party to our colleague, dear Mr Vijesh. It is his love and kindness that has brought all of us here.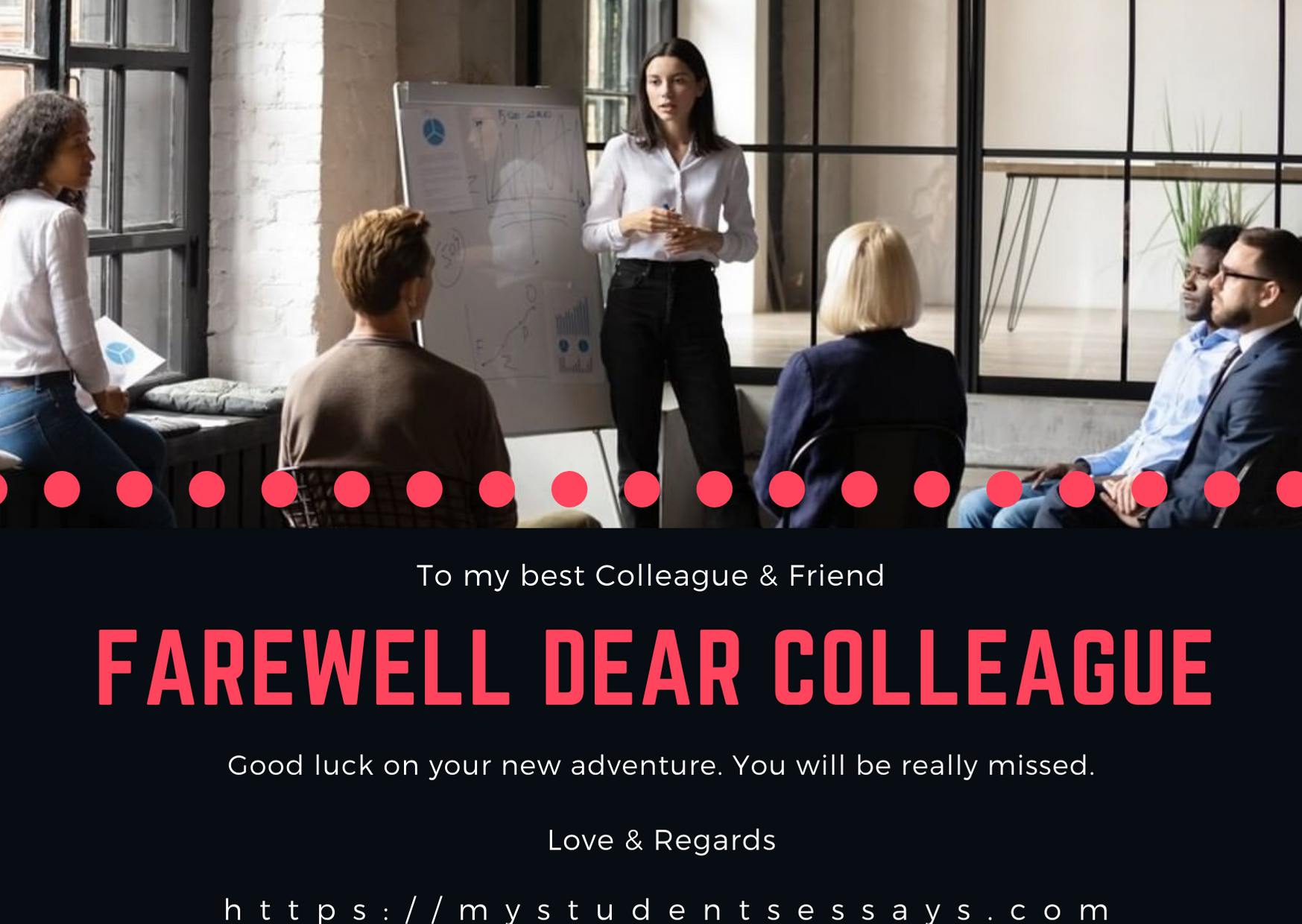 He has been a thorough gentleman. A wise man with dignity, sanity, dedication and commitment in heart. We are very happy to see another feather in his cap. He is due to join another well settled company abroad. It is an honor for us to have the good days of his company here.
Dear friends! You know how hard it is to say goodbye to the one whom you love the most. Mr Vijesh has been our wonderful colleague for so much time over here. The moments that we have passed with him are the treasure troves for us.
How hard it is to imagine that we might get deprived his wonderful love and company. But again, we are happy and elated to see him progressing onto the ladder of success.
Dear Colleague!
Mr Vijesh has been the wonderful part of me. Let me confess here openly that I am all because of him. He has been with me throughout my thick and thin. He never let me feel alone. Like a wonderful best friend, I found him every difficult times. The friends like him are the rare gift of God. It is very painful not to see the one who loves and cares about you the most.
Dear colleagues! Mr. Vijesh is an example of excellence. He has been very honest, sincere, dedicated and committed person. He has been the best part of our organization. His contributions for the success of our organization are the open talk.
He stays in our minds and hearts. Due to his kind and loving nature he has been the apple of everyone's eye. His intelligent, love, kindness and care are what that make him the most successful person today.
Dear Vijesh..
We all congratulate you for your achievements in your career. Being your colleague for sometime, we know well your efforts, struggles and aspirations. We wish you the success and wonderful career ahead. Happy to see you successful in your life.
8. Farewell Speeches For Boss on Promotion/Retirement/Transfer

The boss is one who leads your company or organization. He is the man under whom you work. The farewell speech to boss is given on variety for reason like; on promotion, on retirement or tenure end or simply transfer from one office or area to another.
The farewell speech to boss can be delivered by any senior employee, coated with the kind words, loving memories and lessons learned from your senior boss. Sometimes the boss himself delivers the farewell speech to the senior employee on variety of reasons.
Here we are giving the samples for both. They will prove quite helpful for you to instantly deliver a wonderful farewell speech to your boss.
9. Farewell Speech For Boss
Welcome you all here! It is wonderful moment that we all have gathered here to express our sentiments of respect love and care to our worthy Boss.
We feel quite elated at his promotion. That's a moment of pride not only for us but for our company itself. From the depth of our hearts, we express our love and congratulate you, the honorable sir, for your promotion.
Respected Boss! the time flies so instantly. We have shared the wonderful moments in this office under your kind command. Your knowledge, the skills, the patience and persistence are an open secret here. You are the man with a wonderful heart and mind. You are the kindness itself.
It is the virtue of great commander to treat his subordinates lovingly. You have been the treasure here. Everyone shall speak clearly about your kind behavior.
I vividly remember that you have never lost your confidence and kindness even during the toughest times of our company. You stood firm and lead us all to the path of success and progress. A great boss is one who inspires you and makes his subordinates work kindly and lovingly. These all things have been amply witnessed among my boss and our leader.
Let me confess that I am big fan of yours. I have learned a lot from you. You have been my mentor and favorite person. From you, I have learned the time management, punctuality, kindness and clarity of vision. What I am today, it is only because of you.
I clearly know myself and I can confess with firm confidence that without you and your kind support i have been nothing. You helped me to stand on my feet and to find the truthful person inside me.
Honorable Boss! The journey with you have been very great and rewarding. We have learned a great many things from you. Though our heart can not afford seeing you leaving us, yet we are here to show our respect and love for you. You shall be greatly missed every day and every moment. Wish you best of luck ahead.