My school Essay, has been written here in narrative and descriptive manner. It is long and short separately with headings, simple hints and tips given for children & students of School.
Essay On My School  For Students
School is the foundation of  a strong society. In that way, the following essay has been written that makes us know the real value and importance of school in our life.  This essay is written for all students including for class 1,2,3,4,5,6,7,8,9,10,11 and 12 children, The students of elementary, high school and college students can also get benefit from it.
 My School Essay for Primary & High School Students
The school is a place where the minds are molded and the destiny of a nation is shaped. It is the place to impart education in a systematic and ordered way to the upcoming generation. The mode and the manner and the system of education in a school is a decisive factor in the future of a nation.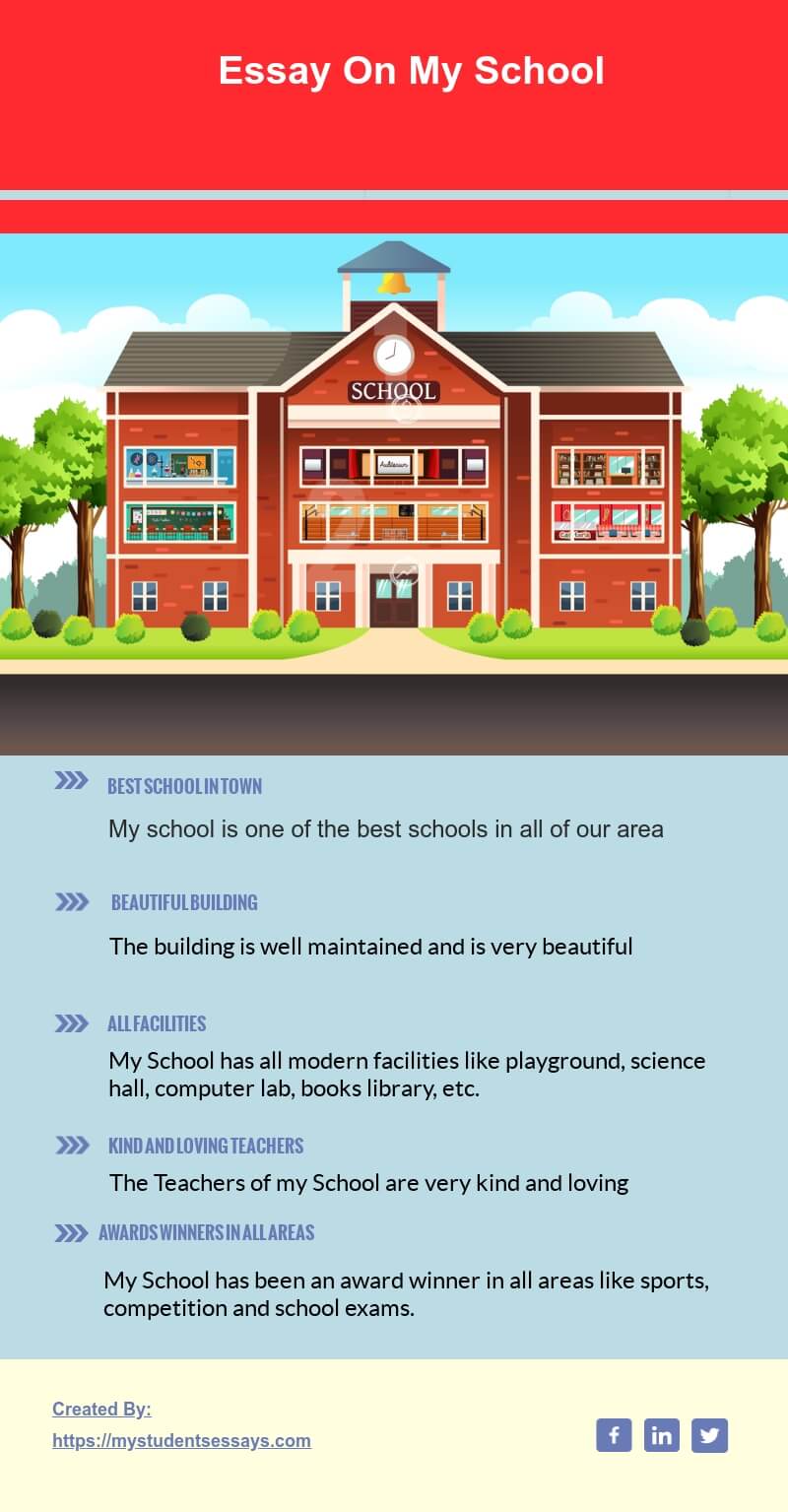 It's a moment of pride for me that I study in school (Write the name of your school). This place has been instrumental in preparing the great ever minds who have ever ruled the world. The great ever leaders, scientist, doctor, engineers, politicians, warriors and what not? Surely, these classrooms are vital for the survival of a nation.  My School has large sturdy and confident building that looks welcoming every new student here. It has a large and friendly playground. The air enters into our school with lush sweet fragrance, making all of school airy and excellent.
Every morning when I enter into our school, I am greeted by all alike. The principal, the teachers, the watchmen, the peon, in fact all, treat us like a family. More than the books alone, we study and learn with practical interactive environment of our school. The teachers are very kind and cooperative. The principal handles our school like a father does to his family.
We all are like a family under one shade. A really big and sweet family under the command of a kind captain.  The peaceful and interactive studying environment is what that makes our school top in the list of excellent schools.
The teachers here are very competent and cooperative. They listen at you. They are not the teachers alone but they are like the good friends who understand every single problem of students.  That's why we always love our school deeply.
  Related Post: My School Essay | 10 Lines & More Sentences
Extra curricular studies are also the vital part of education. Fortunately, our school tops in providing the excellent extracurricular activities. Here, various extra curricular activities are routinely held. The activities like, quiz competition, speech and debates, writing competition, sports events, national celebration events, tabloids, dramas etc are often held.
The purpose of these activities is to instill a sense of confidence and motivation for winning among the students. Our school also takes part in the extra curriculum activities held among various other school. It's prideful for me to mention that very last month our school won the cricket cup trophy in annual district cricket tournament. The cricket cup was won after fierce competition between various school teams. Our school won it after defeating 8 other schools cricket teams.
Not only in sports , our school also appears in top in other activities like debates and speeches, tabloids, dramas, etc. Therefore, the entire credit goes to the honest and dedicated administration of our school who are always behind our every success. Education is fast changing day by day. Our school does not lag behind. In terms of facilities, our school provides the best ever learning and studying facilities to all students.
There is a big library that is filled up books and books everywhere. The library contains books of every need to our students. We have science laboratory to practice.  The laboratory is served with all modern facilities. Our school has latest information technology computer labs for students.
In fact, our school administration is truly capable of effective utilization of all resources. We learn here passionately to earn a good name, not only for our self but for our school.
Motivation and passion are the two things that make you striving for the best. Our teachers are true mentors and motivators who truly fill up every student to work hard and dedicate one for a single true goal. Thanks to the kind and true mentor ship the students of our school have made their marks in their life.
I am proud of my school who has prepared such great true human for our world. The entire credit lies on the shoulders of our teachers. The best school is one who is in constant contact with not only students but the parents and in fact with the whole community. The regular parents' teachers meetings are held in our school.
The teachers guide the parents about the short coming and possible ways for the students. The parents are informed of regular assessments of students and with the results. It minimizes the gap of lack of communication between school and the community and helps improving education. Therefore, our school is not the same old name of just teaching crap things to students but its more than that.
The kind competitive, cooperative and excellent interactive study environment prepares the students in a real way for the next practical level of life. This all makes me proud of my school. Therefore, the school is not the name of a place where the children crowd together and do nothing meaningful. The school is the place where the students not only learn the things from books but learn how to apply things in a practical life.
It depends upon the overall environment of school, its administration, kind and dedicated teachers and true and sincere students to their goals. The real school is like a heaven on earth. And, I am thankful my teachers, every single student of this school, worthy Principal and truly dedicated each and every staff of this school to turn it into a heaven on earth.
I am also thankful of my parents who made it possible for me to study here in this school. In the end,  I wish every single school be a great school like that of ours.