Best selected essays on winter season including 10 lines and few more points on winter season, short essay and paragraph on my favorite season winter with quotes for Kids, KG class 1,2,3,4,5,6,7,8,9,10 students.
These essays are short, essay to understand and are meant to primary, high school and college level students.
Short Essays & Paragraph on My Favorite Season Winter
Winter the coldest and most chilling season of the year. It starts from the month of October and runs through to the month of March. The wind become very cold and sizzling.
The earth looks rough and the trees shade their leaves. Due to intensive snowfall in some areas, the earth wears the white look. The winter season become hard and unbearable when it happens rainfall during it.
It disturbs daily routine life. The movement of people, animals and other creatures becomes limited. In many part of the world, people are confined to their houses.
The business activity falls and people rely on food grown during the other seasons. However, in winter season, many good and healthy fruits and vegetables grow like carrot, pineapple, orange, guava, papaya, radish, tomato and other foods.
In winter season people wear warm woolen clothes. The kids and old age people are very vulnerable to high cold. The health problems like flue and fever becomes common in children due to heavy cold. Winter is the great season of fun and joy. Many people plan picnics and adventures in winter season.
Winter season is experienced more in villages than big cities. Often in big cities, you feel more warm and less cold winter. However, the village life very open. Houses are far and scattered. The winter cold falls heavily there.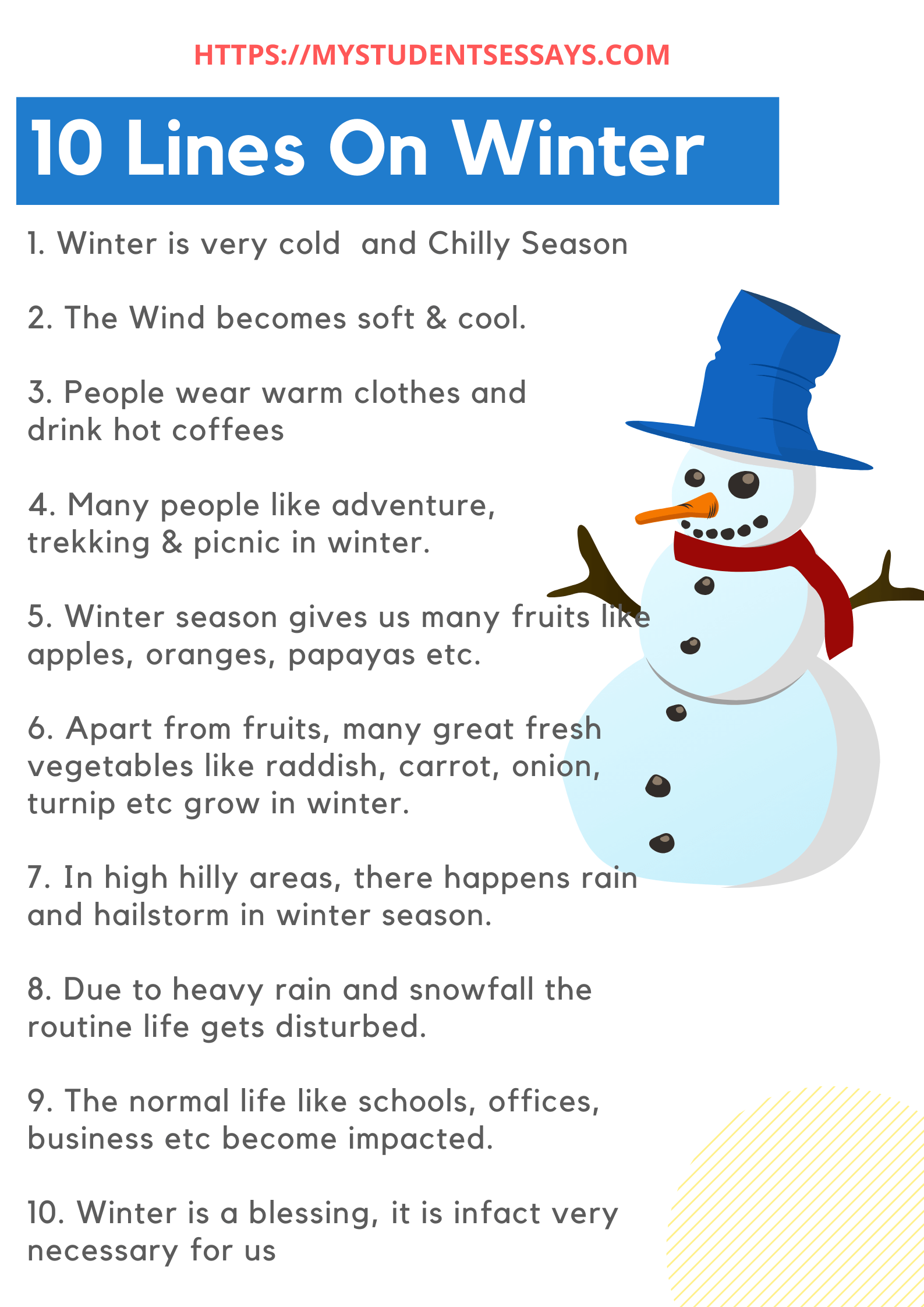 The village men do enjoy winter season. They pile up the wood and burn them to make themselves warm. Often in winter season, the villagers organize gathering and other events. They really enjoy the winter season.
Winter season is one of the four seasons a year. Along with its some hard points, winter has amazing benefits. It is very necessary for life cycle on earth.
Winter is a cool and comfortable season. We can become productive and complete our goals. Therefore, we should be thankful to the blessings of winter in our lives.
Ten (10) Lines on Winter Season For Children & Students
1. Winter season is very cold and chilly season.
2. Winter starts in the month of October and continues till February and march.
3. The wind become soft and cool in winter.
4. In winter season people wear warm clothes and like hot drinks like coffee soup.
5. In winter season the days become very short and the nights are long.
7. In some parts of country, during winter season, it happens rainfall and snowfall.
8. Many people like picnic, adventure and trekking in winter season.
9. The days become very small in winter, due to which many people could not complete their daily office tasks.
10.Most of the trees shed their leaves in high snowfall areas.
11.In some parts of the world, the birds migrate from high cold areas to other low cold areas.
12.In many parts of world, people stay into their homes due to heavy snowfall.
13.Due to heavy fog in winter season, the normal routine life gets disturbed.
14.Winter season brings many good and healthy fruits and vegetables for us to eat.
15.Winter has many benefits for us. We should be thankful to winter season.
Conclusion
Winter season is really the wonderful season with a lot of joy, wonder and excitement.