Best selected essays on winter season including 10 lines and few more points on winter season, short essay and paragraph on my favorite season winter with quotes for Kids, KG class 1,2,3,4,5,6,7,8,9,10 students. These essays are short, essay to understand and are meant to primary, high school and college level students.
Essay on My Favorite Season Winter | Winter Season Essay For Children & Students
Winter is the coldest season of the year. Its duration is from November to February. In winters, days are very short and nights are quite long. There are only some days, when we get lucky enough to see sun, otherwise, it remains covered in dense fog.
Reasons Why I Love Winter

Out of all the seasons, winter is my favorite season. Firstly, every school announces holidays when the winter season is at its peak so it gives me an excellent time to enjoy this season to its fullest. I get to sleep in my warm blanket without having to worry about getting up early in the morning. In morning, it is all foggy on the road and fumes come out of mouth when we speak.
I love to go for long walk when sun is at its peak and breathe fresh air. When there is heavy snowfall in my area and I am unable to go outside then I prefer to stay at home and read books while enjoying my hot chocolate. The beautiful sight of snow falling down the trees is very exciting to watch from my window. I really enjoy this moment.
Winter season gives me an opportunity to spend plenty of time with my friends and family. Every year, community members arrange several sports activities in my area so that everyone can take part in sports. These activities include skating, skiing, ice hockey and ice racing. There is also a competition of creating best ice sculptures and the one who wins gets a trophy.
I also take part in this competition and I have won twice. I also enjoy snow fights with my friends. Everyone around me is busy in making his own perfect snowman. I also get plenty of time to play many indoor games with my siblings including table tennis, badminton and squash.
Another thing that I like about winter season is that I get to eat all my favorite fruits including apples, guava, oranges and pomegranate. I have developed a habit of eating fruits every morning to keep my body healthy and energetic. I also love to sit with my family on a bright sunny day and eat oranges.
There is nothing more exciting than eating oranges while soaking sun on winters while having a talk session with family. I put on warm clothes and sit in the sun for hours. My mother also makes stews and soups for us every night to keep our body warm. I also love to eat dry fruits in this season including almonds, pistachio and walnut. On weekends, my family also arrange gatherings.
We spend really good time by doing bonfires, barbeque and drinking coffee. Every year, my grandma knits colorful sweaters and hand gloves for me and my siblings to bear severe cold. I love these sweaters and flaunt them in front of my friends proudly.
Another amazing thing about winters is that so many exciting festivals and cultural events occur in this season like Diwali, Eid and Christmas. These festivals bring holiday spirit in me.
I anxiously wait for these festivals to enjoy and celebrate with my family. I also make sure to distribute warm clothes among poor people with my family too especially during these festivals.
It is very difficult for those poor people to survive in such cold weather. They do not have enough warm blankets and clothes. It is important to help them too.
Conclusion
There is a very different and amusing vibe that comes from winters. I believe that winter is the most colorful of all seasons and it fills me with an indescribable warmth. I love this season and I eagerly wait for its survival every year.
>>>>>>> Related Post:   Essay on Summer Vacation For Children & Students
Short Essays & Paragraph on My Favorite Season Winter
Winter the coldest and most chilling season of the year. It starts from the month of October and runs through to the month of March. The wind become very cold and sizzling.
The earth looks rough and the trees shade their leaves. Due to intensive snowfall in some areas, the earth wears the white look. The winter season become hard and unbearable when it happens rainfall during it.
It disturbs daily routine life. The movement of people, animals and other creatures becomes limited. In many part of the world, people are confined to their houses.
The business activity falls and people rely on food grown during the other seasons. However, in winter season, many good and healthy fruits and vegetables grow like carrot, pineapple, orange, guava, papaya, radish, tomato and other foods.
In winter season people wear warm woolen clothes. The kids and old age people are very vulnerable to high cold. The health problems like flue and fever becomes common in children due to heavy cold. Winter is the great season of fun and joy. Many people plan picnics and adventures in winter season.
Winter season is experienced more in villages than big cities. Often in big cities, you feel more warm and less cold winter. However, the village life very open. Houses are far and scattered. The winter cold falls heavily there.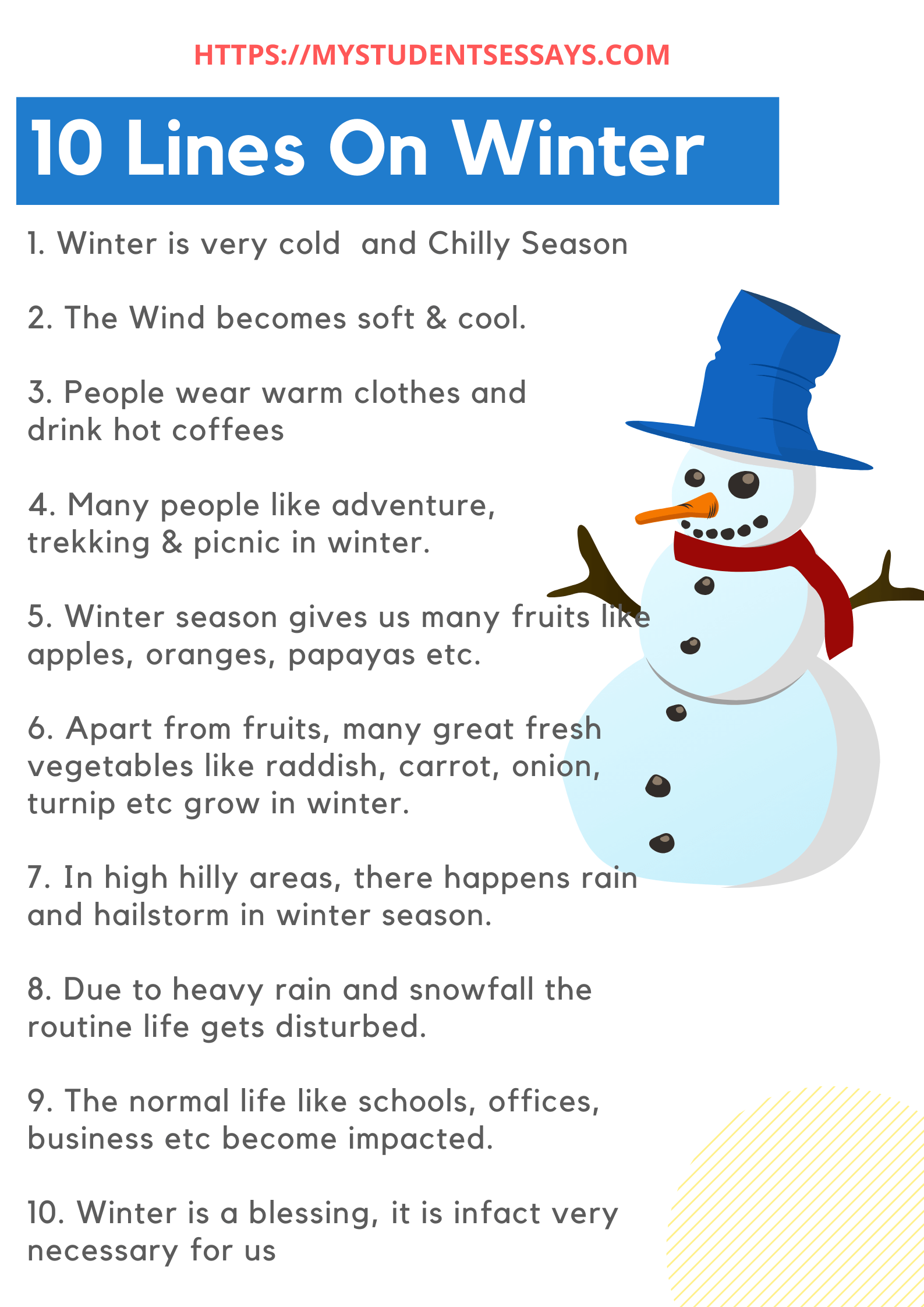 The village men do enjoy winter season. They pile up the wood and burn them to make themselves warm. Often in winter season, the villagers organize gathering and other events. They really enjoy the winter season. Winter season is one of the four seasons a year. Along with its some hard points, winter has amazing benefits. It is very necessary for life cycle on earth.
Read Also: Best Selected Essays on Rainy Season For Students
Winter is a cool and comfortable season. We can become productive and complete our goals. Therefore, we should be thankful to the blessings of winter in our lives.
Ten (10) Lines on Winter Season For Children & Students
1. Winter season is very cold and chilly season.
2. Winter starts in the month of October and continues till February and march.
3. The wind become soft and cool in winter.
4. In winter season people wear warm clothes and like hot drinks like coffee soup.
5. In winter season the days become very short and the nights are long.
7. In some parts of country, during winter season, it happens rainfall and snowfall.
8. Many people like picnic, adventure and trekking in winter season.
9. The days become very small in winter, due to which many people could not complete their daily office tasks.
10.Most of the trees shed their leaves in high snowfall areas.
11.In some parts of the world, the birds migrate from high cold areas to other low cold areas.
12.In many parts of world, people stay into their homes due to heavy snowfall.
13.Due to heavy fog in winter season, the normal routine life gets disturbed.
14.Winter season brings many good and healthy fruits and vegetables for us to eat.
15.Winter has many benefits for us. We should be thankful to winter season.
>>>>>> Related Post:    Essay on My First Holiday with School Friends
Conclusion
Winter season is really the wonderful season with a lot of joy, wonder and excitement.