Smartphones are very useful in our life in various ways. The life in modern days, in fact, depend upon the use of smartphones. The following Essay on smartphones talks about origin, types and importance of smartphones in life. Additionally, how smartphones are useful with varying advantages and misuses of smartphones in Life
Essay on Smartphones; Uses, advantages, and disadvantages:
The Smartphone is a wonderful addition into our lives. It has become a necessity for many people. Its main function is to make our lives easier and more convenient. We can use it as a phone, camera, music player, alarm clock, and many other things. It can also help us stay connected with our friends and family members.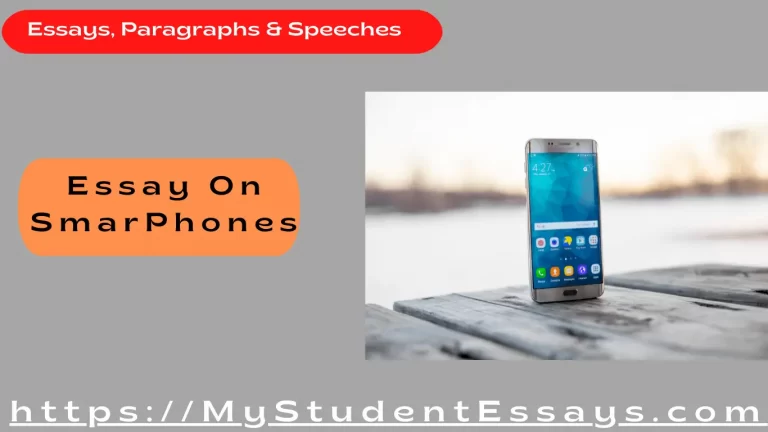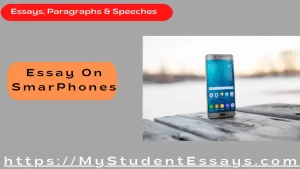 Importance of Smartphones in our Life
A smartphone is a mobile phone that offers more advanced computing abilities and connectivity than a regular mobile phone. A smartphone typically has a touch screen interface, internet access, and an operating system capable of running downloaded applications.
  >>> Read Also: "Paragraph On Online Shopping"
The first smartphone was the Simon Personal Communicator, which was created in 1992. It combined features like a cell phone, pager, fax machine, and address book into one device. However, it was not until the 2000s that smartphones became truly popular.
One of the main reasons why smartphones are so popular is because they allow us to be connected to the internet at all times. This means we can stay up-to-date with what is happening in the world, check our email, and social media accounts, and even do online shopping.
Smartphones also allow us to stay connected with our friends and family members. We can call, text, or Facetime them whenever we want.
Smartphone use by Students:
Smartphones can be very beneficial for students. They can use them to look up information quickly, take notes in class, and stay organized. However, there are also some downsides to using a smartphone in school. For example, if a student is constantly on their phone, they might not be paying attention to the lecture and miss important information.
Some schools have banned the use of phones in class, while others have embraced them and even created apps that can be used for educational purposes. It is up to each individual school to decide what is best for their students.
There are some disadvantages to using smartphones too much. For example, if we are always looking at our phones, we might miss out on what is happening around us. We might also become addicted to our phones and spend too much time on them. This can lead to problems like sleep deprivation and anxiety.
>> Related Post:  " Essay on Freedom of Speech"
Conclusion
Overall, smartphones have many uses and advantages that make our lives more convenient. However, we should be aware of the potential disadvantages so that we can use them in a healthy way.