Shopping is an activity or buying, assessing, analyzing or comparing products, goods and materials. The typical family shopping refers at the tasks of buying items or products from market for day to day use. The following essay talks about Shopping, meaning and history of shopping along with skills, tips needed for effective shopping in life.
Essay on Shopping | Meaning, History & Importance of Shopping in Life
Shopping is an activity that we all engage in on a daily basis. Even though it may seem like a mundane task, there is more to shopping than meets the eye. In fact, shopping can be quite interesting if one takes the time to look at it from different angles.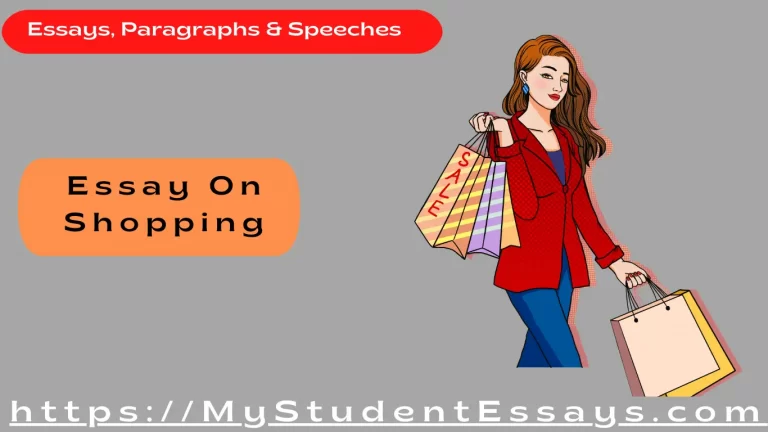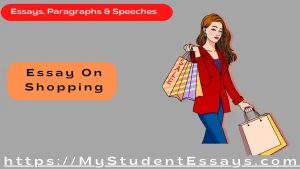 What is Shopping?
Shopping is defined as the act of buying goods or services from a store or online. It is a necessary part of our daily lives as we need to purchase items in order to live comfortably. We all have different shopping habits and preferences, but the basic idea is the same – to find and buy the things we need or want.
>>> Read Also: "Paragraph On Pros & Cons of Big City Life"
The History of Shopping:
Shopping has been around for centuries, and its history is fascinating. Originally, people would shop at local markets where they could buy fresh produce, meat, and other items. These markets were a gathering place for the community, and shoppers would often chat with each other while they were picking out their fruits and vegetables.
As time went on, department stores and supermarkets began to pop up. These stores offered a wider variety of goods, and people could buy everything they needed under one roof. This was a convenient option for shoppers, and it quickly became popular.
Today, we can shop online from the comfort of our own homes. We can order anything we want with just a few clicks, and it will be delivered right to our door. This is a great option for busy people or for those who live far from the city.
Skills Needed for Shopping
In order to be a good shopper, there are certain skills that you need to possess. First of all, you need to know what you want. It is important to have a clear idea of what you are looking for before you start shopping. This will save you time and money, as you will not waste your time browsing through items that you don't need.
You also need to be patient. Shopping can be a long process, and it is important to take your time when making decisions. If you are in a hurry, you are likely to make bad choices and end up spending more money than you intended.
Finally, you need to be savvy with your money. There are many ways to save money when shopping, and it is important to take advantage of these deals. There are also many traps that shoppers can fall into, such as impulse buying and overspending. If you are aware of these dangers, you can avoid them and stay on budget.
Shopping Tips:
Now that you know what skills you need to be a good shopper, here are some tips to help you save time and money when shopping.
1. Do your research before you shop. This includes knowing what you want and finding the best deals.
2. Make a list of what you need and stick to it. This will prevent you from buying things that you don't need.
3. Take your time when shopping. This will help you avoid making impulse purchases.
4. Be aware of sales and special offers. This will help you save money on the items that you need.
5. Only buy what you can afford. This will help you stay on budget and avoid debt.
>>> Read Also: "Short Paragraph on Mango For Students"
Conclusion
Shopping is a necessary part of our lives, but it can also be a fun and interesting activity. If you take the time to learn about shopping and develop good skills, you can save time and money when buying items that you need.