Self motivation is essentially important in our life. During the different phases of our life, we come across many ups and downs of life. There's only power of self motivation that help us to stand out with resilience, courage and commitment. The following essay on Self motivation mentions the meaning, purpose & importance of self motivation, additionally it details how to have self motivation in life for greater purpose in life
Essay on Self Motivation | Meaning, Purpose of Self Motivation in Life
Self motivation is simply the act of motivating oneself. But what exactly does it entail? Self motivation affects everything you do in life, from waking up early in the morning to complete your daily tasks, to studying hard for that upcoming exam, to working out at the gym when you are tired and just want to chill on the couch with a bag of chips. Self motivation is what makes you accomplish your goals and reach your full potential as a human being, and with it we can truly be unstoppable!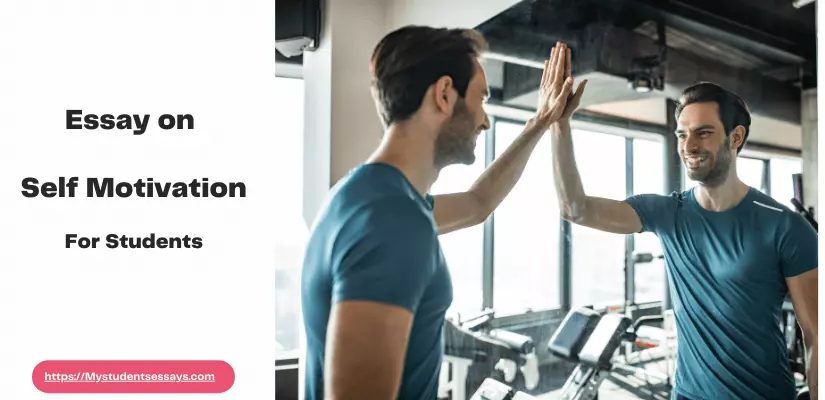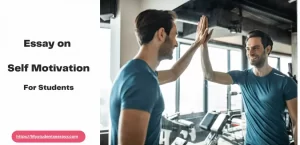 Self Motivation is the Key to Success
Motivation in life can come in different forms, it may be purely materialistic like wanting money or a nice fancy car to make you feel cooler, or it may be something that relates more to your life's purpose like wanting to help others. It's a great way to perseverance and consistency in life. Self motivation comes in all shapes and sizes, but what is important to remember is that it is completely unique to you. The best kind of self motivation comes from within, and requires a lot of introspection and soul searching to really understand what it is that truly motivates you.
How to Stay Self Motivated
So how do we give ourselves that necessary push to motivate ourselves? Here are some tips on how you can become more self motivated:
Wake up early. Like, as early as 5 am if you can manage it (or even earlier if you're really hardcore). There's a reason why all successful people seem to be early risers.
Plan your day the night before, and write it on a note on your wall, on your desktop background, or in some other place you will see everyday. A day planner also works very well if it is the kind that you carry around with you to remind yourself of what you should be doing at any given time.
Make a schedule for yourself, and include all the tasks you need to accomplish for that day. This will make it easier to do everything on time, without forgetting anything, and will keep you on track with your goals.
Take small steps to success. You don't have to wake up early and immediately start running 10 kilometers. Just get up, have a shower and breakfast, and start studying or working out. Once you get used to it you will be able to do it without even thinking about it.
Once you start feeling tired or lazy, try doing some exercise or stretching. This will get your blood going and you'll feel energized after that. Also, drinking a lot of water throughout the day will keep you hydrated and feeling good.
Remember: A new day will always begin after just one night! So don't feel bad about the things you didn't accomplish yesterday, because there's always a chance to start all over again.
Make your goals SMART. Specific, Measurable, Attainable, Realistic, and Time-bound goals will make it easier to stay motivated. For example, instead of saying "I will go to the gym three times a week", saying "I will go to the gym every day from Monday through Friday at 5 pm" will make your goals more specific and measurable.
Find a workout buddy. Someone who is going to be able to push you to do your best and motivate you if you happen to slack off.
Listen to music while at the gym, cooking, studying or doing homework. Or watching a movie if you're procrastinating on your studies. Music has the power to change our mood and can motivate us immensely!
Treat yourself, but in moderation. Buy yourself a new top if you've been good this week and have met your goals, or if you're having a good day, but don't reward yourself with that expensive ice cream or chocolate cake if you've been slacking off. Treating yourself is a good incentive to stay motivated, but don't let it become too much of a crutch.
Conclusion
As human beings, we are all motivated by different things. It's a way to self respect and courage.  It is completely natural to not be motivated about certain tasks at certain times, but what is important is that you are aware of what it is that motivates you, and then use these motivations to your advantage. Find your motivation!