Science has given us proper education in various disciplines which have made our life easier. It has also taught us how to live in better way by telling about all things related to nature, society and universe. So it can be said that science is a blessing for people in general although it has some negative impact on humans in general. The curse part of science should be taken very seriously by the scientists so that they can reduce its negative impact on people as much as possible.
Essay on Science; A Blessing or Curse | Essay for Students
Science is a blessing as well as a curse for mankind. It has given us much knowledge about various phenomena, which was not known to our forefathers. But on the other side, scientists have also harmed us in many ways by spoiling our environment and making it dirty and polluted. In fact science cannot be termed as good or bad as it comprises both good and bad things together. Yet, there are some ways by which science can be called as a blessing for human beings.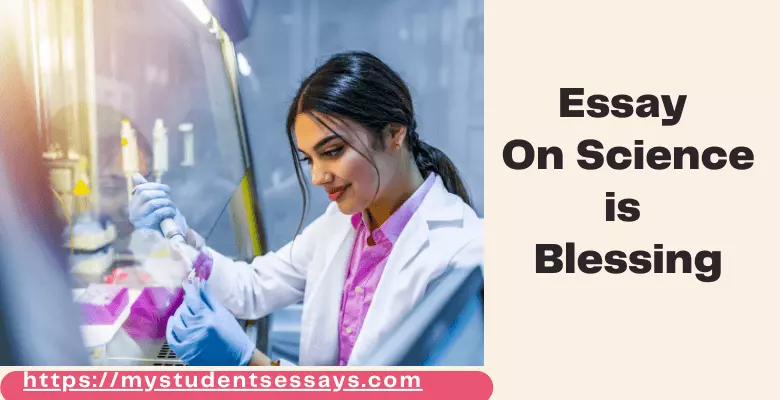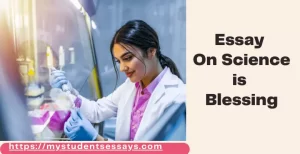 How Science is Blessing?
Science is power which brings prosperity for the people.
The growth of science has given rise to better technology, techniques, equipment and devices which are helpful in improving our lives. It has made many things easy that were difficult earlier. As a result, it has become possible for man to give more time to his talent and interest rather than spending it in doing hard and tiresome jobs.
It provides information about the surroundings of the world.
In past, people could not have access to so much information about the world because the means of communication were limited and scattered across areas making it difficult for people to transfer knowledge from one place to another. But with growing science and technology, people have become aware of many things about world and can easily get information from remote places.
>> Related Post:  Essay on Modern Inventions & its Impacts
Science has helped us to know the unknown things in nature
In past, no one could make a guess at what was going on inside the earth because nobody had seen its interior part which is still not visible to us. But with the help of modern science, we know many unknown things in nature like what is inside the earth and how does it happen.
Science has made our lives comfortable by saving time, energy and efforts
With the invention of electricity, steam power, motor cars, aeroplanes etc., life has become easier than ever before making us comfortable. Earlier, people used to do jobs manually and it took a lot of time to complete a job but now machines have done away with it. So, we can save our time and efforts by using machines for work.
Science has made available food products in plenty which make us healthy
In past, if one wanted to enjoy taste and nutritive value of various food items, one had to procure them from nearby areas because transportation routes were limited. This process took a lot of time creating shortage in foods which adversely affected health. But with the growth of science, transportation has become easy making all types of food products available in plenty.
Science gives us right information about the flora and fauna of various parts of world
In past, people had to rely on hearsay about certain things because those areas were not reachable. But now with the help of science, we have proper knowledge about plants and animals living in those places as well as their habitats.
Science provides us new inventions, techniques and devices to solve the problems
From time to time, science gives us new inventions and techniques which help in making life easy. For example, washing machines have taken away the need of manual labour for cleaning clothes, power generators are useful for removing load shedding in case of electricity supply failure. So in this way, science is helping people in solving their problems.
Science helps us to increase our income and wealth
We can easily improve our economic conditions using science by producing more goods and services which will fetch us better income than what we were getting before its invention and application. It has given rise to new industry of making machines and equipment for earning more profit.
Science gives us a better understanding of our surroundings
In past, people had very little knowledge about the world. They were not aware of different languages, cultures and traditions etc. But with the help of science, we have received proper education which has increased our knowledge on many fronts helping us to know worlds around us more closely.
Science is the source of all our knowledge
Before the emergence of science, people had very little information about various disciplines. They did not have proper knowledge of nature, society and universe. But with the development of science, man has become wiser by receiving new ideas and concepts regarding sciences. Without it the world would be full of ignorance where no progress could be made.
Is Science a Curse?
1. The world is dirty and polluted
We cannot deny the fact that we are living in an environment which contains many harmful pollutants, more than ever before. These are mainly released by cars, factories, industries, electricity plants etc., which have made our surrounding dirty and polluted. So it can be said that science has harmed us to some extent by making our environment dirty and polluted.
2. There is too much stress on Science education for children
Children are forced to study science from primary classes itself, right from 5th standard. This has caused them more pressure than required which might have negative impact on their personality development during childhood. So it can be said that Science education is a curse for children.
3. Science has made us less spiritual
Science is inclined towards materialistic things and has no place for anything related to spirituality, whereas religion can be termed as source of knowledge about human life which tells people the way they should live. But science doesn't care about our feelings and emotions, it only cares about physical world. So it can be said that science has deprived humans from their spiritual life, thus making them less spiritual.
4. Science tells us wrong things about God
Because science has no room for spirituality, it gives wrong information regarding the existence of god. Though many scientists claim to be atheist but there are still some other who believe in god and talk about him/her through scientific language, which is not true at all. So it can be said that science has made us godless by giving wrong information about him/her.
5. Science has no place for love and affection
Science doesn't care about our emotions, they only deal with physical world and talk about laws of nature such as gravity, magnetism etc. which can be proved by laboratory experiments or any other means. They don't say anything about the feelings and emotions of a person. So it can be said that science tells us nothing about how to love someone or how we should behave towards our loved ones.
6. Science has no place for moral values
Science doesn't talk about human morality unless it is related to physical world like goodness, justice, honesty, mercy etc., which can be proved through experiments or any other means. If you talk about this morality to a scientist, he/she will definitely deny it as they don't have any base for them. So it can be said that science cannot tell us anything about our moral values.
Related Post: Essay on My Favorite Movie for Students
Conclusion
There are many arguments in favour and against the statement that science is a curse.  While some people say that science is a blessing, others say it is a curse. But the arguments are not strong enough to prove which side is right.  So it is difficult to say whether science is a blessing or curse. However,  it can be said that science is both a blessing and curse, depending upon how it is used.