For writing an essay on my country, you would need to take care of certain things in points like; why I love my beloved country, my country is my pride, my passion for my country, my homeland paragraph, love for motherland etc.
The place where you are born and grown up takes the place of your country. We have written short & long essay on topic my country that include; my motherland, 10 lines, few more lines on my motherland, my beloved country, for children & students of Ukg class 1,2,3,4,5,6,7,8,9,10th level students.
Our Country Essay | Essay on my Country For Children & Students
Everyone loves their motherland in which they live. They grow up and spend their whole life in that land. The love of a person for his country cannot be expressed in words.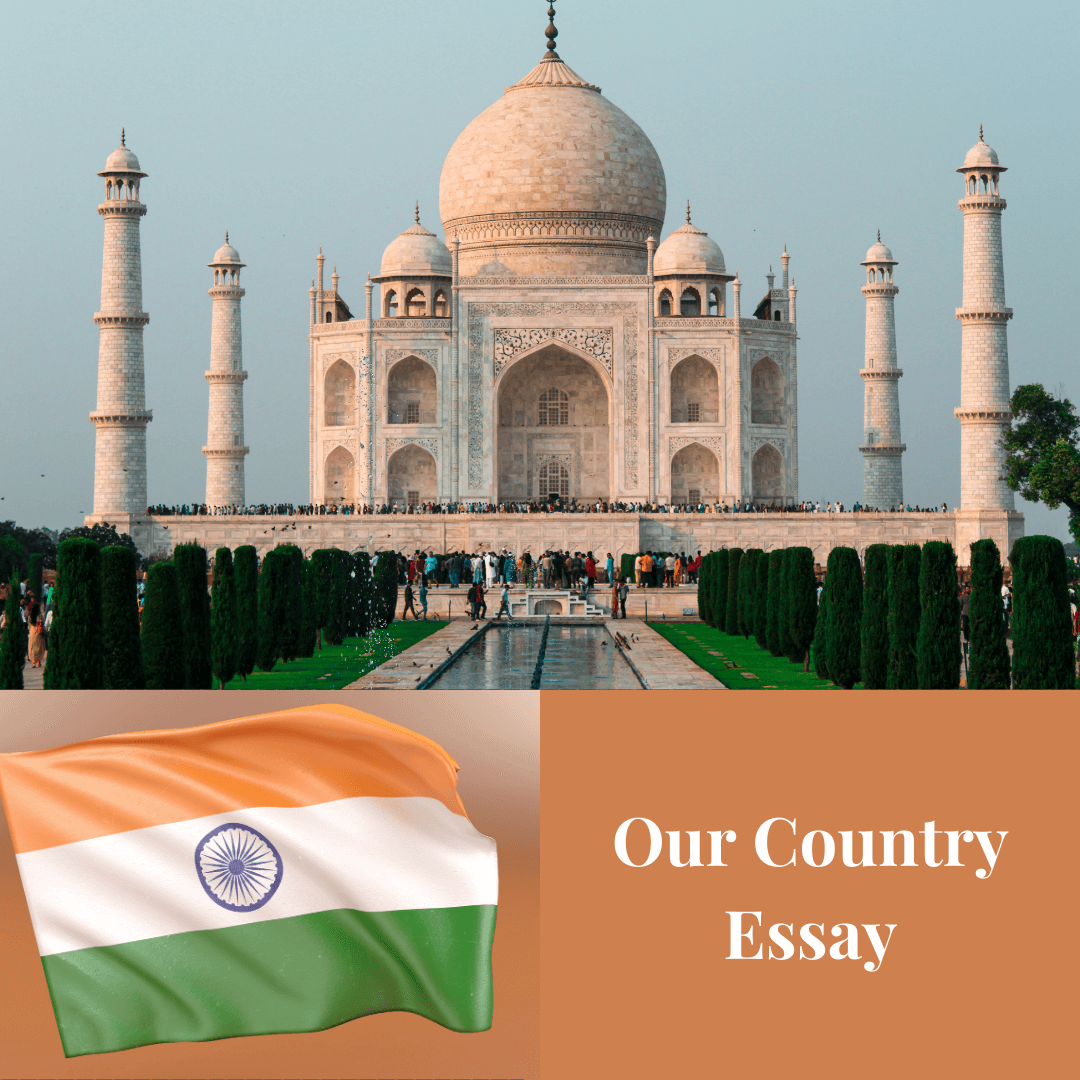 Our country is our identity and no matter what part of the world we go to, we will always represent our country.
My beloved Country is India
Our country India is also known by the names Hindustan and Bharat. We got Independence on 15th August 1947. Many patriots sacrificed their lives for this land and to give freedom to their future generation.
India is the 7th largest and second most populated country in the world with a population of 1.366 billion. It is a democratic country with parliamentary system where people have the right to make their own decision about country and government.
Its capital is New Delhi. There are 7 union territories and 29 states here and, in those states, there are many small cities and villages. Among these states, Madhya Pardesh is the largest and Goa is the smallest state.
Our flag is tri-colored; saffron, white and green. Saffron color stands for purity and cleanliness, the white color in the middle stands for peace and the lowest green color stands for fertility. There is an Ashoka chakra on this white color. There are 24 spokes in this Ashoka Chakra which represent 24 hours of the day.
India is surrounded by oceans from three sides. Bay of Bengal lies in east, Indian ocean in South and Arabian sea lies in the west side. In the north side, there is great Himalayas which is the highest mountain range in this world.
It has 9 highest peaks of this world including Mount Everest. Our neighbors are Pakistan, Nepal, Bhutan, China, Bangladesh and Afghanistan.
It is a beautiful country having so many wonderful places. There are so many captivating places, beaches, forests, lakes and caves here which attract tourists from all over the world.
There are famous places like Taj Mahal, Red Fort, Golden temple, Qutab Minar, amber palace and Kashmir which are truly wonders in this world. Taj Mahal is also included in the list of seven wonders of the world.
National bird of India is peacock. The significance of peacock is related to cultural diversity in India. National animal of India is Tiger because of its strength and speed.
Our country is the land of fields and villages. Its soil is very fertile and yields finest crops. That is the reason that it is known as the largest wheat producer in the world.
Much of the country's economy is dependent on this agriculture. The highest irrigated crop here are sugarcane, cotton, wheat and rice. Even though people of different religions live here and they worship their Gods yet they live in so much peace and harmony.
They are free to follow their own cultures and speak their own language without any hindrance. That is why India is famous for its 'unity in diversity'. We should be proud that our country is admired all over the world for its rich cultures and traditions.
Conclusion
Our country is our proud. Our people have made many contributions in the field of science, arts, math, music, dance, mathematics and sports and earned many medals for country. We are proud to be the inhabitants of this country.
Many people devoted their lives just to make this country free from the chains of slavery. Now it is up to this young generation to maintain the uniqueness and make this country prouder. We need to understand that we will strengthen our country when we work together.