The Holi is a sacred religious festival of Hindus. It is the festival of colors, festivity, enjoyment and fun. It is most favorite and famous festival, celebrated all across the world. Like all festivals like Diwali, Eid, Christmas, etc, the preparation of Holi festivals are done with great love and fun.
Read here, different essays and speeches on Holi festivals, its story, preparation, important points etc in short and long, easy, simple words for all class children and students including Ukg class 1,2,3,4,5,6,,7,8,10th and further level students.
1. Short Essay & Paragraph On Holi
The happiness is the essence of life. Holi like all other festivals, adds beauty to it. On this day, children walk with happy and joyful mood.
Everyone, young as well as the adult, looks quite refreshed and wonderful. This day is the day of embracing each other, forgiving and forgetting all the worries and worldly stress and frustrations.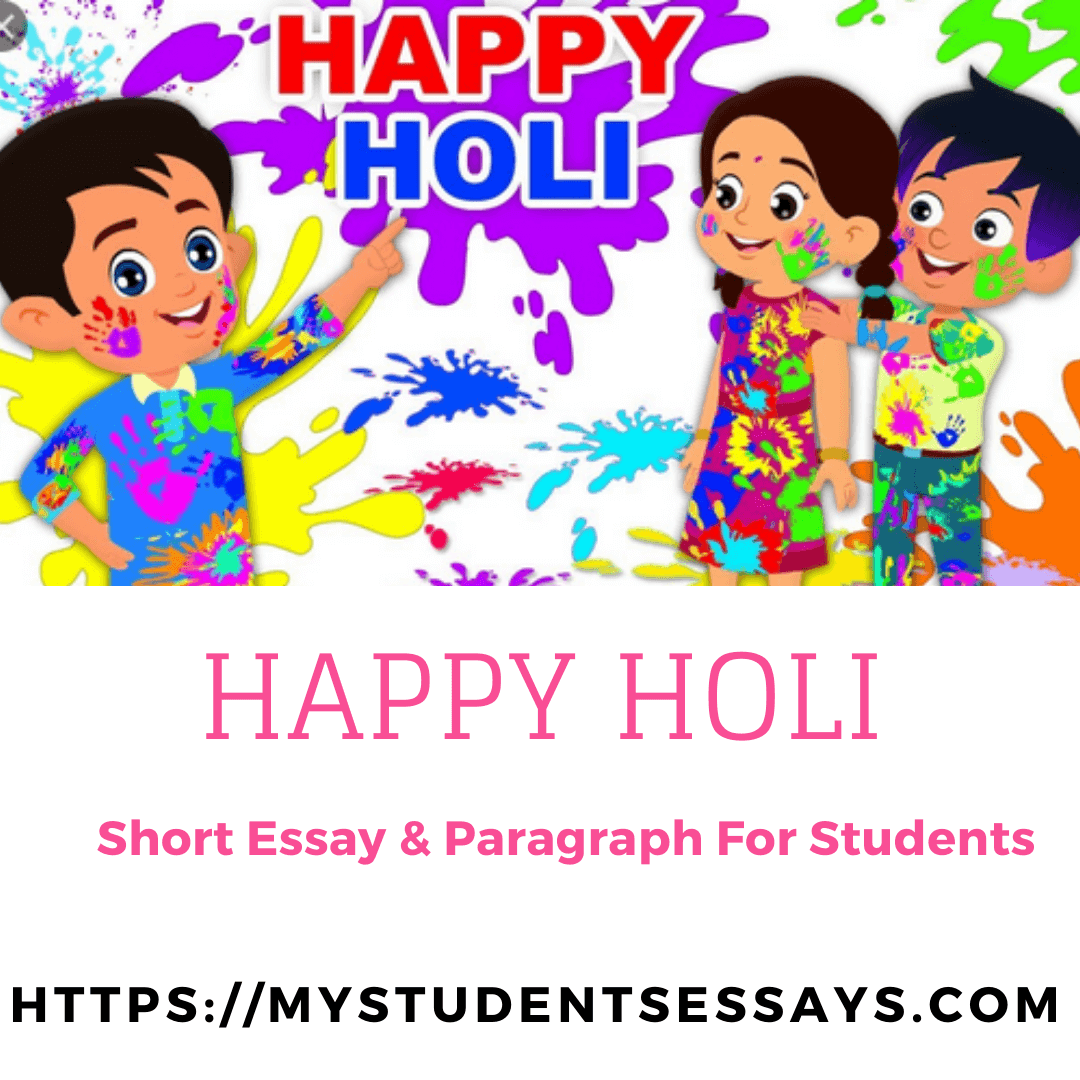 Among the celebrations of Holi, cooking delicious foods like halwa, chips and other sweet items are very essentials. In fact, they add spice to Holy.
Apart from that, on this day, the sweets, gifts and other things are distributed in honor of Holi. This day, as per the traditions, is celebrated in the memory of Lord Krishna who fought and defeated the evils. Thereby, the Holi is the remembrance of victory of right over the wrong.
The colors add spice to Holy. Variety of  colors are the on horizon during holi day. People get immersed into the different colors regardless of the distinction like caste, status etc.
Apart from that, people also go to pray on this special day. As it is believed that the God is happy on this day. Everything is granted during this day.
Holi is one of top most celebrated festivals of the world. It is celebrated not only across India alone in fact, it is celebrated through out the world.
This festival is the sign of hope, peace and prosperity. This is the day of forgiving each other and starting the relationships afresh. May everyone enjoy the colors of Holi
Ten lines on Holi Festival For Ukg Kids, Class 1 Students
1. The Holi is celebrated annually in the month of February.
2. This festival according to the Hindu calendar falls in the month of Falgun.  While in Christian calendar it falls in the month of March. That month is the peak of spring season in India.
3. This festival is celebrated for five days, the fifth day is called "Rang Panchami".
4. This festival is known as the festival of colors.
5. On this festival people specially Hindus spray colors on another.
6. Hindus believe that this festival was first celebrated by Radha and Krishna in Vrindavan.
7. This festival symbolizes the victory of good over evil.
8. On this festival people rejoice by coloring one another and become very happy.
9. Specially children enjoy this festival very much by playing with water guns full of colors.
10. People rub colors on each other's face to spread love and unity.