Colors are the most interesting and beautiful part of nature. There is no single object in this world which does not have its own color. Color is something which evolves as a result of the arrangement of photons on different frequencies and it has been always depend upon lights. Read the following essay on colors, importance & purpose of colors in our daily life
Essay on Colors | Short & Long Essay for Children
Colors are a major part of everyday life; we notice them and use them on a daily basis. There's the color of your hair, your eyes, and even what clothes you like to wear. Almost everything people interact with has some sort of color to it. Colors make our lives interesting and fun; they can create happiness or sadness just by the color of something.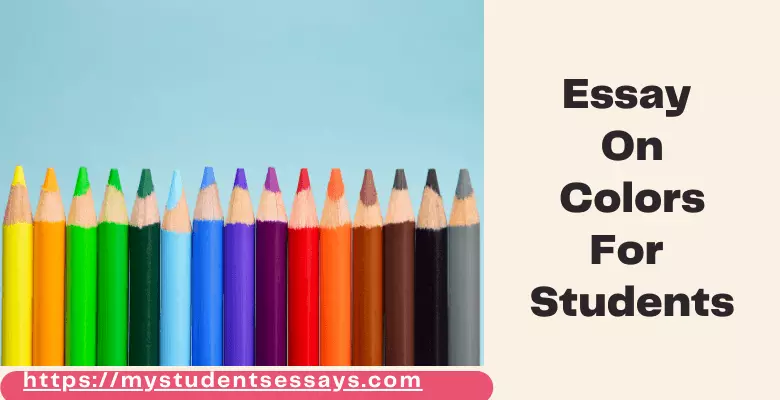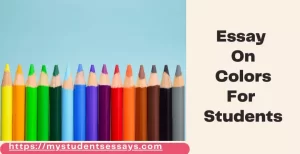 There are two major types of color, warm and cool. Warm colors are reds, oranges, yellows, etc., while cool colors are blues, greens, purples, etc.. Warm colors create a feeling of excitement or happiness; they can make people feel hot or comfortable depending on the shade.
>>>> Related Post: Essay on Rainbow Formation For Students
Warm colors also bring about feelings of love, anger, and energy. Cool colors have a calming effect on people; they can make someone feel relaxed or lonely. When one thinks of happy things, warm colors are usually the first ones that come to mind.
Colors are everywhere in nature. The sky is blue because it reflects the color of the ocean and the air, which is very blue. The grass and trees are green because of how they reflect light off of their chlorophyll. Flowers come in many different colors to attract animals that will help cross-pollinate them for reproduction.
Colors can also be seen as having different shades. A shade is a hue with black added to it. A shade of a color can make a huge difference in how a person perceives it. For example, there is the color orange, and then there's a darker version of that same color called 'Dark Orange'. It's not as bright as the original orange, but it still brings about the same feelings as its lighter counterpart.
The color white is seen as pure, clean, and peaceful. It brings about feelings of innocence and purity. White also symbolizes happiness and good luck. Anytime someone hears the word "white", they tend to think of something that is positive or pleasant.
The color black is normally seen as bad or evil; it's very common for people to wear black while attending a funeral because it symbolizes mourning and respect. The color black can also be seen as mysterious and depressing. It's not normally something that someone would look for in day-to-day life, but there are some who enjoy wearing it. Colors bring happiness and excitement into our everyday lives. Without them, everything would be bland and boring. It's thanks to colors that the world is so much fun!
>>>> Related Post: Essay on Drawing For Children & Students
Conclusion
Color is one of the most influential features of our lives. The colors we surround ourselves with can have a huge effect on how we feel each day. Warm colors are usually positive and exciting, while cool colors are calming and peaceful.
Colors can also be seen as having different shades, which create an entirely new color that may have similar or different affects compared with the original color. Colors are everywhere in nature, which makes them seem more familiar to us each day. They make our lives interesting and fun!