The Cat is a cute Pet. It is loved by everyone. Kids are very fond of it. Read following 10 lines, short essay and Paragraph on My Pet cat for Children and students.
The Cat Essay | 10 Lines, Few More Sentences & Short Paragraph on My Pet Cat for Children & Students
The cat is a super cute pet. It is loyal, humble, easily trainable and easily maintainable pet. Children love to play with cats. They are friendly and harmless pet. The following short essay, paragraphs and few more lines my pet cat are very helpful for children & students.
 Ten (10) Lines on My Pet Cat for Ukg Kids, Class 1 Students
1. The name of my pet cat is Daisy darling, she is very cute.
2. It's color is white and has brown patches on her legs.
3. It has two bright blue eyes, two soft ears and a long bushy tail.
4. She is fond of fish, meat and milk.
5. She runs very fast and can climb trees easily.
6. I comb her furry hair gently everyday.
7. She is very innocent.
8. It enjoys playing, I play with my pet cat in free time.
9. It loves to sit in my lap, I cuddle her and treat her very gently.
20. She is very smart because she never forgets whatever I teach her.
21. She never disturbs me nor she play make noise in home.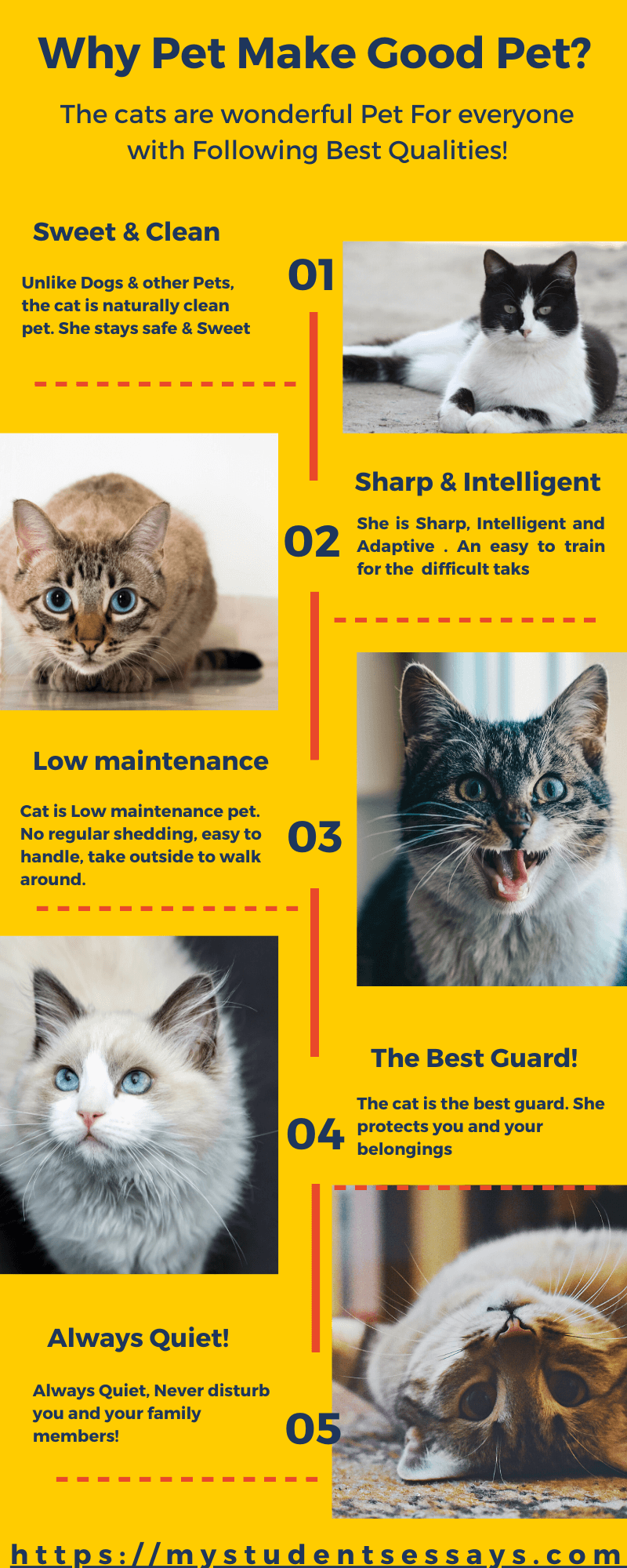 Few Lines on My Pet Cat For Children
1. She loves cuddling and makes a purr sound when I cuddle her.
2. She fear water and doesn't like bathing so I brush her softly.
3. She sleeps with me in my bed and often helps me to wake up early.
4. She is very intelligent and likes cleanliness because she always uses litter box for her natural calls.
5. Daisy darling is not only my pet but like a family member because we all love her equally.
Related Post: Essay on Cow for children & students
Short Essay on My pet cat for Children
The cat is very cute an innocent animal It is often kept at home as a pet. They have sharp claws, furry body and a bushy tail.
The cat is omnivore animal because it eats both meat and vegetables. But they love to eat meat and drink milk. My pet cat Daisy darling is also fond of meat and milk. As cats have very powerful nocturnal vision or sight, they can see clearly in the dark. Cats are usually very cute and friendly in nature.
My pet cat is with me when she was a kitten. When she was small, I used to feed her with my hands and used to keep a bowl full of milk for her to drink. When she was a kitten I used to take good care of her, in winter I made her a warm bed to sleep. As she grew big, she became very smart and intelligent now she takes care of herself. She keep running around the home. When she get bored of our company, she goes out and play with cats of neighborhood.
I never forget to bring fresh meat and milk from market for her thrice a week. I also bring for her cat food from superstores. I brush her teeth twice a week and wash her body with soap and brush her fur to keep her neat and tidy. She is often quiet and meows only she feel hungry. Her favorite food is boiled and fried fish and milk.
Cats are very innocent animals, when we keep cats as pet, they need our attention. Cats are not kept to play with in free time, they need food and care properly. Cats are usually very smart, intelligent and clever in nature, if we will teach them they will learn and will always follow your teachings.