Time is of critical importance in our Life. Since, every human being has got a limited time in his life, its his responsibility to utilize that time efficient and wisely. This speech tells what is time? what is the importance of time? Key points how time is Important for a student? How student can learn better time management? How student waste their time & its drawbacks? How to learn time Management in Personal & Professional Life?
Speech on Importance of Time
Greetings! Friends, today we will talk about an important topic, that is, time.
What is time? Time is a sequence of events. It's the interval between two events. The past, present and future are all aspects of time.
Why is time important? Because it's the most precious thing we have. Once lost, we can never get it back. Time is of crucial important in our Personal and professional life. It helps us to be more efficient and effective in whatever we do.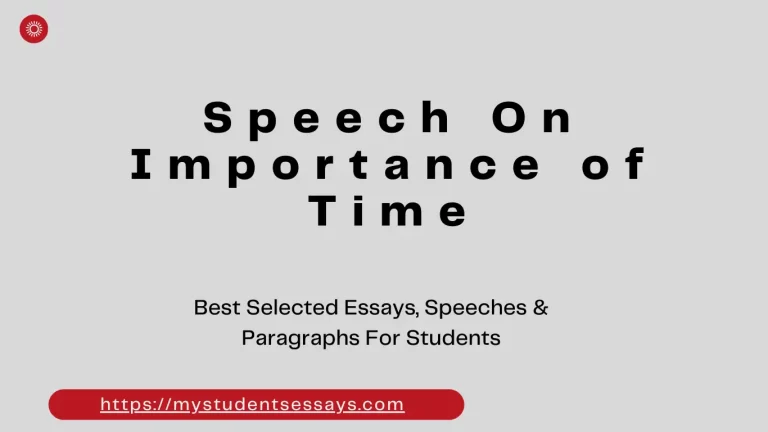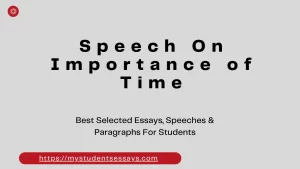 There are 24 hours in a day, and we have to manage our time wisely so that we can get the most out of each day. If we want to succeed in life, we need to learn how to manage our time effectively.
>>>> Read Also: "  Speech on Leadership "
Some people waste their time watching TV, sleeping, chatting on the phone or browsing the internet. These activities may seem harmless, but they can actually lead to decreased productivity and wasted time.
Students are typically advised not to waste their time. As the limited time we have got defines our future. So, if we manage our time efficiently, it will help us to be successful in life. They need to avoid time wastage and focus on their studies and other important activities. Wasting time can have serious consequences. It can lead to poor grades, missed opportunities and even job loss.
There are many ways to use our time wisely. Here are some key points:
1) We should always have a goal in mind. Whether it is short-term or long-term, we should know what we want to achieve. This will help us focus our efforts and use our time more efficiently.
2) We should make a plan of action. Once we know our goals, we should make a plan of how to achieve them. This will help us stay on track and use our time more effectively.
3) We should avoid procrastination. This is one of the biggest killers of time. By avoiding procrastination, we can make better use of our time and achieve our goals more quickly.
4) We should learn to say "no". This is a difficult thing for many people to do, but it's important. If we don't want to do something or if we don't have time for it, we should say "no". This will help us focus on the things that are more important and use our time more efficiently.
5) We should learn to delegate. This is another difficult thing for many people, but it's important. We can't do everything ourselves. If we want to use our time more effectively, we should learn to delegate tasks to others.
>>>> Read Also: " Speech On Dreams "
6) We should take breaks. This may seem counter-intuitive, but it's actually very important. If we work too hard for too long, we will get tired and our productivity will suffer. By taking breaks, we can rejuvenate ourselves and be more productive when we return to work.