A walk right after you wake up in the morning is too crucial for healthy living. The following tells you the meaning, importance and impacts of morning walk, how morning walk is necessary in our life. This paragraph is written in simple English and is quite important for children and students.
Paragraph on a Morning Walk & its Impacts on Life For Children & Students
A walk in the morning is full of beauty. Apart from core health benefits, it lets you enjoy the beauty of nature. A morning walk is simply awesome. The sun is just rising, the birds are chirping and there is a freshness in the air. It's the perfect time to get some exercise and fresh air. Walking in the morning also has some great health benefits.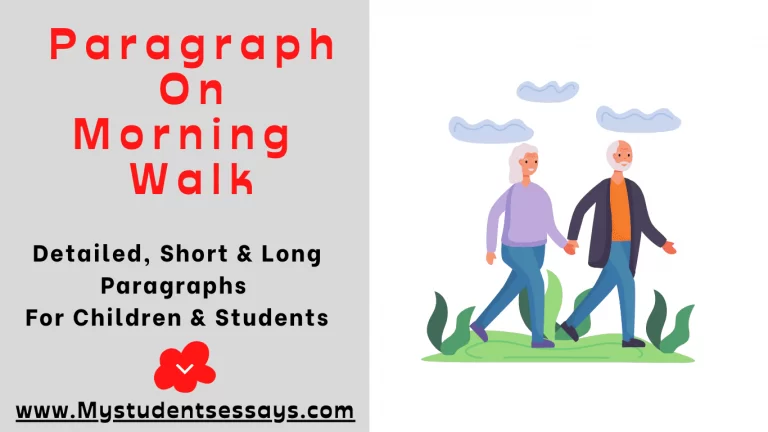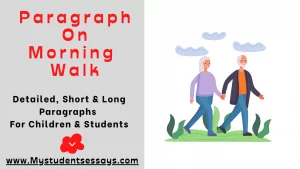 I usually wake up early in the morning, around 6am. The fresh air and the chirping of the birds make me feel really happy. After having some breakfast, I step out for my morning walk. I take a different route every day and enjoy the sights and sounds of nature. I take my time to walk and often stop to take in the beauty around me.
>>> Related Post:  " Essay On Beauty of Nature "
Benefits of Morning Walk
A morning walk has great benefits for our health. Walking is a low-impact form of exercise which is easy on the joints and muscles. It helps to improve our cardiovascular health and also strengthens our bones.
Additionally, it can help to lower blood pressure and cholesterol levels. Morning walks are also beneficial for our mental health. They can help to reduce stress and anxiety levels. They also help to improve our mood and can make us feel happier.
>>>> Read Also: " Paragraph on Sky is Beautiful "
I was suggested by my grandfather to include a morning walk in my daily routine. He always used to say that it's the best way to start your day. He was right, as I feel really refreshed and energetic after my walk. I feel really refreshed after my morning walk. It's a great way to start the day and sets the tone for the rest of the day.
Conclusion
Taking a morning walk is a great way to start the day. It has many health benefits and can also improve our mental health. I would recommend everyone to take a morning walk every day. It's a great way to enjoy the beauty of nature and relax your mind.